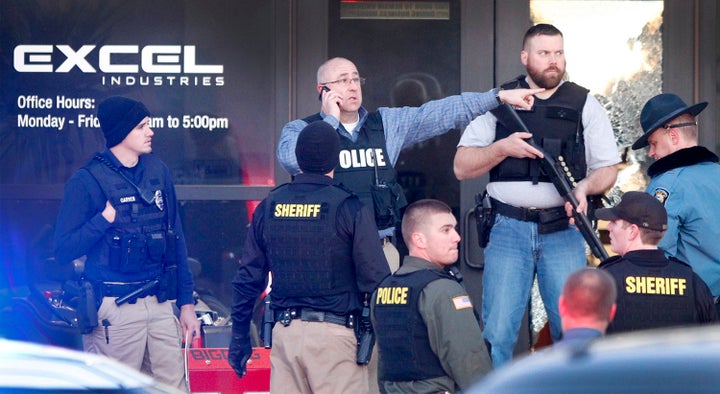 Cedric Ford was at work at an Excel plant in Hesston, Kansas, on Thursday afternoon when he was handed a piece of paper: The Harvey County Sheriff's office had served him with a restraining order.
Ford's ex-girlfriend had filed the protection from abuse order, which stemmed from an alleged domestic violence incident earlier this month.
On Feb. 5, according to the Wichita Police Department, Ford's ex-girlfriend reported that he assaulted her. Ford had left the scene by the time officers arrived and he was not arrested.
That same day, she requested a protection order to bar Ford from contacting her or visiting her home. She told authorities that he was violent and unstable, according to court documents obtained by The Huffington Post.

"Cedric and I were verbally fighting," she wrote. "It became physical by him pushing me then grabbing me. He placed me in a chokehold from behind -- I couldn't breath -- he then got me to the ground while choking me -- finally releasing me."
She also told the court she thought Ford needed immediate help.

"He is an alcoholic, violent, depressed," she wrote. "It's my belief that he is in desperate need of medical and psychological help!"
She indicated that the couple had recently broken up and that Ford was going to move out.
A breakup can lead to a increased potential for lethal violence, according to Joyce Grover, the head of the Kansas Coalition Against Domestic And Sexual Violence.
In Kansas, she said, people subject to temporary protection orders aren't banned from owning guns.
"Guns are not removed at the time that the temporary orders are served," she said.
However, NBC reports that Ford was not legally allowed to own a gun because he was a convicted felon.
This pattern of violent men being accused of targeting their intimate partners before lashing out at the public is unfortunately nothing new.
As Kim Gandy, president of the National Network to End Domestic Violence, told The Huffington Post for an earlier story, "Those who terrorize women at home often go on to terrorize their communities."
What's it going to take for us to take women's concerns seriously?
Melissa Jeltsen covers domestic violence and other issues related to women's health, safety and security. Tips? Feedback? Send an email or follow her on Twitter.
Related
Popular in the Community