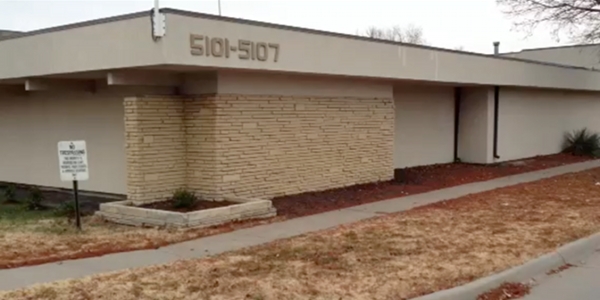 The clinic once operated by the late Dr. George Tiller, soon to re-open.
WICHITA -- The clinic where Dr. George Tiller performed abortions until being shot and killed during worship at his church on May 31, 2009, will be open for services in two or three months. In the opinion of several people I interviewed last week, the clinic "probably will be bombed again."
The one-story clinic, located in a non-descript Wichita neighborhood, is a windowless sand-colored bunker that looks suited for a war zone. On the bulletproof glass entrance door is a sticker depicting a handgun with a red line crossed through it. Two volunteers, both from Oklahoma, answered questions at the door. The group Trust Women, led by Julie Burkhart, a former associate of Dr. Tiller, purchased and refurbished the building, once ground zero for the violent protests that gave rise to Operation Rescue a decade ago. The clinic, then Women's Health Care Services, was bombed in June 1986; Dr. Tiller was shot twice in the arm outside of a health center in 1993.
The convicted killer of Dr. Tiller, Scott Roeder, boasted that he made Kansas "abortion free." The nearest clinic is a three-hour drive; women often travel south to Norman, Oklahoma, or east to Boulder, Colorado. Eighty-seven counties in the United States, where 35 percent of women in their reproductive years live, currently lack any facility where abortions are performed.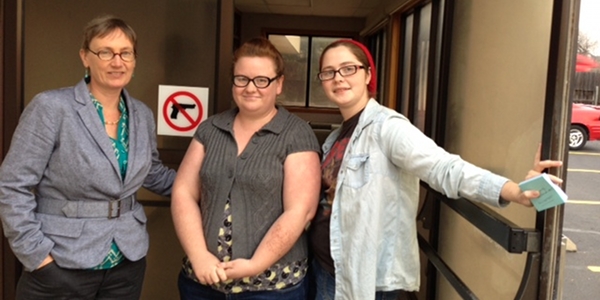 From left to right, Rannfrid Thelle, Amber Lockner and Molly Rattler at the South Wind Women's Center on December 7, 2012.
America's divisions are worsening, despite national election results, with one America progressing in its diversity, the other receding. Here in Kansas, most people do not seem to accept the November election of Barack Obama, who received only 38 percent of the state's popular vote. The governor, Sam Brownback, is a Catholic convert and fervent advocate of a more Christian America, cleansed of abortions and same-gender marriage equality. He backs legislation requiring that women be taught that abortions cause cancer, and that doctors may withhold information regarding health risks of a pregnancy, with immunity from malpractice charges.
The secretary of state, Kris Kobach, is more extreme than the governor. A former chairman of the state Republican Party, Kobach has sponsored one of the country's most restrictive voter ID laws. A national opponent of immigrant rights, he also helped draft Arizona's anti-immigrant legislation (SB 1070), Alabama's HB 56, and the "self-deportation" plank of the Republican national platform.
In Wichita alone this year, police have shot and killed five people, including three young black men, a Native American woman, and a young white male. A handful of Occupy activists are working on the margins towards police accountability and reform.
Behind these New Right forces are the Koch brothers, headquartered here in Wichita, their name adorned on civic institutions like the high school football stadium. This is where Robert Greenwald's Brave New Foundation filmed its documentary, Koch Brothers Exposed.
As "bleeding Kansas" was pivotal in launching the American Civil War over slavery, this Kansas will be central to the plans of the Christian Right and Tea Party to stop the emerging new majority of people of color and women, which threatens their supremacist dreams. Their numbers overall, of course, are too few to command a national majority. They may have to broker a coalition with more acceptable Republican candidates like Jeb Bush, Chris Christie or Marco Rubio to capture a majority. They may have to lurk within the Trojan horse of the Republican Party for a time.
But 30 governorships and a majority of statehouses already are in Republican hands. We have seen conservative revolts against labor in Indiana, Michigan and Wisconsin; the Confederacy is all but officially re-segregated; the South is the center of military recruitment; much of the old Wild West is territory for militias. The election year 2014 could be similar to 2010, when the Tea Party emerged in defiance of Obama, the recession and bailouts, and even against the Republican establishment. In 2007-2008, Kansas was a Democratic state, led by Gov. Kathleen Sebelius, who became Obama's secretary of health, education and welfare. That rapid post-Obama shift to the right is a model giving Kansas hardliners hope.
A key factor to watch is turnout, which will be lower, whiter, and more conservative two years hence. Following the 2008 presidential election, where turnout was at 62.3 percent, the 2010 midterm elections saw just 40.7 percent of Americans eligible to vote cast their ballot. While this percentage surged to 57.5 this past November, the recent Obama vote was lower than the 2008 total, and the president received four million fewer white votes, offset by 2.5 million additional ones cast by blacks, Latinos and Asians. Those gaps are likely to repeat in two years. If Hillary Clinton is the Democratic candidate in 2016, the "war on women" could be intensified and fused with the deepening racial division.
The activists of Wichita may not be isolated dissidents in a state mired forever in the past, but among the "first responders" against the coming wave of right-wing extremism, in dire need of attention and support from national progressives.
The South Wind Women's Center will provide well woman exams, pre- and post-natal care, STI testing and treatment, fertility counseling and treatment, family planning services, including contraceptive options, community outreach and education, as well as abortion care. By opening South Wind Women's Center, Trust Women Foundation will provide thousands of women with the peace of mind that comes only from knowing they have a place to turn for comprehensive reproductive healthcare needs. Women, who may have otherwise had to go without needed care, will now be able to receive care through their doors. The health center will be dedicated to providing affordable options, working with insurance carriers, Medicare and Medicaid and making care more accessible.
Calling all HuffPost superfans!
Sign up for membership to become a founding member and help shape HuffPost's next chapter