WICHITA, Kan. — Jurors in a federal courthouse Thursday were played recording after recording of three militia members spewing genocidal hatred of Muslims.
The three men — Patrick Stein, Gavin Wright and Curtis Allen — are accused of being involved in a 2016 terrorism plot to bomb an apartment complex that housed Somali Muslim refugees and a mosque in Garden City, Kansas. In one recording played for the court Thursday, they can all be heard mapping out Muslim targets on Google Earth, dropping "pins" on a map of Garden City, each pin labeled "cockroaches."
"The fucking cockroaches in this country have to go, period," Stein said in one recording. "They are the fucking problem in this country right now. They are the threat in this country right now."
"When we go on operations, there's no leaving anyone behind, even if it's a 1-year-old. I'm serious," Stein said in another. "I guarantee if I go on a mission, those little fuckers are going bye-bye."
In another recording, the men discussed killing a Garden City landlord who owned a building occupied by Muslims and then raping the landlord's wife and daughter. All to scare off other landlords from renting to Muslims.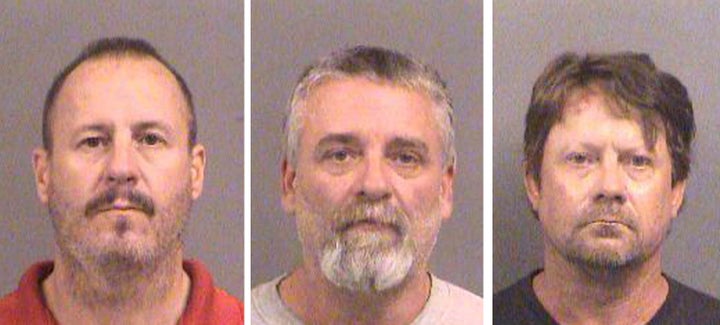 Whenever they ended up bombing Muslims in Garden City, one of the men said in another recording, it would mark the beginning of "the Crusades 2.0." They eagerly discussed publishing a "manifesto" after the bombing — just like "Unabomber" Ted Kaczynski did — and sending it to newspapers and radio stations across Kansas.
Dan Day, the FBI informant who secretly recorded the militia, said the men wanted to time the bombing of the Garden City mosque during prayer hours. "They figured that would be the time they could get the most Muslims at one time," he said.
The manifesto, Day explained, was meant to "inspire" others across the country "to take up action and do what these guys were doing, blowing up different Muslim targets."
The three men's defense attorneys have argued that all this talk of slaughtering Muslims was just a few dudes venting their frustration. "Locker room talk," as one attorney put it. But if there are experts on when talk of mass murdering Muslims has become more than just bigoted bluster, those experts are other bigots.
"I actually thought it was not just talk — it was more of an actual action, action.""
Brody Benson was a member of the Kansas Security Forces, an anti-government extremist militia group to which Stein, Allen and Wright all belonged. On June 12, 2016 —the same day as the Pulse nightclub shooting in Orlando, Florida, when a Muslim man killed 49 people — Benson wrote this on Facebook: "Fucking Islam. I'm done. Kill them all."
"I was never shy as far as talking about Islam," Benson explained to the court on Wednesday.
On June 14, 2016, two days after the Pulse nightclub shooting, Stein and Allen went to Benson's shooting range in the countryside near Partridge, Kansas. Day, the FBI informant, was there too, secretly recording the meeting.
Benson talked of hunting local imams and of fomenting a war between local Shiite and Sunni Muslims. These proposals, Benson testified in court this week, really were just "blowing smoke and venting."
But when Stein talked about using explosives to target Somali Muslims in Garden City, Benson said he got very concerned. "I actually thought it was not just talk — it was more of an actual action, action."
"I had a gut feeling that what was just banter back and forth, ranting and everything else, was turning into something more serious and concrete," he said.
Benson said the meeting prompted him a few days later to tender his resignation with the Kansas Security Forces. "After that meeting I was done," he said. "I was out." Prosecutors displayed for the court a letter of resignation he wrote to KSF members.
Prosecutors Thursday played recordings of other KSF meetings Day had recorded, these held at the home of KSF member Trish Burch. Day explained to the court that Stein organized the meetings at Burch's home to determine "who was in and who was out" in a plan to bomb Somali Muslims.
"It got tense in the room," Day said. Burch was "totally against" it. She appeared "scared" of Stein, someone with whom she normally had a good relationship.
"I'm not saying [Muslims are] good people," Burch said in one of the recordings played for the court. "I'm saying I'm not going to be the one to go in and start shooting.... If they start coming at me, my family, then I'm right there. I'm more of a defensive person."
Day testified that Stein and Allen had trouble recruiting Burch and the other militia members at these meetings to join their terrorist plot. The other militia members, he said, thought the plot was going to get everyone "thrown in jail and give militias a bad name."
Day, whom the FBI recruited as an informant after he unwittingly attended a militia barbecue, was on the stand all day Thursday.
He was at his most emotional in recounting one of the times he and Stein conducted surveillance of Somali immigrants in Garden City. They were driving along when they spotted a little girl they presumed was Muslim, Day said.
"[Stein] seen the baby," Day told the court, "and he was like, 'There's another little baby cockroach fucker. I wish I could take her out, too.' He made a gun with his finger and said, 'Kill the fucking cockroach.'"
"I don't see how he could kill an innocent little baby," he said choking back tears once again, "just because they were a different race or religion."
Day testified that he lived in constant fear while infiltrating the militia group. He feared the men would act out on their murderous feelings toward Muslims. And he feared they'd find out he was an FBI informant and kill him. But, he said, he decided to press on.
"I prayed about it, and it felt like God had put me in that place at that time," Day said, adding that he wanted to "stop hundreds of people from getting murdered."
He'll take the stand again Monday when the trial resumes. The trial is expected to last through April, when a nearly all-white jury will determine whether the militiamen will spend up to the rest of their lives in prison.
CORRECTION: A previous version of this article misstated the name of Brody Benson as Boyd Benson.
HuffPost is in Wichita, Kansas, to cover this terrorism trial. Follow reporters Christopher Mathias and Ryan Reilly for updates. Here's all of HuffPost's coverage of this case:
Support HuffPost
The Stakes Have Never Been Higher
Popular in the Community