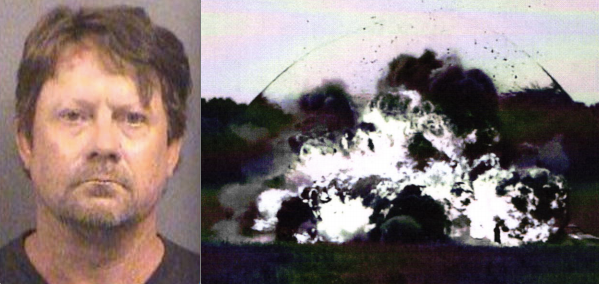 WICHITA, Kan. ― "We're already fucking domestic terrorists. They're just looking for an excuse to come snatch you up."
It was about a month before Donald Trump was elected president, and Patrick Stein was in a hilly field in western Kansas near a lake and an outhouse. Stein, a right-wing militia member who thought Trump was "the Man," dubbed himself "Orkinman." Muslims were "cockroaches," he thought, who needed to be exterminated. The weapon dealer he was meeting in this remote field, Stein believed, would help him pick a poison.

"I'm sick of seeing these motherfuckers coming into this country," Stein told the man, referring to Muslim refugees. "They're here for one reason and one reason only." Unless they did something soon, Stein said, the Muslim takeover would begin.

The weapon dealer was an undercover FBI agent. Days later, the feds would indeed snatch Stein up, charging him with a litany of federal offenses in connection with a bomb plot targeting Somali refugees residing in an apartment complex in Garden City.
Eighteen months later, Stein and his alleged co-conspirators Gavin Wright and Curtis Allen are on trial in Wichita in a case that touches on some of the hottest issues of the day: Islam, Facebook, guns, terrorism, the FBI and Donald Trump.
The trial, now in its third week, is expected to last for six. Wednesday saw testimony from the undercover FBI agent who posed as a weapon dealer. Wearing what the government called "light disguise," he testified about his dealings with Stein as members of the public listened in from a separate courtroom. HuffPost was the sole media outlet covering his testimony.
"Brian," as he was called in court, testified that he was brought into the case to serve as a "fresh set of eyes" who could help determine if the trio of anti-Muslim militiamen posed a real threat. FBI agents thought the fastest route to introduce Brian into the plot would be for Dan Day, the FBI informant in the case, to introduce Brian as a high-level illegal weapon manufacturer and deliverer who could supply the group with what it needed. Only Stein ended up meeting with Brian, and defense attorneys for Wright and Allen are pushing the notion that the two weren't as committed to the plot as Stein.

Meeting Stein out in a remote field with an entourage of undercover agents also posing as weapon dealers, Brian testified, helped "bolster the legend" the FBI created while also mitigating the threat to the public and the agents.
Brian, in recordings played in court on Wednesday, mirrored much of Stein's anti-Muslim bigotry. "We try to present ourselves as someone that's like-minded so that they build a rapport with us," he explained.
Brian testified that Stein was "very passionate" about discussing his dislike of the Muslim community and that he believed Stein was serious about his desire to conduct an attack.
Near the start of their conversation, Brian told Stein he wanted to make sure that Stein wasn't "fucking around" with "fucking jihadis," as Brian said he didn't want any weapons ending up in the wrong hands. Stein assured him that was far from the case, saying their plan was to target Muslims. Pretty soon, Stein told Brian, "you'll probably be seeing some news coming out of western Kansas."
If that was the case, Brian said, he might be willing to help. Stein told Brian they wanted electric blasting caps they could "detonate with a cellphone-type deal." Brian testified that made him believe Stein had put some forethought into the plan.
Stein conceded that money would be an issue for the group and raised the idea of arranging some sort of a narcotics trade with Brian. "I did some manufacturing back in the day… back when the good shit was around," Stein said.

They agreed to keep talking, and Stein told Brian the username he used on encrypted chat apps: @Orkinman. Like the exterminator, Brian wondered?
"I hate fucking cockroaches, and that's exactly what those motherfuckers are," Stein replied.

Stein and Brian connected on Signal and WhatsApp, but most of their conversations took place on WhatsApp. Stein was quite prolific and quickly opened up.
He said that he'd put together a more complete list of what they needed and that he didn't want there to be any misunderstanding or misinformation. Stein said he'd be happy to clarify things.
"I want to have an ongoing working relationship with you and not fuck it up by not having all the information I need," Stein wrote.

Stein also wrote about his anger against the Muslim community, saying it was a "struggle" to restrain himself "every time I see one of these fucks."
Brian wrote that he didn't want to be involved in anything that wasn't done smartly. He applauded Stein's restraint. "Emotions will only cause ruin," he wrote.

Stein wrote that he and his group were "country hicks" who wanted to help "cleanse the nation of the evil that exists." Brian wrote that he was "on the same page" and "willing to help," but "slightly hesitant" because he didn't know the others in the group. Stein said he hoped to make him comfortable so that they could do business.

Stein said it would be helpful if Brian could provide them with No. 8 blasting caps that could set off a larger explosion, as well as "advice or input" that would benefit the cause. He explained they were working on a budget but had a good dose of street smarts and underworld experience.
Waiting for the right time to take action, Stein said, had built character. He said he'd made his peace and had told family members he didn't expect to see the new year and might end up in a pine box. (Stein's parents, who have attended much of the trial and were present on Wednesday, declined to comment as they left the courthouse.)
But what he was doing was for the betterment of the planet, Stein explained. He'd do it for Jesus and his kids and grandkids.
"Whatever the outcome ends up being when it's all said and done it is all about future generations and the people and country that can freely worship our God as they choose," Stein wrote.

He said he'd be in touch soon after he discussed "the money issue" with his guys. He assured Brian the weapons would "absolutely no question" be put to good use.
Stein also told Brian he was glad he got to see Kansas.
"Some of the best patriots and Americans live in this state," Stein wrote. "I like to put myself in that category."
HuffPost is in Wichita, Kansas, to cover this domestic terrorism trial. Follow reporters Christopher Mathias and Ryan Reilly for updates. Here, and above, are all of HuffPost's coverage of this case:
Popular in the Community