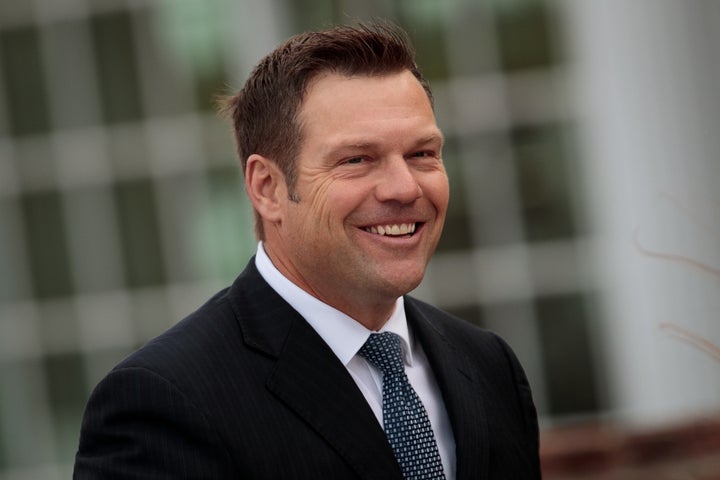 Kansas Secretary of State Kris Kobach (R) brushed off concerns over a voter photo identification requirement in his state last year, telling a civil rights advisory panel that he didn't see it as a burden to reach for one's wallet or purse to get identification.
In 2011, Kansas introduced one of the strictest voter laws in the United States, the Safe And Fair Elections Act, requiring voters to show both photo identification at the polls and proof that they are citizens when they register. Last year, the proof of citizenship requirement was blocked in federal court.
In testimony found in a forthcoming report, Kobach told the Kansas Advisory Committee to the U.S. Commission on Civil Rights that he didn't think either requirement posed a substantial obstacle to voters.
"The photo ID part, I don't think it's a burden to reach into one's wallet or one's purse and pull out a photo ID. Someone could argue that you're exerting calories when you're doing that, and there is some process. I don't think that's a burden," Kobach told the panel in January 2016.
Going on to speak about the citizenship requirement, he said: "Is this step a burden? I guess it depends on how you define burden. Someone might say that it is to find your birth certificate or your passport and take a picture of it with your phones and email it in or send it in or carry it in. I don't think it's significant."
A draft of a report written by the panel features testimony from organizers and academics highlighting how the extensive requirements pose a barrier to voting. Based on its findings, the Kansas Advisory Committee suggested that the U.S. Commission on Civil Rights formally recommend a review of the SAFE Act's voting requirements and its compliance with federal law to the Department of Justice. As states around the country push voter ID laws, the Kansas committee's report demonstrates how strict voting requirements can have a disproportionate impact on certain groups. 
For example, the SAFE Act requires Kansas to provide free identification to any voter for voting purposes ― something that many other states pushing voter ID laws also promise. But Michael Byington, a disability rights advocate, told the committee that he had worked with several clients whom officials had tried to charge for a voting ID. While the law required Kansas to provide free birth certificates to people born in the state for identification purposes, residents born outside Kansas have to pay to obtain identification documents. Any kind of charge to be able to vote is effectively a poll tax, Richard Levy, a constitutional law professor at the University of Kansas, told the committee.
One Democratic lawmaker has already introduced legislation to repeal the SAFE Act based on the report, according to the Kansas City Star.
Kobach's office did not respond to a request for comment. Earlier this month, he told the Kansas City Star the report "looks like it's been written by a third-grader."
In Kansas, voters who registered but could not provide proof of citizenship documentation were placed on a "suspense list" and purged from the voter rolls if they did not provide adequate documentation within 90 days. The committee was presented with evidence showing that the "University of Kansas had the highest percentage of suspense voters of any census tract in the state." Jamie Shew, the Douglas County Clerk, testified that in 2014 the largest group of suspense voters were aged 18 to 24, an age group, according to Shew, that was quick to drop attempts to register and say, "Forget it. I've got stuff going on."
The committee also considered evidence showing a correlation between areas with high African American populations and suspense voters. Women who changed their names when they married, or are single working parents, often have trouble finding the required documents for proof of citizenship or do not have the time to do so, the committee learned.
The 12-member committee voted on Wednesday to publish the report. It is still pending a final legal review.
Most of the testimony in the report came from a public meeting the committee held in January 2016. While Kobach testified in person, the committee wrote that "despite an active search and many outreach attempts," it was unable to find any group to testify in support of the SAFE Act.
The committee also urged Congress and the U.S. Commission on Civil Rights to further investigate voter suppression, voter fraud and the potential for setting up a national voter system.
Calling all HuffPost superfans!
Sign up for membership to become a founding member and help shape HuffPost's next chapter
BEFORE YOU GO
PHOTO GALLERY
U.S. State Capitol Buildings