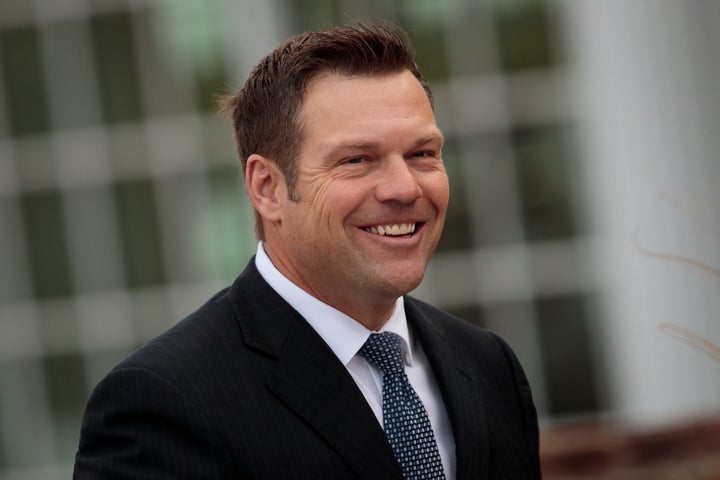 To get out of voter registration "purgatory" in Kansas, it helps to sue.
That's what two young men and their attorneys found when they took Secretary of State Kris Kobach (R) to court over a state law that requires residents to present proof of citizenship documents in order to vote in state and federal elections. If a Kansan registers to vote but does not provide one of 13 valid proof-of-citizenship documents, such as a birth certificate or passport, he or she is placed on a so-called "suspense" list. Just three other states in the country have such a requirement on the books, and Kansas and Arizona are the only states enforcing it.
About 36,000 Kansans were in this state of "voter purgatory" as of early October. For comparison, the state has 1.7 million registered voters.
Under a new rule that Kobach proposed in June, people who haven't presented proof of citizenship will be removed from the suspense list after 90 days, and will then be required to start from the beginning of the registration process. (Before the 90-day rule was implemented, prospective voters had until Election Day to provide the documents.)
In September, Cody Keener, 22, and Alder Cromwell, 18, filed a lawsuit asking a federal judge to block the 90-day rule as well as the original proof of citizenship law. But something surprising happened: Kobach told the plaintiffs they were already registered and therefore had no standing to sue. Between the filing of the lawsuit and Kobach's response, state agencies had quietly verified the plaintiffs' documents and completed the registration for them. Kobach noted that the secretary of state's office was legally permitted to liaise with the Department of Vital Statistics to determine whether the plaintiffs were born in the state and had a birth certificate on file.
Attorneys Paul Davis and Will Lawrence, who are representing Keener and Cromwell, said Kobach had given their clients no notice that their registration status had changed before he filed his response to their lawsuit.
"Perhaps one lesson can already be learned from the Secretary's actions in this case and other litigation arising out of his voter registration practices: if a Kansan is serious about becoming a registered voter, one need not produce proof of citizenship when attempting to register, as filing a lawsuit will result in the Secretary doing the job himself," the attorneys wrote in a response to Kobach's motion to dismiss the suit.
Davis and Lawrence told The Huffington Post that Kobach's move to register their clients proves that state agencies could assume the burden of checking citizenship status in the case of those who were born in Kansas, rather than requiring those people to come forward with their documentation. They believe the suspense list and the 90-day rule violate the Constitution and federal law.
"The problem with the Kansas law is that it cuts such a wide swath, in the name of trying to protect us from a handful of non-citizens who may try to register to vote," Davis said. "There's going to be a decent amount of people on this list who were born in Kansas and could be removed from the list by communicating with the Department of Vital Statistics -- we think this is something the legislature should revisit, so the burden is on the state to go ahead and look if they have documentation of citizenship."
Kobach, they suggested, was trying to avoid judicial scrutiny of the proof-of-citizenship law, since he has used a similar tactic in previous lawsuits.
Since the original plaintiffs have been registered and are no longer eligible to sue, the attorneys filed a class-action suit last week in federal court on behalf of others still on the suspense list.
Kobach did not respond to a request for comment as to how many Kansans the state has registered on its own, without receiving the proof-of-citizenship documentation. However, the Wichita Eagle reported in October that Sedgewick County, where Wichita is located, had "recently registered more than 2,000 people who were on the suspense list after confirming their birth records with the Bureau of Vital Statistics." Kobach and a local elections official had previously argued that the proof-of-citizenship law had prevented undocumented immigrants in that county from registering to vote.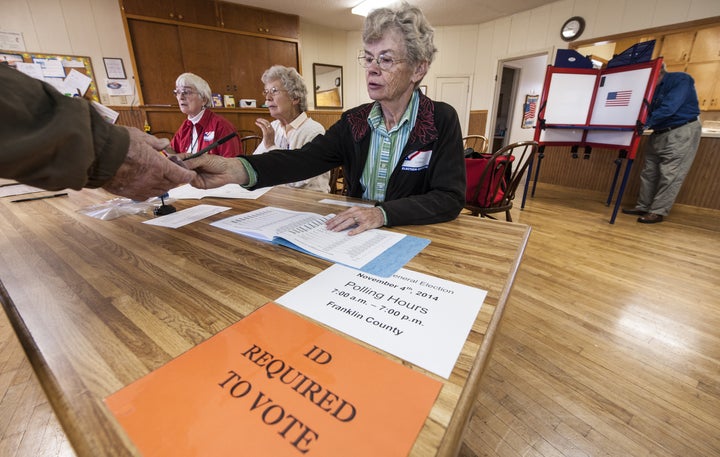 Kobach is the only secretary of state in the country with the power to prosecute voter fraud cases, and has not been hesitant to use that authority. Currently, he is pursuing his own prosecutions of three Kansans who allegedly committed fraud by voting in both Kansas and another state. He says the cases are necessary to maintain electoral integrity and deter others from double-voting in the future. Kobach has also argued that local prosecutors don't have the time or resources to deal with these types of cases, whereas the secretary of state's office has expertise in this area.
But those who are skeptical about Kobach having this level of prosecutorial power point out that the proof-of-citizenship law isn't even necessary to go after double-voters.
"He could have cross-checked voting registrations with those of neighboring states without that law having ever been passed," said Michael Smith, an associate professor of political science at Emporia State University.
Moreover, critics say the secretary of state isn't using the requirement in the way it was intended, since he hasn't filed any lawsuits against undocumented immigrants for attempting to register to vote since the rule was implemented.
Smith conducted a study of the people on the suspense list last fall, ahead of the midterm elections, and compared the full list to the 16 percent of voters who managed to get off the list before the election and the 5.6 percent who ultimately voted. The study found that voters who remained the suspense list were, on average, younger than those who went on to vote -- a New York Times analysis of the list showed that more than half of them were younger than 35 -- and more likely to be unaffiliated with either major political party.
Perhaps the most revealing finding of Smith's study was that voters on the suspense list tended to live in urban areas. Nine of the 10 regions with the highest percentages of suspended voters were urban. The area with the overall highest percentage was the part of Lawrence that's home to the University of Kansas.
"While Kansas is no longer as rural as its Wizard of Oz reputation may imply, these results are still remarkable," Smith wrote. "Demographically, these nine census tracts varied, but many stood out for their high minority populations and low median incomes."
Mark Peterson, a professor of political science at Washburn University, agreed that the people who end up on the suspense list are disproportionately racial minorities, college students who may not have a birth certificate or passport on hand, or married women who never changed their documents to reflect their name change. He said the law had "a voter suppression quality to it."
"It goes back to this fundamental question of: If you have a right to vote, and you affirm you're legally qualified to vote, whether that should be sufficient. Making people run to get their papers seems sort of bizarre," Peterson said. "The targeted populations tend not to have the characteristics of Republican voters -- they're people who don't have a lot of skin in the game, people who don't have a lot of resources."
The professor added that it's now up to the federal judge hearing the class-action case, for which a preliminary injunction hearing is set for Dec. 4, to decide whether Kobach is allowed to "change the facts on the ground."
The professor expressed surprise about how Kobach responded to the original lawsuit.
"It's interesting that somebody who's been as aggressive about this stuff as he has would [register plaintiffs quietly]," Peterson said, "rather than squaring his shoulders and say, 'Great, let's have the confrontation because I believe I've got this constitutionally correct, this is the way it ought to be.'"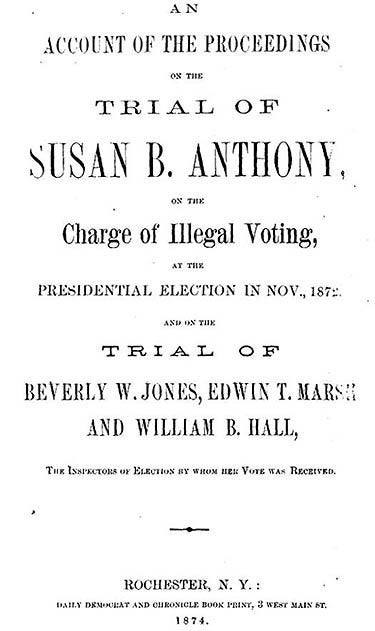 Historic Images Of Women Voting
Popular in the Community