The Kansas water park owner who helped design the waterslide that decapitated a 10-year-old boy in 2016 has "no technical or engineering skills," according to a new lawsuit.
Jeffrey Henry, co-owner of Schlitterbahn Waterpark in Kansas City, "lacked the expertise to properly design" Verrückt, the waterslide that killed Caleb Schwab on Aug. 7, 2016, contends a lawsuit brought by the state of Kansas against the water park and its former director of operations, Tyler Miles.
The complaint, filed Wednesday at Wyandotte County District Court in Kansas City, also accuses John Schooley, the lead designer of Verrückt, of having "no engineering credentials relevant to amusement ride design or safety."
Verrückt's design "violated nearly all aspects of ... longstanding industry safety standards," amusement ride design and safety experts found, according to the lawsuit.
"Due to Henry and Schooley's lack of expertise and a desire to rush the timeline, they skipped fundamental steps in the design process," the lawsuit contends. "In place of mathematical and physics calculations, they rushed forward relying almost entirely on crude trial-and-error methods."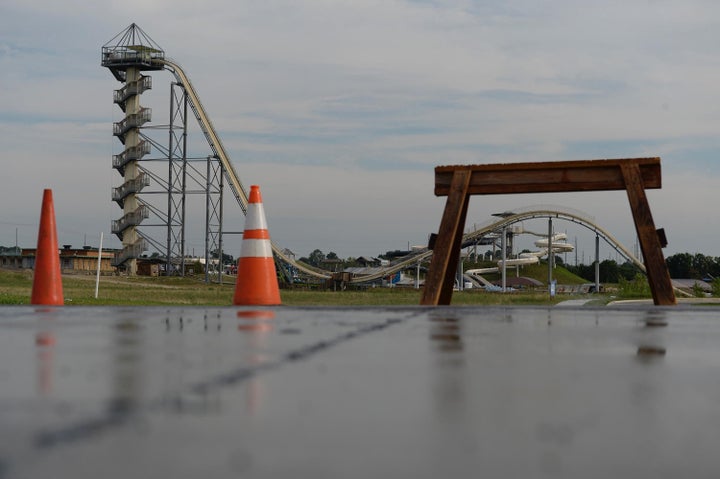 Both the water park and Miles, who was responsible for the park's day-to-day ride operations and first aid, were indicted Wednesday on dozens of charges, including involuntary manslaughter and aggravated battery. Miles pleaded not guilty to the charges on Friday.
Winter Prosapio, a spokeswoman for Schlitterbahn, told HuffPost that the company planned to "fight the charges."
"Since the date of the incident we have worked closely with law enforcement; at no time have we withheld evidence; at no time have we altered evidence," Prosapio said in a statement emailed to HuffPost on Sunday.
"The safety of our Schlitterbahn guests and employees has been at the forefront of our culture throughout our 40 years of operations," she said. "Many of us rode Verruckt regularly, as did our children and grandchildren. We have faith in the justice system and are confident that when we finally have an opportunity to defend ourselves, it will be clear that this was an accident."
Verrückt opened in 2014 and was reportedly the largest active waterslide in the world at over 168 feet high. Video shows Caleb had been "obeying all rider instructions" at the time of his death, which occurred when the raft he was riding "went airborne and collided with the [slide's] overhead hoops and netting," causing a fatal neck injury, state prosecutors said in the lawsuit.
Two adult women who had been riding with Caleb sustained broken bones during the incident. Caleb's family and the two injured women have already agreed to separate out-of-court financial settlements regarding the matter.
Before the child's death, at least 10 other Schlitterbahn customers suffered injuries while riding Verrückt, including broken toes and concussions, according to the lawsuit filed Wednesday.
Although several other states rejected proposals to build Verrückt, lax amusement ride regulations in Kansas permitted its construction at the Schlitterbahn water park, reported local Fox affiliate WDAF-TV.
Read the state of Kansas' full complaint against Miles and the Schlitterbahn Waterpark below.
UPDATE ― March 26: A spokeswoman for Schlitterbahn emailed HuffPost a statement Monday from Miles' attorneys:
The suggestions that [Caleb's] death was foreseeable to Tyler Miles, that, with this knowledge Tyler "avoided or delayed repairs," and that Tyler "had covered up similar incidents" are simply not true. Not only had Tyler ridden the slide numerous times, but, as the State is aware, he had scheduled his wife, to ride it on the day of the accident. These are not the actions of someone who believed the ride to be dangerous.

The allegation that Tyler knowingly obstructed the investigation is, likewise, false. From the moment of the accident, and continuing until the charges were filed, Tyler cooperated with law enforcement. He did not hide or destroy documents.

The Constitution requires that an an Indictment be based upon legal evidence ― not speculation or conjecture. This Indictment is based upon Grand Jury proceedings, which are conducted in secret. While neither we nor the public have had an opportunity to see transcripts of Grand Jury witness testimony, the Indictment is littered with references to evidence that is not legal.

Only after Tyler is able to obtain transcripts, witness statements and police reports will he, like any citizen, be in a position to fully address these allegations. What we know is that Tyler is innocent, which is why he insisted, at his first court appearance, that we set the matter for jury trial. We look forward to the opportunity to challenge the evidence, in a public forum, and prove Tyler's innocence.
CORRECTION: A previous version of this article said the waterslide was demolished in November 2016. The ride is still standing but now closed.
Related
Popular in the Community