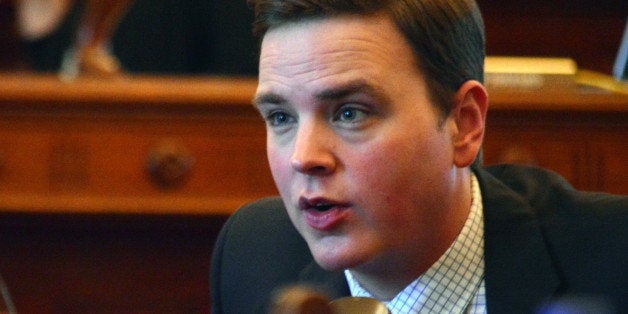 Kansas welfare recipients will be unable to get more than $25 per day in ATM cash withdrawals under a new law sent this week to Republican Gov. Sam Brownback's desk by the state legislature.
The bill also prohibits welfare recipients from spending their benefits at certain types of businesses, including liquor stores, fortune tellers, swimming pools and cruise ships.
"We're trying to make sure those benefits are used the way they were intended," state Rep. Michael O'Donnell (R) said, according to the Topeka Capital-Journal. "This is about prosperity. This is about having a great life."
Temporary Assistance for Needy Families, often known as "welfare," is one of several federal programs administered by states at the ground level. The Kansas TANF program, known locally as the Successful Families Program, offers a family of three as much as $429 per month in cash benefits. Kansas is one of at least 37 states that distributes benefits on government-issued debit cards, according to the National Conference of State Legislatures.
Under the new rule, a three-person family receiving the maximum benefit would have to go to the ATM more than a dozen times to get the full benefit in cash, which would be whittled away by a $1 fee for each withdrawal. And the local cruise liner ATM will no longer be an option.
The federal welfare reform law of 1996 gave states significant leeway to design their own programs, and for the past five years, state Republicans have been busy pursuing changes to TANF, food stamps and unemployment insurance, with varying degrees of success. Missouri Republicans, for instance, are considering a bill to forbid food stamps from being spent on steak or seafood.
But national welfare advocates were taken aback by the $25 daily limit in Kansas, something that has not been implemented in any other state.
"This provision makes it nearly impossible for a recipient who does not have a checking account to pay rent," Liz Schott of the liberal Center on Budget and Policy Priorities said in an email. "Moreover, it actually takes money from the pockets of poor families [in fees]."
The provision originally would have limited daily benefits to $60, but state Sen. Caryn Tyson (R) reduced the amount through an amendment. Neither Tyson nor O'Donnell responded to interview requests from HuffPost.
Shannon Cotsoradis, director of Kansas Action for Children, said changes by the Brownback administration, such as shorter time limits, have already reduced TANF enrollment significantly. The number of Kansans receiving benefits has declined from 38,000 in 2011 to 15,000 last year, state data show.
Cotsoradis said she didn't know whether the dollar limit would further reduce enrollment, but suggested it probably wouldn't help families escape poverty.
"It adds stress to families already experiencing toxic levels of stress," Cotsoradis said an interview.
HuffPost readers: Do you get Successful Families Program benefits? Tell us about it -- email arthur@huffingtonpost.com. Please include your phone number if you're willing to be interviewed.
CORRECTIONS: A previous version of this article stated that the transaction fee per withdrawal was 85 cents for each transaction after the first. It is $1 per transaction, plus any additional ATM fees. Schott's quote citing the erroneous figure has also been corrected. The article also previously suggested the law limits TANF beneficiaries to $25 in benefits per day. The limitation applies specifically to ATM cash withdrawals.
Popular in the Community