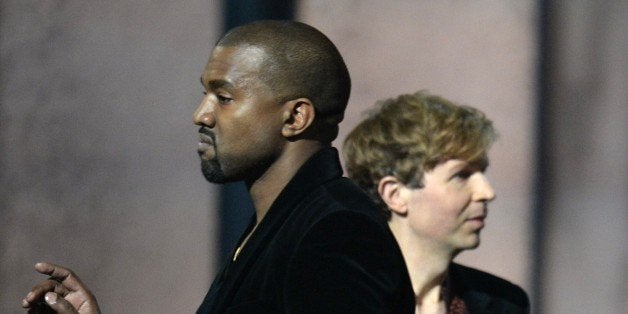 "You know, I felt like just the whole Grammys, right when that happened, everybody was looking at me and then people started screaming, 'Kanye! Kanye! Go do it!' Okay, that didn't really happen, these were voices in my head. So the voices in my head told me go and then I just walked up like halfway up the stage," West told Seacrest during an interview on Wednesday.
West continued, "You know, what I really wanted to do is just joke around about what had happened before, but I just really didn't want to take away from Beck's moment or the time he's having to talk because you know the Grammys, they play music really quick no matter who you are and everything. So I didn't want anything to take away from his screen time. So I just walked back down because you know, it was kind of a joke like the Grammys themselves."
"When I said that thing about respect artistry, I think it came off the wrong way, and that was a mis-wording on my part because obviously Beck is one the most respected artists and respects artistry," he said. "But I felt that even though the Grammys sometimes gives awards to people who you wouldn't think should win in the category, as a respect to artists, we mention the other artist's name in our speech. And that was the point I was making about it. There's like many of times I gave other people my award, literally made them come up onstage. Maroon 5, when they won best new artist, [Adam Levine] mentioned me because it was the College Dropout and [it had] 10 nominations and all that."
Popular in the Community