Kanye West is an outspoken artist who doesn't give interviews. But luckily for him, there are at least a thousand people in any given city who are interested in hearing him perform. In between songs, he's then able to say whatever he wants to a captive (and sometimes captivated) audience. That's why Kanye rants -- he wants to be heard on his own terms -- and Kanye's paparazzi rant at Wednesday night's "secret show" in New York was certainly one for the books.
When West took the stage at what was actually Adult Swim's upfront (where a network unveils its new slate to advertisers) in New York's Roseland Ballroom, he appeared in the middle of an all-white pyramid. A somewhat convincing storm was projected onto the structure's screen walls, a blend of sharp visuals of lightning strikes with blaring claps of thunder. This was made a tiny bit more interesting because it had only just started to rain outside the venue.
He worked through a lengthy set, treating the Madison Avenue schlubs in attendance to perennial favorites like "Jesus Walks" and "Can't Tell Me Nothing" and newer party jams like "All of the Lights," "Clique" and "Mercy," which opened the show. New music was also a small part of the show -- early on he previewed an electro bounce track that sounded like a slightly more uptempo, 8-bit version of "Numbers on the Boards," a song Kanye produced for Pusha-T. Later in the set, he played through what the internet has started calling "Awesome," a ballad with extremely simple lyrics that seems to be an ode to Kim Kardashian. (Kardashian is pregnant with West's child and posted a photo from Wednesday's concert to her Instagram account.) Here's a sampling of the lyrics:
"Stop everything you're doing now/
Because Baby, you're awesome /
Don't let nobody get you down /
Because you're awesome /
You don't need to listen to your manager ... /
You must be tired of running through my mind /
Can I come inside?
... I'm also awesome ... /
I'd rather do nothing with you, /
than something with somebody new /
Because Baby you're awesome."
Then came some more music, and then the rant, which followed "Runaway." Here's our iPhone-typed transciption of the rant, with ellipses noting gaps in coverage:
"I don't know if you know there's one thing about me, but I'm not a celebrity," West sang/said. "I don't know if you know there's one thing about me, but I'm a terrible, terrible celebrity. I don't know if you know there's one thing about me, but I'm the worst kind of celebrity ... Because I only make real music ... I'm only up in the studio to make real sh-t ... I don't want nobody coming up to me with cameras and sh-t ... Selling pictures to a f--king magazine ... Asking me dumb f--king questions ... Because I'm not a motherf--king celebrity ... I only make music that inspires you to be the best you can be -- And I don't want anyone to ask anything else of me."
West was directly referencing an unfortunate run in with the paparazzi in Los Angeles, where he hit his head on a parking sign while avoiding being photographed. The rapper, who was with Kardashian, lunged toward a photographer and (quite reasonably) blamed the injury on the paps.
"Saturday Night Live" was also on West's mind. He's due to perform on Saturday, but bristled at the idea that he should use the opportunity for a charm offensive. "Someone asked me, 'When you do 'SNL,' are you going to do a skit about the paparazzi and humanize yourself?'" West said on Wednesday. "What the f--k do I have to apologize for? When did I become inhuman? Or was it them demonizing me and harassing me that made me less than human?"
"Motherf--kers chasing people down and making you run into sh-t, and all they want you to do is laugh and sh-t," West said before yelling, "Hell no I ain't doing no 'SNL' skits, this is my goddamn life, and it's not a f--king joke."
He also informed the crowd the he isn't into kissing babies. "I drop your baby and then you sue me," he forecasted of future baby handoffs.
The rant proved to be an impressive intro for "Don't Like," in which West follows Chief Keef's rubric of emphatically ticking off a list of items he vehemently dislikes. Later in the set, West played "Runaway," a standout single off "My Beautiful Dark Twisted Fantasy." As is customary, he stretched the end of the song into a soliloquy on love.
"If you love someone tonight, hold on to them tight," West ordered. "You got to look at the people who have been together for so long, don't you think they ever thought something was wrong? They can show us how to stay together for so long." (Hi, Jay-Z and Beyonce.)
"No one wants to be alone," West continued to sing with an auto-tuned warble. "Assholes deserve to be alone -- and b-tches too. Someone told me, 'If your b-tch ain't b-tching she ain't your b-tch.' I said, 'How real is that?' Because at least then you know she gives a sh-t."
Wednesday's show was teased as a "secret show" by West's collaborators, but media and advertising folks were provided with a flyer that had West listed as the performer hired by Adult Swim. Listen to "Awesome" (unofficial title) from Wednesday's show below. More clips (mostly 6-second Vines of the night) are available over at Complex.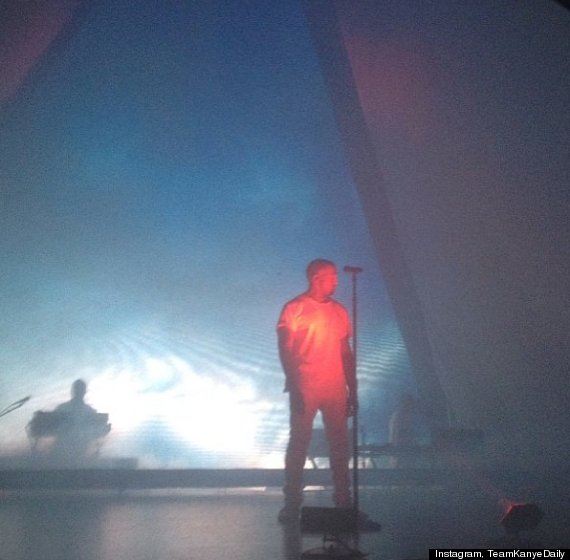 PHOTO GALLERY
Kim Kardashian and Kanye West
Calling all HuffPost superfans!
Sign up for membership to become a founding member and help shape HuffPost's next chapter
BEFORE YOU GO