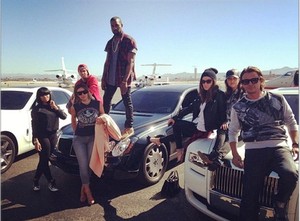 Social media continues to buzz with the recent engagement of reality superstar, Kim Kardashian
and music mogul, Kanye West. While anyone who has been bitten by the "love bug" believes and
hopes their upcoming marriage and impending vows will last forever, it is always smart to
protect oneself in the case cupid's arrow flies in the other direction.
Kim Kardashian's net worth is somewhere in the range of $40-50 million while Kanye is
reported to be worth in excess of $100 million. While empire-building and image are often on the forefront of the minds of celebrities, a messy divorce without an ironclad prenuptial agreement can be just as devastating to an empire built upon a sophisticated branding machine as a bad public relations move.
In this day and age, most stars with significant net worth and earning potential ask their
new love to sign a prenup before tying the knot.

So here are some things Kim and Kanye may want to consider:
Each will have to disclose the nature of all of current his/her assets to other. This means disclosing current net worth including real estate, cash, stocks and any other investments. This disclosure from both sides needs to be completely detailed, accurate, open and honest.

Kim and Kanye will both have to quantify how their union could impact the other's branding and earning potential. In this day of quick rise to fame and even quicker fall from fame, the monetary boost or bust each may experience if they were to have a messy public split would need to be reduced to present-day numbers. Usually it works like this in Hollywood, the wronged-party experiences a surge in popularity while the philander suffers a ratings nightmare (think Sandra Bullock and Jesse James). For instance, Kim's large following could turn against Kanye with social media if he stepped out on her thereby indirectly decreasing his records sales for a period of time.
The parties may want to consider confidentiality clauses with regard to reasons for future separation as a component of their prenuptial agreement. However, a good legal team would need to include public relations experts as advisors on potential impact of divorce-related issues which could be contemplated in the drafting of the prenup.

Also, many prenups take into account the length of the marriage as well as contingencies such as the birth of future children. Kim and Kanye may want to sit down and have a discussion about number of children as a prenuptial agreement may include increasing payouts to a party based on the increasing number of children. Normally, prenuptial agreements have what is known as a sunset clause meaning that if the parties are married for longer than a certain number of years, then the prenup will not apply and the laws of the state of residence will prevail. A future child custody issue cannot be contemplated or negotiated as part of a prenuptial agreement, so which parent may get custody of little North in case of a break-up is an issue that could only be decided if or until the parties actually initiated divorce proceedings at some future date.
Perhaps the most important issue that should be addressed in the prenuptial agreement would be the allocation or division of assets Kim and Kanye derive from their joint promotional efforts.
All in all, we hope that Kimye's marriage lasts, or at least longer than 72 days that is.
Related