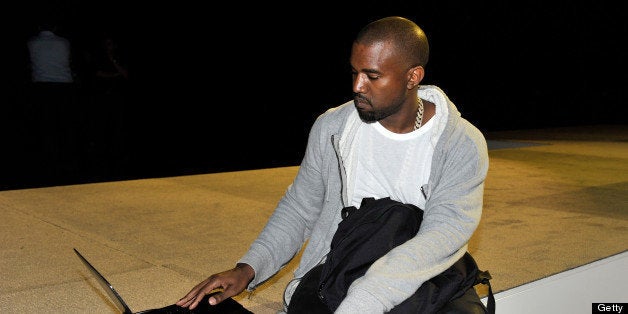 "I Am a God," a track off Kanye West's sixth studio album "Yeezus," has been stirring the pot since March, when rumors that the album itself would be called "I Am God" hit the internet. West debuted the track at the Met Gala and plopped a charming video of him, Mike Dean and Rick Rubin toying with it on his website in the run-up to the album's official release.
It turns out this song was inspired by a serious diss—not from another rapper but from a major fashion designer. Last fall, a few days before Paris Fashion Week, West was informed that he'd be invited to a widely anticipated runway show only on the condition that he agree not to attend any other shows. "So the next day I went to the studio with Daft Punk, and I wrote 'I Am a God,' " West says. "Cause it's like, Yo! Nobody can tell me where I can and can't go. Man, I'm the No. 1 living and breathing rock star. I am Axl Rose; I am Jim Morrison; I am Jimi Hendrix." West is not smiling as he says this, and his voice is getting louder with each sentence. "You can't say that you love music and then say that Kanye West can't come to your show! To even think they could tell me where I could and couldn't go is just ludicrous. It's blasphemous—to rock 'n' roll, and to music."
"I made that song because I am a god," he says finally. He laughs for a second, then stops. "I don't think there's much more explanation. I'm not going to sit here and defend shit. That shit is rock 'n' roll, man. That shit is rap music. I am a god. Now what?"
The W interview is chock full of West-isms like the "I am Axl Rose" line, and also reveals that "So Awesome," a track which West debuted at his Adult Swim Upfront performance, was originally supposed to be on the album as well. The song did not make the cut; W's reporter was there when West played the song for Kris Jenner, who was apparently somewhat unimpressed with the ode to Kim Kardashian.
REAL LIFE. REAL NEWS. REAL VOICES.
Help us tell more of the stories that matter from voices that too often remain unheard.
BEFORE YOU GO
PHOTO GALLERY
Kim Kardashian and Kanye West