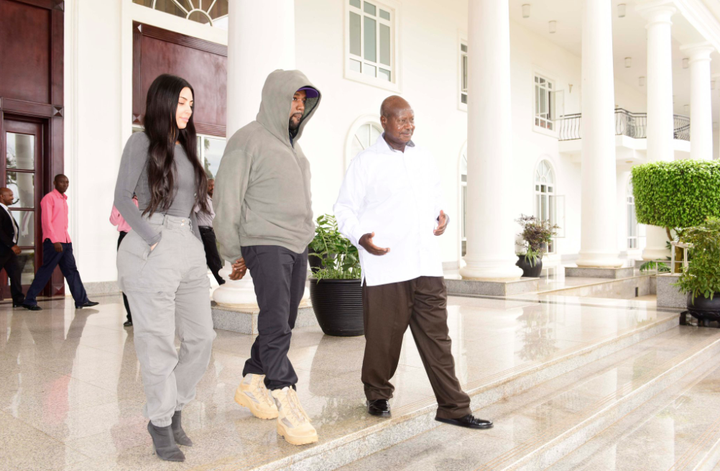 The couple took in a meeting with the president of Uganda, Yoweri Kaguta Museveni, who has declared his love for Trump, and Museveni's daughter Diana Museveni Kamuntu in Entebbe on Monday. West is visiting the East African country while recording his upcoming album.
Museveni announced the visit on his Twitter account and said they held "fruitful discussions" about promoting tourism and arts, revealing that West gave him a pair of white Yeezy sneakers.
"I welcome American entertainment stars Kanye West and @KimKardashian to Uganda," he wrote on Twitter alongside a series of photos documenting their meeting. "I held fruitful discussions with the duo on how to promote Uganda's tourism and the arts. I thank Kanye for the gift of white sneakers. Enjoy your time in Uganda. It is the true Pearl of Africa."
West is recording his ninth studio album and "Yeezus" follow-up, "Yahndi," which was pushed back to Black Friday, Nov. 23, when he failed to finish the project after his controversial "Saturday Night Live" appearance.
He traveled to Uganda with his family in tow, reportedly taking over a luxury resort on the banks of the Nile River, to wrap up the album as well as shoot some music videos.
"Ye is fully back in mode," he said in an interview with TMZ's Harvey Levin last week. "We're going to Africa in two weeks to record. I felt this energy when I was in Chicago. I felt the roots. We have to go to what is known as Africa."
Rapper Big Sean is reportedly staying at the same resort and will be featured on the album, in addition to Ty Dolla Sign, the late XXXTentacion and controversial rapper 6ix9ine.
After deleting his Twitter account, West returned to the platform on Saturday to livestream parts of his trip, including some quality time with daughter North West, an impromptu performance and a 10-minute rant titled "Mind control."
"America has got one of the best presidents ever. Mr. Trump. I love Trump," Museveni said in January 2018, according to the BBC. "I love Trump because he tells Africans frankly. The Africans need to solve their problems, the Africans are weak."
Museveni's comments struck a very different tone from remarks by leaders of other African nations — including Botswana, Ghana, Namibia and Senegal, as well as the African Union — who denounced Trump's inflammatory language.
Popular in the Community