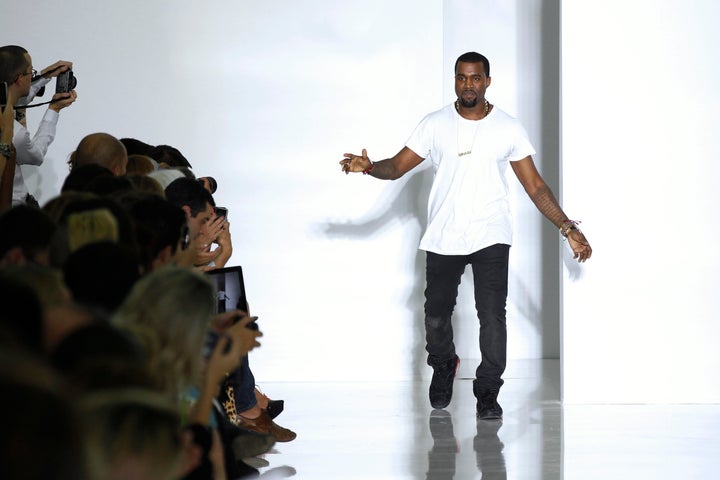 PARIS (AP) — Fashion's most famous aficionado, music star Kanye West, turned pro on Saturday with a luxurious hard-edged women's collection that bucked all the stereotypes about celebrity designers.
West has been a front-row fixture at fashion shows for years, but industry insiders had greeted news that he was planning to launch a line of his own with a more than hefty dose of skepticism and plenty of barbed quips about how it would surely be Lindsay Lohan's leggings line all over again.
So, it was with slightly humbled wonder that the fashion editors, stylists and journalists hand-picked to attend Saturday's late-night spring-summer 2012 show greeted the sophisticated, highly designed looks on the catwalk.
Sure, West didn't reinvent the wheel: You could see the influence of established designers — many of shows he frequented over the years. There was a bit of Balmain in the short, sex-drenched dresses and some Givenchy in the gothic, bondage-y leather jackets and skirts, for example.
But luxed-up streetwear elements, like hooded jackets made in a mosaic of crocodile skins, gave the collection a unique voice of its own.
The specifics of project remained foggy: The extent of West's involvement in the actual design remained unclear, as did the identities of those on his design team. But West's emotional attachment to the brand was clear.
Speaking to reporters after the show, the seasoned performer kept repeating "I'm so scared, I'm so nervous.
"The biggest conversation I hope I can end tonight is whole 'celebrity designer' thing," he said once he'd managed to collect himself. "That's the biggest hurdle when you want to get amazing people to work for you."
Another challenge, he added, was figuring out who to work with. The fashion industry is notoriously opaque and often inscrutable for outsiders, even ones as well connected as him.
Celebrities (R&B singer Ciara), designers (Joseph Altuzarra, Alexander Wang and Olivier Theyskens) and celebrity designers (the Olsen twins) turned out for West's show, which was hands-down THE event on Paris' spring-summer 2012 calendar.
Ciara, defying the stifling weather in a fur stole, said "he did a great job. I walked away from this show feeling like I would love to wear this line. There is so much in it that's right up my alley.
"Especially since for me, it's so cool to see someone come from our music world and do something like this. It's really hard," she said a backstage interview.
U.S. designer Jeremy Scott concurred.
"Everyone probably thought it was going to be another like Jennifer Lopez's Macy's line and it's not, it's really clear it's not," said Scott, who's known for his kooky, colorful designs. "Kanye has impeccable taste and you see his taste level is up there. He's a fan of design across the board. I have five-hour long conversations with him all the time about everything because he's so obsessed, and I think we got a little bit of an insight into his mind there."
Held in a high school in southern Paris, Saturday's show drew a thick crowd of star-struck celebrity watchers who snapped their cell phone cameras at literally anything that moved. Some of the students who board at the school watched the guests file in from the other side of what looked like old-school prison bars and begged passers-by their invitations as souvenirs.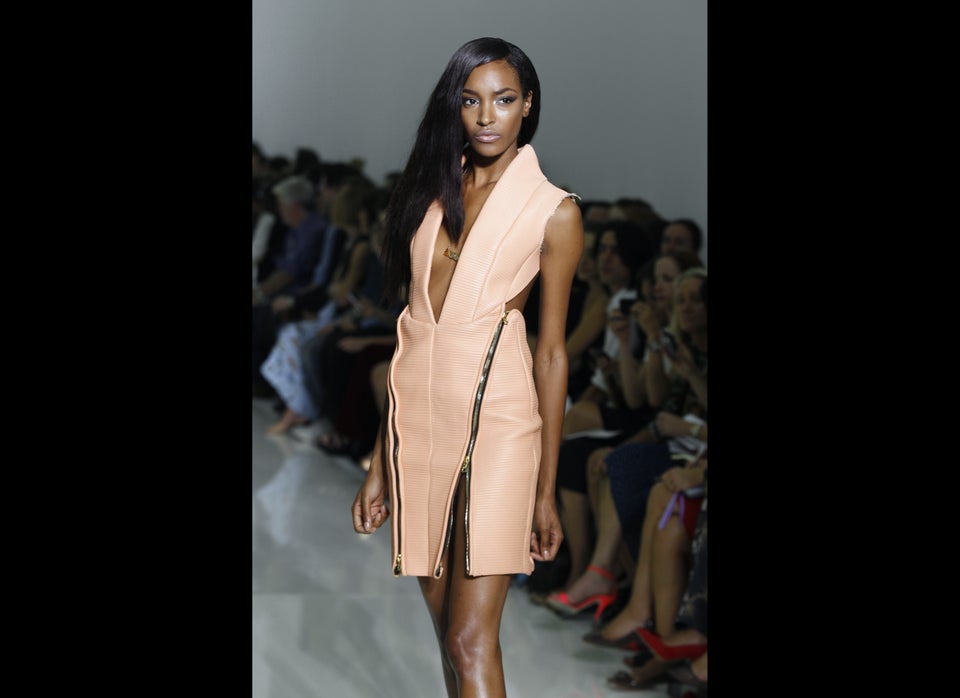 Kanye West Spring 2012
Popular in the Community