The entire piece is really worth a read, as it reveals a man trying to finish an album that he feels expresses his views -- and frustrations -- with issues of race, celebrity and consumerism, all the while grappling with impending fatherhood and a relentlessly hostile public.
"I don't have some type of romantic relationship with the public," West said in an understatement for the ages. "I'm like, the anti-celebrity, and my music comes from a place of being anti."
One of those anti-celebrity moments came when West interrupted Taylor Swift's acceptance speech at the 2009 MTV Video Music Awards to tell her, and the world, that Beyonce should have won. That moment -- along with West's earlier assertion (also on live TV) that George W. Bush "doesn't care about black people" -- soured public opinion of the rapper. West apologized on TV, canceled a tour with Lady Gaga and took more than a year off from being in the public view.
In Tuesday's Times piece, however, West walked back some of that atonement. After discussing the Grammys race problem ("I've never won one against a white person") and saying he wants the historical record to be accurate, West said he also felt like going on stage to defend Justin Timberlake when he didn't win Album of the Year. Caramanica asked if that urge has "led you astray" and mentions Swiftgate, to which West memorably answers: "It's only led me to complete awesomeness at all times. It's only led me to awesome truth and awesomeness. Beauty, truth, awesomeness. That's all it is."
Caramanica pushes on, asking if Kanye regrets it ("I don't have one regret") and reminds the rapper that he already apologized for it:
Do you believe in the concept of regret?

If anyone's reading this waiting for some type of full-on, flat apology for anything, they should just stop reading right now.

But that is something that you apologized for.

Yeah, I think that I have like, faltered, you know, as a human. My message isn't perfectly defined. I have, as a human being, fallen to peer pressure.

So that was a situation in which you gave in to peer pressure to apologize?

Yeah.

So if you had a choice between taking back the original action or taking back the apology, you'd take back the apology?

You know what? I can answer that, but I'm — I'm just — not afraid, but I know that would be such a distraction. It's such a strong thing, and people have such a strong feeling about it. "Dark Fantasy" was my long, backhanded apology. You know how people give a backhanded compliment? It was a backhanded apology. It was like, all these raps, all these sonic acrobatics. I was like: "Let me show you guys what I can do, and please accept me back. You want to have me on your shelves."
The 36-year-old rapper used similar language at Monday night's listening party for "Yeezus," his upcoming album, which he has characterized as a rejection of expectations: "I have a new strategy, it's called 'no strategy.' I have a plan to sell more music it's called 'make better music.' I had to learn about giving, this whole album is about giving -- this whole process is about giving ... no f--ks at all."
"I want to explain something about the album title," he added on Monday. "Simply put, 'West' was my slave name and 'Yeezus' is my god name." That's in keeping with a shift in West's public demeanor, as he appears to be less and less interested in playing along with corporate and press-friendly rules. The rapper's patience with the paparazzi has been wearing thin, especially since a May incident in which he hit his face on a parking sign while trying to avoid being photographed. Just this week, he told a photographer to stop talking to him.
The Q&A ends on a triumphant note, with West accurately stating that he has worked on some of the most influential albums with some of the most influential artists of the past decade and placing himself in a lofty class with "Steve Jobs, Walt Disney, Henry Ford, Howard Hughes, Nicolas Ghesquière, Anna Wintour, David Stern."
"I think that's a responsibility that I have, to push possibilities, to show people: 'This is the level that things could be at,'" West said. "So when you get something that has the name Kanye West on it, it's supposed to be pushing the furthest possibilities. I will be the leader of a company that ends up being worth billions of dollars, because I got the answers. I understand culture. I am the nucleus."
Support HuffPost
The Stakes Have Never Been Higher
Before You Go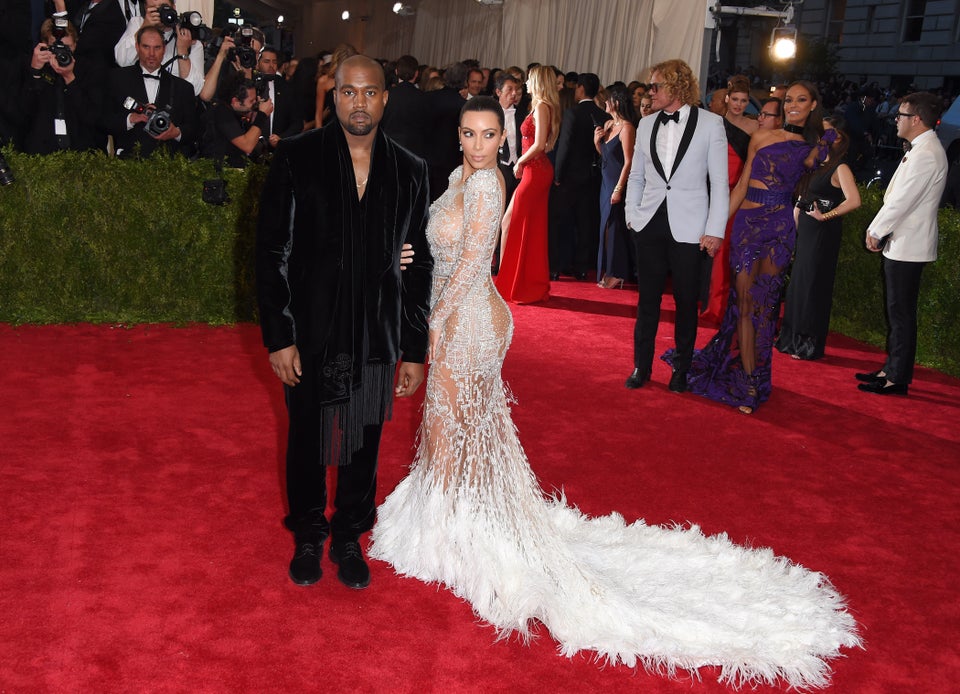 Kim Kardashian and Kanye West
Popular in the Community