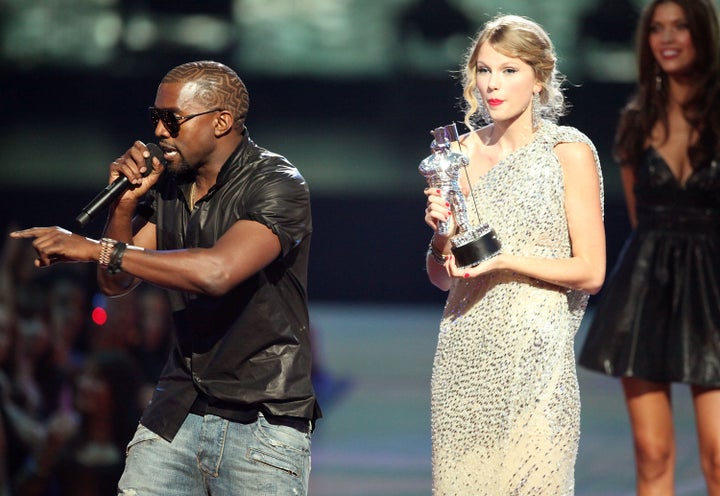 Kanye West capped off his sold-out, surprise show at NYC's Bowery Ballroom Tuesday night with an impassioned rant that attempted to defend his comments regarding George W. Bush and Katrina and criticize Taylor Swift's reaction to his VMA stage storming incident all in one breath.
Here is just part of what he had to say, read a whole transcript at New York magazine:
Everybody needs a villain, don't we? We need to blame someone at all times. For me to be considered a racist for stating a blatant truth, an obvious truth, but the nuances of my words, because I am very particular with my words, and the emotion I felt at that time wasn't worded exactly right - but everybody came and said 'Oh my God!" - I'm talking about five years ago, not a year ago, I'm talking about five years ago, I'm talking about Katrina - and everybody said, "Oh my God, Kanye, I love you so much, I hated you until you said that. But now I see you're speaking for me. I always thought you were an asshole but now you said something that represents me, but the whole time, whole time I'm thinking in my mind I was thinking that's not exactly what I wanted to say, I was emotional, that was not exactly the way I wanted to say, I was emotional, that was not exactly the way I wanted to word it, but I wrote it, I rode it, just as Taylor never came to my defense in any interview, and rode the waves and rode it and rode it, that's the way I rode the waves of the Bush comment.
Bush has described Kanye's comments on his not caring about black people as "one of the most disgusting moments in my Presidency." A couple of weeks ago Kanye apologized on 'Today' for calling Bush a racist, but was later infuriated at how his interview was produced.
"I feel very alone very used very tortured very forced very misunderstood very hollow very very misused," he tweeted at the time.
Kanye blamed Matt Lauer and NBC for airing footage of the Taylor Swift incident while he was talking about Bush - associating two unrelated incidents in a way not so different from how he folded them together in his Tuesday night commentary.
His new album, My Beautiful Dark Twisted Fantasy, was released Monday to rave reviews.
WATCH:
Popular in the Community