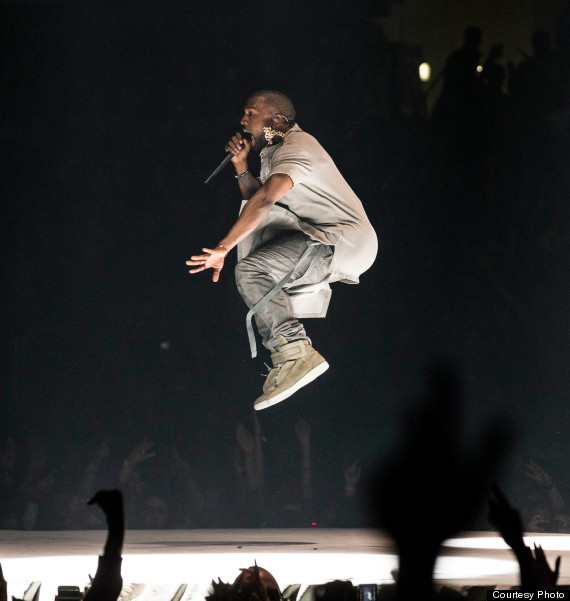 Kanye West received a call from "some guy who used to run a multi-billion dollar company or something" recently, and it didn't go very well. This ex-chairman of such-and-such apparently said he "doesn't approve of the interviews and the way I'm going about things lately," West told an eager crowd in Brooklyn on Tuesday night, the first of four Yeezus tour dates he's playing in New York. "You see that's what I call 'free advice,' because people tell me what to do and I haven't seen a check for it yet."
The lesson, as it almost always is when West dips into the pre-allotted time for stage banter (or, if you must, "rants"), was that life is too short to be spent worrying about what anyone thought you should be doing. For all of West's hobnobbing with the Mark Zuckerbergs and Bob Igers of the world, it's still of critical importance for him to stay true to his own voice. "The people who give me 'advice,'" he seethed on stage at Barclays Center. "I don't see them vibing with 15,000 people in Brooklyn tonight."
Barclays Center, the house that Jay Z christened with a hefty run of shows, was louder on Tuesday than it ever was when Hov performed there. Comparing the two is almost ridiculous: Jay, the reserved, within-the-beat rapper who shot down Kanye's request to have dancers on their joint Watch the Throne tour is a pretty handy foil to West's erratic, over-design-everything performance style. On Tuesday, West was joined by a bevy of stocking and mask-clad dancers, a man dressed as Jesus (Kanye: "Hi, white Jesus") and a would-be demon with LED eyes -- all of whom scale a movable mountain under a 60-foot screen and kinetic second stage that West rested on while snow fell around him. It's a tour unlike any other traveling arenas around the country.
As West was nearing the end of his sermon about the multi-billionaire (this time, delivered quite literally in the shadow of the mount), things got a little dicey. After suggesting the audience learn more about Nikola Tesla ("and I'm not talking about the car") and Alejandro Jodorowsky, he eventually just started yelling things like, "you don't know who the fuck he is!" The crowd was too hyped to really care that it was being reminded of its collective ignorance, and cheered anyway.
The songs are generally choreographed in either extreme melancholy or jubilation, with little care given to middle ground. Much of "New Slaves" -- which rings off fantastically in an arena -- is unsurprisingly left to the crowd to scream. About midway through, a run of "Cold" and "Don't Like" soundtrack the show's peak, in terms of raw energy. "I'm In It" starts with West's dancers forming a disturbing human knot as he barks the song's lyrics at them before sitting on a throne made up of the same dancers. It's an almost literal debasement that pushes a song already criticized for its misogyny ("I put my fist in her like a civil rights sign") to its breaking point.
For his reputation as a pretty extreme dude, Kanye often stuns by treating silence and stillness with equal respect. He preceded both "Coldest Winter" and "Runaway" with healthy servings of anticipation, saying nothing for nearly a full minute before introducing the former song by breaking off the titular line from "Can't Tell Me Nothing," which he had just finished.
"When I made that album, 'Graduation,' I felt like no one could tell me nothing," West said. "Then I went to London, and someone told me something. Someone told me that my mom had died. So a lot of people don't know this but I wrote this song for her." Cue the snowfall, and sobs from the two women in front of me who spent most of the show hugging each other.
Attending the Yeezus tour on the same day that the "Bound 2" video was released was almost disorienting, a reminder that West is capable of producing both authentic, touching moments (like a tribute to his mother that he probably does on every tour stop) and incredibly hackneyed pieces that are creatively and logically sloppy. The tour's merch was similarly confused -- much has been said about West's inclusion of Native American imagery and Confederate flags on t-shirts being sold not only on the tour but in stores, and suffice it to say that this writer saw dozens of white attendees not only buying but immediately putting on Confederate flag items like it was nothing.
"Never let them think for one moment that I'm going insane," West said from the stage. "Because I sit back and I see shit and think, 'Am I the only one seeing this?' And you all see that shit too. But every single celebrity is too scared to lose everything to tell the truth. But you see that shit too. And that's why I gotta keep it true.
"When I say 'creative genius,' it's not a compliment to myself," he continued from behind his mask. "It's a burden. I wish you could see these tears... because these dreams keep me up at night."
The consistency with which West returns to familiar terms ("creative genius") and themes (the media, critics, West's mother's passing) are more than enough to counter internet commenters who assume the 36-year-old is just haphazardly bigging himself up and tearing down others. "Fuck what they tell you is luxury," West said late in the evening, repeating points he made on "Jimmy Kimmel Live." "Time is the only luxury. Time with friends and family is the only luxury." Anna Wintour and Grace Coddington, who were spotted earlier in the VIP section, had either left by the time West declared war on high fashion or shortly thereafter.
Gaining the approval of Anna Wintour, after all, isn't the end-all, be-all for Kanye West or his fans. "I don't want any hating-ass boss telling you how to be," he said. "I don't want haters commenting on your Instagram telling you how to be. Don't even listen to me. Because the truth is inside of you and it always has been."
The Yeezus tour continues at Barclays Center on Wednesday and returns to New York on Saturday and Sunday for shows at Madison Square Garden.
Popular in the Community