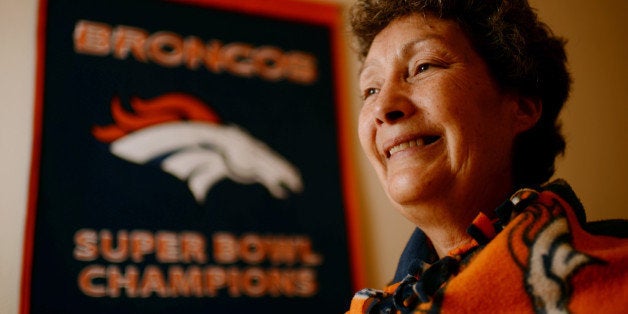 Maybe it's the Denver Broncos who should be saying thank you.
Team supporter Kara Christian penned the fan letter to end all fan letters, thanking the Broncos for giving her strength as she fought terminal breast cancer, The Denver Post reported. The team gave her a field pass for the AFC Championship Game and a team-signed ball.
Appearing as a half-page ad in Saturday's Denver Post, Christian's missive began, "You shall never know how much your kindness and support has meant to me throughout my illness." It concludes, "I was born a Bronco, I bleed orange and I will proudly die a Bronco." The note is signed, "The Bronco Lady."
(Story continues below.)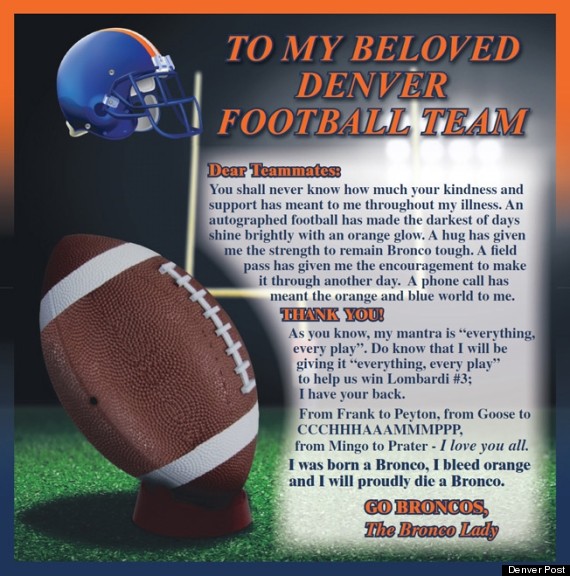 Christian, 58, a Broncos disciple since age 5, is known for wearing a big orange wig to Broncos games, according to the Post. She won a season-ticket lottery to qualify for Super Bowl tickets and plans to be there, AdWeek reported.
Related