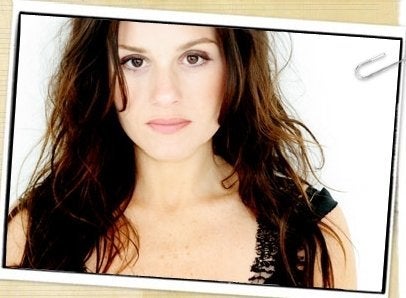 Kara DioGuardi's Wikipedia page describes her as "an American songwriter, record producer, and singer who has contributed to a long list of internationally successful popular songs" — she grew up in Westchester, New York, attended Duke University, and worked in marketing and publishing at Billboard Magazine.
From Kara DioGuardi's official website: "DioGuardi's forthcoming releases and collaborations include cuts from artists David Cook, Esmee Denters, Pink, Martina McBride, Hannah Montana, Demi Lovato, Diego, Menudo, Tom Jones, Amie Miriello, The Pussycat Dolls, Nick Lachey, Daniel Powter, Crosby Loggins, Tyler Hilton, Halestorm, Jesse Lee, and Clique."
The Big Announcement

Hello All,

Well, it has been officially released...I will be joining the judging panel for the upcoming season of American idol.

I'm so excited and honored to have been chosen by Fox and Freemantle to be the 4th judge on the most successful TV show in America, American Idol. This is going to be an amazing new journey. Thank you so much for your continued support.

Check out www.arthouseent.com and www.americanidol.com for updates.

Xoxo

Kara
Kara DioGuardi's AristDirect page reveals she's worked as a producer for the Backstreet Boys and the Jonas Brothers, and she's sung backup vocals for Vanessa Hudgens.
Kara DioGuardi's IMDB page has a long list of credits, including a substantial amount of work with Disney artists.
Kara DioGuardi's EMI page gives a list of the artists she has worked with:
Kara's recent cut list is impressive, as it is diverse. 2007 was a big year for her as Celine Dion's single 'Taking Chances' became a hit, and the platinum selling album of the same name reached #5. 2006 brought top singles "Beep'' and ''I Don't Need A Man'' by Pussycat Dolls, whose album went triple platinum, as well as cuts on Paris Hilton's debut album. She previously had success with "Pieces of Me" by Ashlee Simpson which reached #5 on the Billboard chart and was followed up by "Shadow" and the current single "Lala." She also had the lead single off Hilary Duff's second album and upcoming singles for Gwen Stefani, Lindsay Lohan and Anastacia (in Europe).

She has had songs recorded by Santana, Michelle Branch, Gwen Stefani, Celine Dion, Britney Spears, Ashlee Simpson, Jessica Simpson, Hilary Duff, Kelly Clarkson, Lindsay Lohan, Enrique Iglesias, Kylie Minogue, Clay Aiken, Ricky Martin, Diana DeGarmo, Anastacia, Natalie Imbruglia, Raven Symone, Lisa Stansfield, Paula Abdul, Marc Anthony, Lara Fabian, Eden's Crush, Billie Piper, Martine McCutcheon, Thalia, and Darius.

She has co-produced records for Santana, Celine Dion, Kylie Minogue, Kelly Clarkson, Hilary Duff, Enrique Iglesias, Lindsay Lohan, Diana Degarmo and Raven Symone.
JustJared opines on the addition of Kara DioGuardi: "Hopefully this is one of the twists AI needs to hook new viewers and keep the old ones!"
Popular in the Community