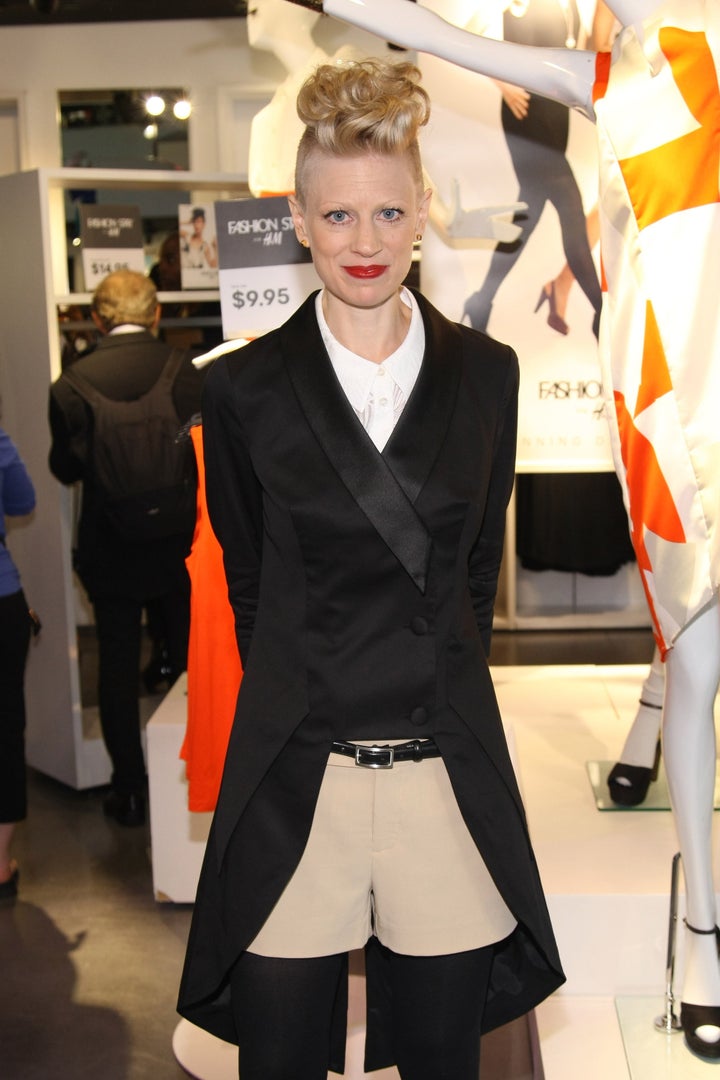 "I feel like I'm going to get hit by a Mack truck," Kara Laricks said as she stood next to her collection at H&M's Fifth Avenue location in New York on Wednesday morning. "It's just too good." The former fourth-grade teacher had every reason to be giddy: after nine months of secrecy, she was finally able to openly discuss winning NBC's "Fashion Star."
It is no coincidence that Laricks compared seeing her collections in H&M, Macy's and Saks to another exciting incubation period. "This is probably the closest I'll be to pregnant and these pieces are my children," she explained, "and I love them all equally."
Laricks may feel joyful, but her journey to stardom wasn't easy. In fact, she was in the bottom two on the first episode for a design that she doesn't regret. "I just loved everything. Even the pieces that weren't purchased, like the first shirt and tie. That was the basis for all my designs - the very basic menswear elements." As Laricks perfected this borrowed-from-the-boys aeshetic throughout the competition (even while designing dresses), she kept close to heart the advice she received from the show's design mentors Jessica Simpson, Nicole Richie and John Varvatos: "Be who you are. Be you."
One judge in particular stood out as a guide. "John [Varvatos]. I just respect John so much. He has such a clear point of view and he's just as great a man as he is a mentor." That doesn't mean she didn't appreciate the celebrity-turned-brand advice from Richie and Simpson. "People have said 'well, gosh, they just put their name on a label.' But, they're very smart businesswomen and that's important."
Simpson, who Laricks refers to as "Sweet Jessica," most surprised the "Fashion Star" winner. "That's something that going in to the show [I questioned], I was like 'hmm... Jessica Simpson? This is going to be interesting.' But, having met her, she is one of the most warm, wonderful, sensitive, happy people. She has her billion dollar brand and she can have corn dogs if she wants. One day she was like 'I smell corn dogs, you guys got them without me. Didn't you. You did it, I know it!' She's just a happy person."
She also provided Laricks with one of the oddest compliments she received on the show. Laricks explained, "Jessica says to me 'You have such a cool, funky style and you pull off things I would never even think about, but you're pretty too!' And I was just like 'That's so weird and awkward, but so sweet!'"
Check out Kara Laricks' final collections for H&M, Saks Fifth Avenue and Macy's in the gallery below: