Paradigm Shifters is a series of interviews with a select group of women and men from eclectic walks of life. It will highlight unspoken, real-life insights on how they have been able to turn weakness into strength. A naked soul point of view of how their breakdowns were really a preparation for breakthroughs. They are your quintessential paradigm shifters; internal shifts converted into genuine change.
Everything I have ever done has been focused on this underlying theme of shifting the paradigm because, "What we think determines what we feel and what we feel determines what we do." Hence, why Empowered by You takes lingerie, which has traditionally been seen merely as a tool of seduction and redirected that energy as a tool of empowerment.
I hope from these stories you will look at your own situations, struggles and accomplishments through a different lens. At the very least you will be more equipped with real life tools to change your own paradigm. At the end of the day, we are our own Alchemist turning the silver we were born with into the gold we are destined to become.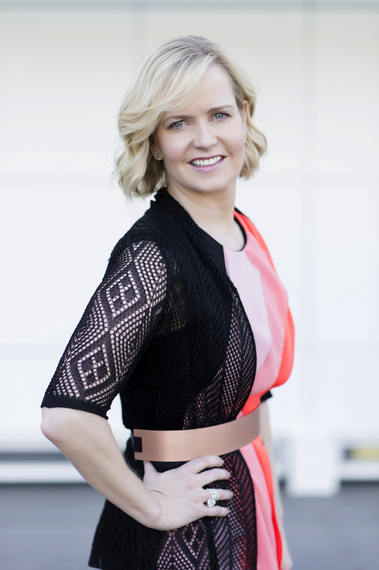 Founder & CEO of Diamonds Unleashed by Kara Ross
Tell me about your family.
I grew up on the Mainline outside of Philadelphia. I am the oldest of five. We are all within 7 years and very, very close. My father is a surgeon and my mother is a stay at home mom, but she went back to get her Masters of Library Sciences. In my family, we're all about education. My brother and I went to Georgetown, two of my siblings went to Harvard, and my other sibling went to the University of Pennsylvania. We all did really well in school; there wasn't really an option to do poorly. My parents set this standard of excellence, which I also enforce in my own household. Some people view it as harsh, but I see it as an affirmation. It confirms that they're smart enough to get the grades I expect because they should expect them as well.
Important message someone has taught you?
I must have been twelve. I was with my mother getting groceries at the A&P. There was some promotion going on where if you got a specific amount of receipts you would get a watch. I really wanted the watch and we didn't have enough receipts. The women purchasing groceries in front of us had many receipts from her groceries. My mom told me to go ask her and I was so hesitant and uncomfortable with it. My mother turned to me and said, "the word 'no' doesn't hurt." That one line from my mother, has served me well my whole life. You hear the word "no" a lot, and so what? Regardless, you just have to keep going.
How did you start in the jewelry business?
I always loved fashion and loved fashion magazines. Growing up I always thought I wanted to get into magazine publishing. After college, I worked at Harpers Bazaar. I did that for a year then left to work at Ms. Magazine. I went to Model magazine after that. I spent some time thinking about what was I going to do; I contemplated getting another job at a magazine. It would've been easy, but I decided to go for my dreams because if not now, when? So I left and I went to GIA, the most renowned gem laboratory in the world. Frankly, I thought it was going to be easy but it was very challenging. However, I soaked it in and I really loved it.. After, I went to work at one of the largest pearl companies. We sold to Tiffany, Harry Winston--I got the best education on pearls and began to really love them, especially the Tahitian pearl and the South Sea pearl. I did that for a year and then I began meeting and forming relationships with diamond cutters and dealers. After that I began designing engagement rings, I did so many I can't even count. You just have to be open to every experience.
How did you start your company?
I started my company as a single mom, supporting my two daughters. I had no employees for five or six years. I sold to Neiman Marcus under my maiden name. I was selling to five Neiman Marcus', I was doing my own designs, and I was doing everything (sourcing, marketing, design, invoices, trunk shows etc). It just came to the point where I couldn't maintain what I was doing with such large volume for department stores. I then focused on exclusive private clients and began making custom, incredibly expensive pieces. This is where I really learned about the model making and the stone setting. It was all about quality and precision--the aesthetics had to be perfect. I did that for a while before putting together another collection. Eventually, that collection was launched at Bergdorf Goodman. I have designed more engagement rings than I can count.
Tell me about diamonds as a symbol for love and marriage to empowerment for women and having profits with a purpose...How did you redefine a business model in every way possible?
I've been in the jewelry world, as well as the handbag world, for quite some time. I understand design and distribution. Fine jewelry is usually "sold" in department stores or fine jewelry stores on memo or consignment. It didn't used to be that way, the product used to be purchased. Basically in the model thats happening today, fine jewelry designers are financing someone else's inventory. Someone takes it from you and if it sells that's when you receive payment. If you can have your designs at a store like Neiman's or Harrods it's worth it, because it provides great exposure for the brand.
I believe the model direct to consumer is the best way to go and it is what I follow. Redefining the business model just kind of organically happened. I had decided to reset my engagement ring and I wanted to do something very cool. Diamonds and engagement rings are locked into this formulaic aesthetic. When I was working with the model maker he made something small and pretty. I made him re-do it two times; I wanted it to be in your face and aggressive. I purposefully wore it on my right hand, because it just looked better, and I started getting all these compliments. People thought it was so cool, and wanted to know why there aren't more unusual diamond rings on the market. I also got a lot of questions about why I was wearing it on my right hand.
This feedback got me thinking and I began doing research on diamonds and how people perceive them. I found that the diamond business has really pigeon-holed itself. For the most part diamonds are currently bought by men for women in the association of love, marriage, and engagement... and there is nothing wrong with that, but we are saying it symbolizes strength. It kept coming back to this old, antiquated notion. I knew this was something that could be turned on its head.
I began thinking about the words that describe a diamond: unbreakable, multifaceted, beautiful. That's a woman. I wanted to come up with something that shed light on that. Our goal was to transform the diamond from a passive gift one receives to this authoritative possession. For example, Serena Williams' example of "my diamond is a trophy I gave to myself." I wanted to create a symbol for this authority and possession and that is where this came from. This idea could be seen, pulled, and stretched in so many directions. There is nothing wrong with a diamond symbolizing love and marriage, but we're saying, lets extend that so diamonds can symbolize women's strength. It was just this very organic paradigm shift that resulted from questioning the status quo. Why can't we think about something like diamonds in a much bigger way? How do we create a global symbol like a peace sign? How do you translate that model into something that is a luxury?
I decided to create a business where all NET profits go back to non profit partners & microfinance opportunities focusing on women's education. This is where I found my passion. I wanted to focusing my energy solely on Diamonds Unleashed, and had such a wonderful ground swell of support from high profile women (ambassadors), various well known retail partners, and more. The opportunity seemed HUGE and warranted 100% of my attention. I had to restructure my business and start fresh. In doing this, I created this very clear vision and am able to focus completely on this business.
There are so many issues surrounding women: sexual violence, abuse, homelessness, the list goes on and on. Education was very natural to me because it traced back to how I grew up and it is so incredibly powerful. You can grow up impoverished, but if you get an education you can change your life. Once we finally found the right non profit partners and micro-finance opportunities, we continued on this trajectory. I'm really excited to follow my passion and make a difference doing something I love.
I only have one voice but when you put your collective voices together it's much more powerful, especially when those voices include high profile women. I'm on the board of CFDA, Georgetown, Women Moving Millions, and the Harvard Kennedy School of Women in Public Policy. This enables me to reach out to all these different women in all these different sectors. This takes so much time though and was only one of the platforms that needed to be lined up before I could really start. The most difficult aspect of launching Diamonds Unleashed was lining up meaning partnerships and platforms such as: retail partnerships, manufacturing partnerships, marketing/pr/social media and the most exciting partnership CANADAMARK, Dominion Diamond Corp. When you have a company called Diamonds Unleashed, it's very important to know that these are conflict free diamonds. We are not telling women to go out and buy diamonds. We are telling them to think about themselves as diamonds, and the characteristics that a diamond has; beautiful, strong, unbreakable, multi-faceted and brilliant. To that extent, we have done partnerships with other brands and translated the symbol on to ready to wear, accessories, and beauty.
One of the things that I am most excited about right now is a children's wear micro-finance capsule collection we did with women from two townships based in Capetown, South Africa. We custom printed the Diamonds Unleashed symbol on traditional South African fabric called Shwe Shwe, which was then made into the most beautiful baby clothing available today. We are bringing beautiful, desirable product to market, and at the same time we are keeping women in South Africa employed and spreading the symbol for women's empowerment. Everyday is a beautiful challenge, it's exciting and I enjoy putting all of the pieces together of this large puzzle.
The whole thing. I enjoy getting up everyday and thinking about what I need to do. I really feel like I have a purpose. I've always worked in my life; I've been working since I was fifteen years old. But now, I feel so good. I feel like I'm on a mission with this great purpose and I'm very excited about it.
Breakdown to breakthrough?
In my life I've had quite a few. You always hit a roadblock and that is a breakdown. Then it's just about figuring out how to get through it. A big breakdown was earlier in my life when I was a single mom, going through a divorce, with two kids and remaining the sole provider. But I made sure they had a roof over their heads, I sent them to private school, and I got a babysitter--because I had to. Yeah, maybe you can be depressed for a day or two but then you have to get over it. You've got to suck it up and carry on.
Legacy?

Having the Diamonds Unleashed symbol be the worldwide symbol for women's empowerment. As that becomes the case, we'll be driving more and more funds for education and microfinance, which will help other women. It's a huge aspiration, but I feel like with the right partners it can happen. It's not about me, it's about we. As of now, there is no uniting symbol like the peace sign or the pink ribbon. And it's not just about the symbol, it's about women being united to work toward a better world.
A definition of a social entrepreneur is, " someone who has committed their life to changing the direction of their field. A person with innovative solutions to society's most pressing social problems." Kara is not only a social entrepreneur, but someone who is reinventing how we experience jewelry and every product with the Diamonds Unleashed symbol. As someone who has interviewed some of the most powerful women in fashion, I have to say that I am awestruck by Kara's humility and relentless drive. There is a fabric that leaders are made of and Kara's thread is nothing short of legendary.
REAL LIFE. REAL NEWS. REAL VOICES.
Help us tell more of the stories that matter from voices that too often remain unheard.