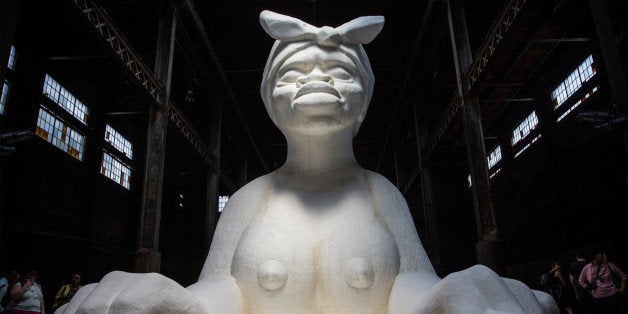 Just when you thought you were doing the objectifying, Kara Walker and her sugar sphinx prove the artist is always in control.
Yes, you might have been one of the many people who shamelessly snapped a selfie in front of her 35-foot tall nude sculpture, housed in Williamsburg's old Domino Factory earlier this year. But Walker, a certified "genius," was one step ahead of you. She sent a film crew to secretly record the comings and goings of spectators at her wildly popular show, "A Subtlety." And that footage was used to piece together a 28-minute film titled "An Audience."
The video is set to debut at Sikkema Jenkins & Co. this week, in conjunction with a larger exhibition detailing "the creation and aftermath" of Walker's sugar show. The gallery sent us a five-minute clip of the work -- gathered on July 6, at 6 p.m., during the last hour of the last day of the exhibition.
In it, you can see a selective slice of the audience (mostly people of color), ogling the Sphinx, touching the subtleties and waving their cell phones about. The video seems to affirm accounts of egregious selfie activity during the show, but stands somewhat in contrast to what some felt was an event filled with "mostly white visitors" and "unclear racial politics."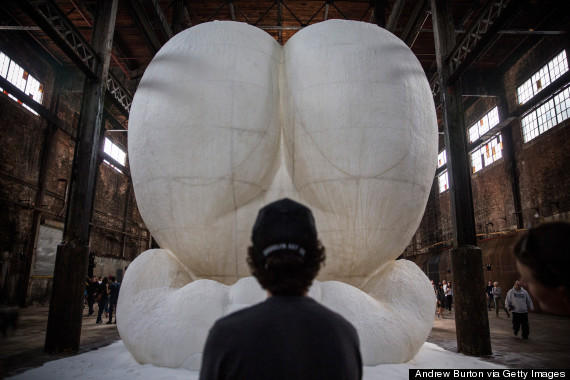 "I put a giant 10-foot vagina in the world and people respond to giant 10-foot vaginas in the way that they do. It's not unexpected. Maybe I'm sick. Sometimes I get a sort of kick out of the hyper essay writing, that there's gotta be this way to sort of control human behavior. [But] human behavior is so mucky and violent and messed-up and inappropriate. And I think my work draws on that. It comes from there. It comes from responding to situations like that, and it pulls it out of an audience. I've got a lot of video footage of that [behavior]. I was spying."
Check out the film above and let us know if you were caught red-handed tweaking a nipple in the comments. For more on last summer's exhibition, "A Subtlety," organized by Creative Time, check out our past coverage here.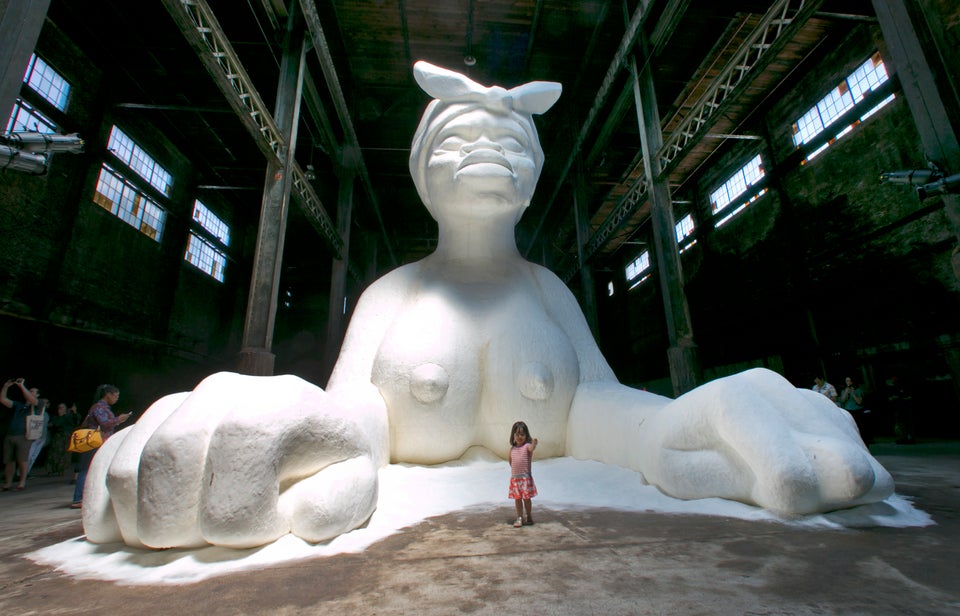 Kara Walker "A Subtlety"
Popular in the Community