One of the great thing about writing about entertainment is that you get to learn about all of these fabulous charities through the events they host. Every once and a while I get to tell readers about them. This week I am sharing information about a foundation close to my heart -- the Al D. Rodriguez Liver Foundation (ADLRF) -- an organization I am on the board of.
My friend Al passed away from liver cancer a mere six weeks after diagnosis. He had hepatitis, but never knew about its link to liver cancer. No doctor told him. And, unfortunately, he was asymptomatic until it was too late. The foundation that bears his name raises money so others do not suffer the same fate.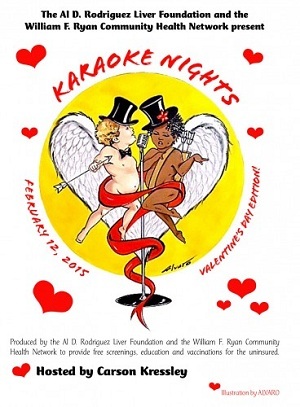 When we raise money, we like to celebrate Al's life. Al was a performer. He loved to play a character. He loved to sing. So what better way to celebrate him that with karaoke? On February 12, ADRLF and The William F. Ryan Community Health Network will present the benefit Karaoke Nights, hosted by the always fabulous Carson Kressley and featuring special guests, including Real Housewives star Countess Luann de Lesseps. Click here for tickets. For the price of admission, you'll get free food and drinks and admission to an after-party at Industry where there will be free drinks until 1am. They'll also be a silent auction and, basically, a whole lot of fun had. If you're looking for something to do Valentine's week, this is it. It is just going to be low key fun. If you have a date, you can sing a duet. Or maybe just sing solo and you'll find a date for two days later!
This is a fun way to give to the cause. This cause is so important. Not many people have the proper amount of knowledge about hepatitis and its link to liver cancer. They don't know about the various vaccines or treatments. They don't know about behavior that might put them at risk. Liver ailments aren't sexy. There is no celebrity who wants to really get out there and be the advocate for change with these causes. (There are celebrities who have said they contracted hepatitis, but no one has really fought for increased awareness.) By attending this event -- or giving money to ADLRF or any similar organization -- you are funding attempts to raise awareness and provide screenings. San Francisco had a Hep B Free San Francisco day, but New York doesn't have any similar. Therefore educational outreach by non-governmental organizations is particularly important here.
Please come to Karaoke Nights. But, if you don't have the money (or inclination) to come to Karaoke Nights or to donate to any related organization -- become educated yourself and educate those around you. Have your liver enzymes checked. Make sure others do the same. Screen. Vaccinate. Don't Hesitate.
Popular in the Community