 The Kim Kardashian-Kris Humphries nuptials had been expected to be the wedding of the year. Instead the union has turned into the divorce of the century.
The split has led to a he-said, she-said brawl in the court of public opinion as the two personalities battle over who will get what in a settlement. And both Kardashian and Humphries have both taken advantage of their celebrity positions to try to spin the story in their favor.
"She would grant a divorce in a second, but he won't sign the papers, he won't let go," a Kardashian source accused in the magazine.
But that begs the question: Who was that source?
"It was clear that her team cooperated with that story. It shows a fair bit of cooperation on the family's part so you can assume that the pal and the sources are people in the family," said Bonnie Fuller, editor in chief of Hollywood Life and the former editor in chief of Us Weekly.
"The Us Weekly 'My Divorce Hell' cover was throwing down the gauntlet to Kris," Fuller added. "If she wanted to work things out with him to get this done, it seemed like a strange strategy because it painted him in such a negative light that I don't think he and his team could help but react to it and launch their own campaign."
Us Weekly declined to comment for this story.
Indeed, Humphries' camp quickly struck back, using the New York Post's Page Six as its mouthpiece. The Humphries message: The wedding was a sham! According to the gossip column, Humphries turned down a $7 million offer from Kardashian for him to shut up and just go away; he doesn't want her money, he wants a public apology.
"Her camp is putting out stories about 'Kim's divorce hell' hoping he'll cave in, but he won't," the column alleged.
"Sometimes sources quoted are the family members themselves, steering the tone and message of the story in their favor," Cascerceri said. "Sometimes they plant their own stories and take the initiative to reach out to their media friends who they know have their back. But of course there are other friends quoted that are outside the family with inside knowledge, too."
Kardashian and Humphries would not comment on the record for this story, but those close to the National Basketball Association said the New Jersey Nets forward feels like he is being played in the media.
"The Kardashians are manipulating the media," a source close to Humphries told The Huffington Post. "They are not being truthful one bit. He never requested any money. He is definitely not looking for money. And if money was offered, he would turn it down. She just has to admit to what she did. His image has been tarnished by this and it has affected his career. It will all go away once the truth about this is out there."
Sources close to Kardashian, meanwhile, say she has moved on with her life and hasn't participated in any recent divorce stories, besides Us Weekly's cover story.
For her part, Kardashian did remain relatively neutral during her recent appearance on the "Tonight Show," telling Jay Leno, "I'm a girl who really believes in love." She said she wished she'd listened to her family and friends and called off the wedding. "Maybe I should have listened to them. But I wouldn't be who I am today had I not gone through that."
THE FAIRY-TALE WEDDING THAT WASN'T
Shortly after the announcement, Us Weekly ran the first of many stories about the "hell" Kardashian as a result of her husband. The first such story "The Husband from Hell!" quoted "insiders" who claimed that Humphries was cruel to Kardashian and belittled her.
"Really, right now, I'm focused on basketball and other things will take care of themselves," he said.
Since then, Humphries has switched his publicity team from the Anderson Group to New York's Talent Resources. Reports earlier this year claimed Humphries felt ambushed by the divorce questions on the morning show and wanted to find a team that would help him focus on his basketball career.
But his new public relations crew hasn't been able to help him rise above the divorce drama either.
The divorce is making new headlines now that it has reportedly been stalled over the annulment question. According to court filings, Humphries wants the marriage annulled because it was based on fraud. He is also demanding, according to Page Six's sources, that Kardashian reveal how much she earned during their 72-day marriage. He claims that she didn't give an honest account of how much was made from the wedding. Page Six's source added that Humphries is keen to disprove claims that the family did not profit off of the marriage.
If both parties are tapping the court of public opinion to get what they want, what that might be isn't clear. The best-case scenario for Kardashian is that Humphries would accept the terms of their prenuptial agreement, which reportedly would entitle him to none of her current assets but would get him half of their shared earnings from the marriage, estimated to be about $18 million. She is hoping Humphries will just go away, so she can continue to build her multimillion dollar empire free from the stain of a failed marriage.
The best-case scenario for Humphries would be that he gets his name cleared in what he believes was a sham marriage. It also stands to reason, his denials notwithstanding, that he would like to walk away with more than what he's due according to the prenup, which he claims could be half of the estimated $18 million the couple made from marriage.
But the public doesn't determine the outcome of a divorce; the courts do. What do these two have to gain by airing their dirty laundry?
"The court does not look favorably upon litigants in a divorce proceeding talking about an ongoing litigation to anyone let alone the media to garner sympathy in the court of public opinion," divorce attorney Vikki Ziegler told The Huffington Post.
Ziegler added that public statements can be used against a litigant in a trial or deposition.
"It appears that Kim and Kris want the public to know and believe their side of the story, which is either the wedding was authentic or it was a fraud. They have diametrically opposed positions and appear to be deadlocked and unable to resolve this crucial question," Ziegler said.
"If Kim consented to an annulment, she would in theory be agreeing that the marriage was a fraud, and that's exactly what Kris wants," Ziegler added. "Kim apparently is saying that the wedding was real and that she will not agree to anything other than a divorce nullifying the marriage."
And so the battle rages on in the legal system and in the court of public opinion. Sources will keep slinging mud until someone emerges victorious. But at the end of the day both parties might be doing themselves a disservice by allowing the war to drag on.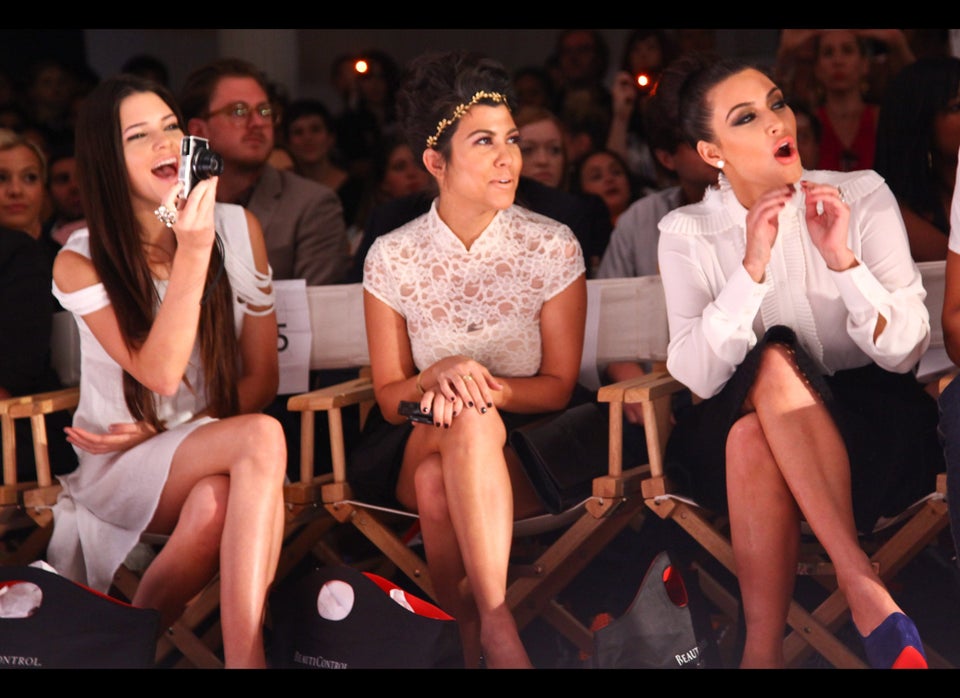 Related
Popular in the Community