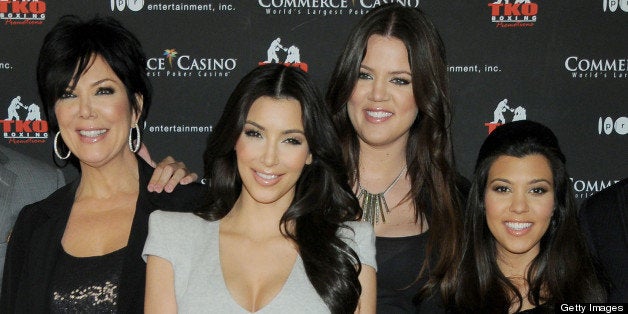 Contrary to reports, anyone looking for dirt on the Kardashians won't find it in a new book penned by the family's former nanny.
In an interview with The Huffington Post, Behan explained that she wanted to make sure she had the Kardashians' blessing and sent her manuscript to Kris to look over. Ultimately she heard back through her lawyer that Kris didn't care if she wrote about them. Behan took that as enough of a blessing to publish the book.
There are those who will view Behan as self-serving, but she maintains that she would have written the book even if the Kardashian family had not shot to fame in recent years.
"People told me for years that I should write a book, and I decided I was going to do it by taking the high road -- no bashing, no tell-all, nothing negative," she said.
"Kim didn't announce to the world who she had sex with, but then came this picture that came from Pam. I did not want it out there. [My publicist] put it out there -- hence former publicist," she explained.
"I had nothing to do with any of that," she said. "I've never betrayed the family in any kind of way."
According to Behan, the Kardashians never threatened her with litigation, but there were things she was asked to leave out.
When a shorter version of the book was released online last June, the single most "scandalous" story -- if you can even call it that -- involved Kris freaking out and letting out a "torrent of expletives" after Behan forgot to buy broccoli when she was tasked with grocery shopping for the family. Kris didn't like the way she was depicted, Behan said, and so a toned-down version of the incident appears in the print version of the book.
"Kris wasn't crazy about that story, but I said to her, 'Kris, I can't make everything just flowery like there was nothing ever a problem in five years. And that is your personality,'" Behan explained.
All in all, Behan paints Kris as a demanding yet generous boss who doesn't mince words -- but that's hardly a bad thing. She even writes in the book that Kris's "'no excuses' attitude contributed to the fame and success she has achieved for herself and her family."
When asked if she thinks Kris was hungry for fame, Behan chooses her worlds carefully, admitting that yes, it appeared that way because of where they lived and because many of their friends were famous.
Kris has long been accused of pimping out her family, and Behan does admit that she thinks Kris "has wanted the fame for her kids more than they want it themselves." But Behan believes it's the momager's way of ensuring her children are able to maintain the very privileged lifestyle they grew up with.
As for the Kardashian kids, Behan says that while they were spoiled, they were never bratty or rude; they were simply children growing up in Beverly Hills. And for those wondering, Behan said the family dynamics today are just as they were back then: Kim has always been the center of attention.
"She was always the pretty one, and I don't mean this in a bad or negative way, but she was always kind of the princess," Behan said. "She just always was. It was her nature, it was her way."
Some things never change.
Calling all HuffPost superfans!
Sign up for membership to become a founding member and help shape HuffPost's next chapter
BEFORE YOU GO
PHOTO GALLERY
The Kardashians