Police arrested on Thursday a 37-year-old Canadian man who was allegedly stalking the supermodel after he trespassed on her property.
TMZ has been closely following the stalking incident, and the outlet posted photos of her home, which prompted Jenner to lash out and call their coverage "beyond unsafe."
Jenner has obtained a restraining order against the suspect, John Ford, for an earlier incident. Last week, he reportedly scaled the mountainside behind her home, getting into her backyard, where Jenner's security team found him by her pool. Days later, on Tuesday, he returned to her home and showed up on her front porch, which resulted in his arrest.
Ford was released from custody on Wednesday after posting his $20,000 bail; doctors also found him to be "mentally stable" after he was placed on a psychiatric hold. However, he was arrested again on Thursday for trespassing and violating the restraining order. Ford was also previously arrested in September on the same charges.
"And how do you guys think these terrifying people know where my house is? cuz you release not only photos but my location," she wrote on Twitter. "it is so beyond unsafe. is this not our one ounce of privacy we can get???
The 22-year-old went onto explain that she understands "what I've signed up for" as a public figure, but she drew the line at the tabloid site sharing photos of her residence.
"When you release the exact location to where i live THAT is when you're putting my life in danger," Jenner wrote. "Your home is your safe haven, but for me, cuz of outlets like you, my home is anything BUT."
"You should be ashamed of yourself," she added.
TMZ has since responded and denied that they identified Jenner's exact address ― in the video her home is only described as "a beautiful gated community [with] multimillion-dollar homes."
"We reported on a public criminal case that has been filed against this individual, we never reported on her location," the site said in a statement to BuzzFeed News.
Jenner should take solace in knowing, however, that her sisters have her back with two of them weighing in on the breach of privacy.
"FACT," Kylie Jenner wrote across a screenshot of her sister's earlier tweet. "There should be boundaries to posting our homes."
Kourtney Kardashian also shared the same screenshot on her Instagram story, while Kim and Khloe Kardashian have yet to comment on the incident.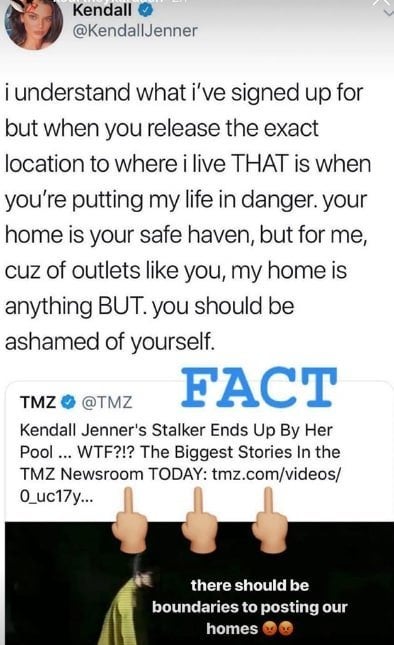 Out of all the KarJenner siblings, Kendall, in particular, has been plagued by stalking incidents. A man was arrested back in 2016 after he followed her home one night, slipping through her gate and began banging on her car windows.
"I've never been so scared in my life," Jenner said in court while testifying against the trespasser, according to The Associated Press. "I was terrified. I was literally traumatized."