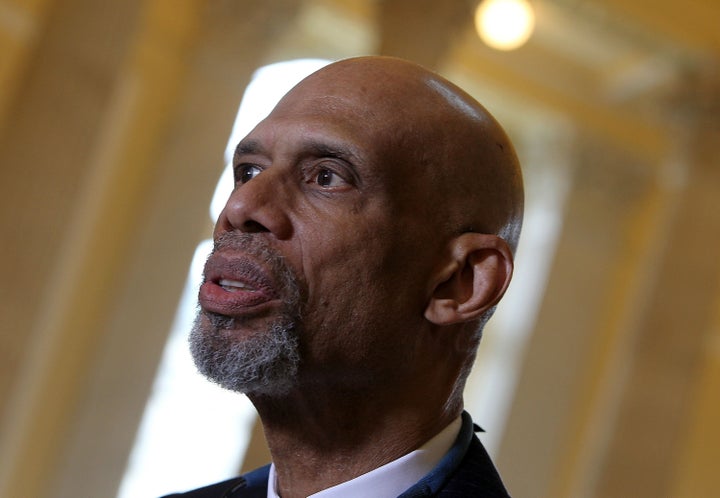 NBA Hall of Famer Kareem Abdul-Jabbar isn't one to mince words, and he didn't hesitate one bit on Wednesday afternoon when a TMZ reporter asked him about his ongoing feud with the Republican presidential candidate.
Abdul-Jabbar first shot an amused look at the reporter, then brushed away all possibility of a ceasefire with the controversial reality star-turned-politician. 
Reporter: Do you think you guys will be able to reconcile, ever?

Abdul-Jabbar: No.

Reporter: Never?

Abdul-Jabbar: No.

Reporter: Not at all?
Abdul-Jabbar didn't bother to dignify the last question with a response, choosing instead to make his point clear by climbing into his car and slamming the door.
The discord between the two began in early September, when the Hall of Famer penned a Washington Post op-ed unfavorably comparing Trump against Bernie Sanders, the senator from the other side of the aisle who, in many ways, is the polar opposite of the former "Apprentice" host on a surfeit of issues. Abdul-Jabbar wrote of Trump's "bullying" and declared his campaign to be "an outrageous assault on decency, truth and civility" -- opinions that Trump, in turn, publicly lampooned hours later: "Kareem … [The press] couldn't stand you ... You don't have a clue about life," he wrote. 
Abdul-Jabbar then retorted that Trump's response was "the best, though inelegant, support for [his] claims," and that was all of the crossfire between the two until TMZ caught up with Abdul-Jabbar yesterday. 
While Brady may think that "it'd be great" if the GOP contender were elected, Abdul-Jabbar clearly had no qualms about maintaining his and Trump's adversarial relationship.
PHOTO GALLERY
18 Real Things Donald Trump Has Said About Women
REAL LIFE. REAL NEWS. REAL VOICES.
Help us tell more of the stories that matter from voices that too often remain unheard.