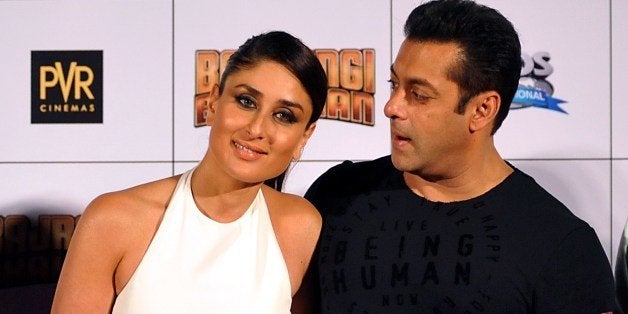 During the shoot of 'Bajrangi Bhaijaan', in early May, the verdict of the 2002 hit-and-run case involving Salman was about to be delivered. But Kareena said he never showed any nervousness.
"I think Salman is such a strong person, he does not let anything show on his face even if it is affecting him. He is mature enough not to let it come in the way of his work," she said.
When asked if she thinks Salman was targeted more because he is a celebrity, Kareena chose to play safe by saying, "There will always be two different stories to it. Today thanks to social media everybody is having their opinion and their views."
"Salman has God with him.... We all stand by him in his tough time. The fact is Salman is a great person and that you can't take away or change."
On working with director Kabir Khan for the first time she said, "Kabir Khan makes these big, good-looking movies...He makes larger-than-life movies, but they always have a story. Its not mindless kind of a film. He (Kabir) will make a commercial bonanza but still have some meat in it."
Over the past few years, she has often been criticised for her choice of star-led, big-budget actioners which often give her roles that are ornamental in nature. "In 15 years, I guess I have worked with every possible director, maybe once maybe twice or sometime thrice (with same director). I feel its good to work with different and new actors and directors and that is why this conscious decision to work with Kabir, Raj [Kumar] Gupta, R Balki and Abhishek Chaubey."
They are all different kinds of directors," Kareena said.
Kareena will be doing a thriller film with Gupta (which he is still in the process of writing), Balki's next with Arjun Kapoor and Chaubey's 'Udta Punjab' with Shahid Kapoor and Alia Bhatt.
BEFORE YOU GO
PHOTO GALLERY
Salman Khan jailed for five years