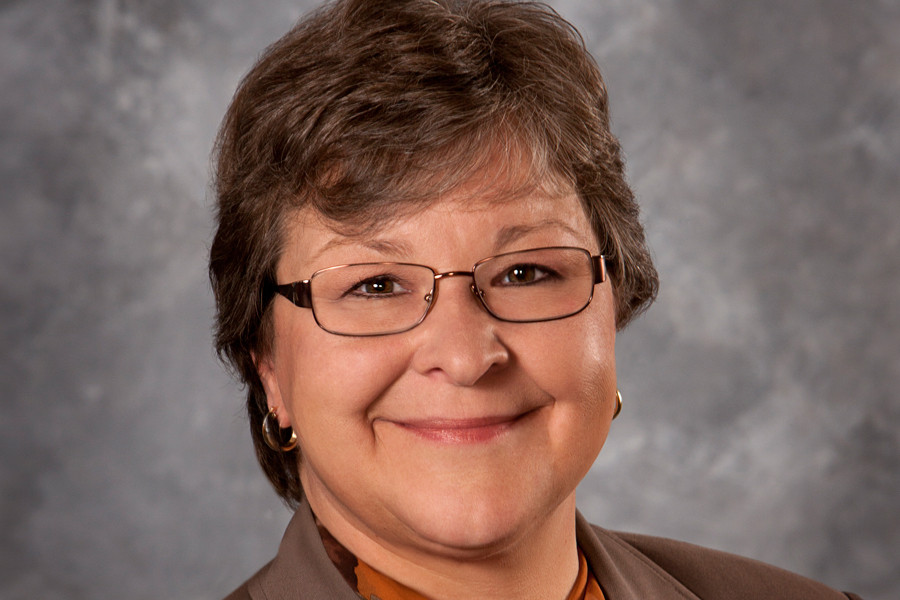 This article is part of a Huffington Post series, on the occasion of the site's 10th anniversary, looking at some of the people and issues that will shape the world in the next decade.
The effects of climate change are already being felt across America. In Alaska, rising sea levels and eroding coastlines have forced a dozen different communities to relocate. In the Southwest, the risk of forest fires is increasing, water supplies are dwindling and native animal species are coming under threat. Scientists estimate that if left unchecked, climate change will affect millions of Americans in the years to come.
American Indian communities are among the most vulnerable as the planet warms, and they've been at the forefront of the movement to address climate change. One of the leaders who has emerged is Karen Diver, the chairwoman of the Fond du Lac Band of Lake Superior Chippewa, an American Indian tribal community in northeastern Minnesota. Last year, Diver was one of two tribal representatives who served on President Barack Obama's Task Force On Climate Resilience, and she pushed the government to adopt a greater sense of urgency in tackling climate change.
The situation in some native communities, particularly in Alaska, is "dire," Diver told The Huffington Post in a recent interview. "Raising awareness about how immediate the danger is took a lot of people by surprise."
The task force recommended a host of solutions. The federal government, it said, should give local communities access to better climate projections and mapping technologies, so they can consider different scenarios when they're making decisions about land use. The task force also called on the government to take the lead in encouraging communities to plan for flooding and other climate-related hazards, and said the government should remove certain federal policies that might act as barriers to such development. Finally, the group called for more federal support for improving energy, water use and transportation systems to better serve a world affected by climate change. The task force's recommendations are meant to help communities plan for a future where planetary warming is not a theoretical possibility, but a certainty.
Representing the interests of the United States' 566 federally recognized tribes was no easy task. "We had no way to really communicate with all the people we were being charged to advocate for," said Reggie Joule, the mayor of the Northwest Arctic Borough and Diver's fellow tribal representative on the White House task force. Diver, he said, was a "workhorse," putting in long hours outside her regular job as tribal chairwoman. Given budgets and travel time, it was impossible to visit every community, said Diver, which meant organizing a lot of conference calls and webinars to bring tribes together virtually.
Another task force colleague, Mayor James Brainard of Carmel, Indiana, described Diver as "very disarming" with "a lot of common sense," as well as "an extremely sharp businesswoman."
As chairwoman of the Fond du Lac for the past eight years, Diver, 50, has been a trailblazer on environmental issues at home. In 2007, she got the tribe to sign on to the Kyoto Protocol, the treaty obligating the world's biggest polluters to make emissions cuts -- and she did so after the United States itself declined to sign. Fond du Lac's 4,200 residents are spread over 100,000 acres, about 20 miles west of Duluth.
"We recognize that we have more work to do, and we're not as prepared as we should be for the outcomes of climate change," said Diver. "By participating in efforts like this and helping our own learning and leading, it will help us better serve our community."
Signing the Kyoto Protocol was also a natural fit for Fond du Lac, where people still hunt, fish, trap, net and spear their own food. "Culturally, we're more connected to habitat and natural resources," said Diver. "We're smaller, so it's easier to wrap your arms around [the issue] and make more immediate decisions."
The residents of Fond du Lac have seen the effects of climate change at home, observing stressors on various wildlife -- like moose, whose populations have been dwindling in Minnesota. They're also seeing more ticks and other invasive species. They're trying to reintroduce elk, a species native to the area that had been previously hunted out of the region, because "it can handle greater extremes of weather and seems to be more resilient," said Diver.
The community has also lowered the energy use of its buildings, installed more efficient lighting and created a small solar project. It's implemented policies to cut down on the amount of time the school buses idle, and started a public transit system for other residents. As a result, Fond du Lac is on track to hit its Kyoto goal of cutting overall energy use by 15 percent and deriving 5 percent of its power from renewables by the end of 2017 -- three years ahead of schedule, Diver said. The success has prompted the community to try and increase its cuts to 20 percent by 2025.
"It's just smart economics to not use more energy than you need to," said Diver.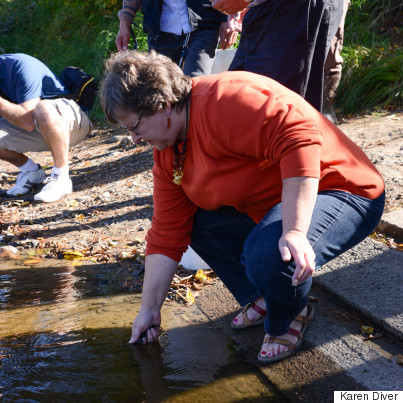 Diver releases a yearling sturgeon into the St. Louis River as part of the Fond du Lac Band's sturgeon restoration program. (Photo courtesy of Karen Diver)
Addressing climate change is only a tiny part of Diver's day-to-day work. She also manages the policies and business affairs of the Fond du Lac, who own the Black Bear Casino Resort. "Fond du Lac went from fairly extraordinary poverty in the 1970s and early '80s, then with the advent of gaming, grew fairly quickly," Diver said. The tribal government has also grown, from around 100 employees a few decades ago to more than 2,000 today.
That growth is part of what prompted Diver to run for chairwoman. "We grew, but in many cases without being really thoughtful about the how and why and whether or not we were doing it most efficiently," she said. "So I was most interested not only in service delivery for our community and that type of problem-solving, but also focusing some attention on the institution of government itself."
Diver's path to leadership has been atypical. When she was a 20-year-old single mother with a 5-year-old daughter, she picked up and moved from Ohio to Minnesota to attend college. Diver's parents, originally from Fond du Lac, had been moved to Ohio under the Indian Relocation Act, a 1956 law that was meant to encourage natives to leave reservations for urban areas. Diver returned to Minnesota in order to access tribal scholarship money so she could go to college.
Diver's daughter, Rochelle, remembers taking long bus rides on frigid winter mornings so her mother could get to her undergraduate classes at the University of Minnesota Duluth. Diver would bring her daughter to class when she had to, and Rochelle remembers a day when she herself answered a professor's question in class, having sat through so many lectures with her mom. Years later, as an undergraduate at the same school, Rochelle ended up in the same professor's class.
"I remember watching her work so, so hard since I was so young," Rochelle told HuffPost. "As I've become an adult, I've been so thankful for her struggle. I realize how hard it must have been for her."
But, she said, "it isn't a struggle I felt. Even though it was just her, and we were trying to make it, I always had what all the other kids had." She remembers ballet lessons, and the sacrifices her mother made to afford them.
Diver got her degree in economics and went on to work for the YWCA in Duluth, where she served as executive director from 1991 to 2003. She left to attend graduate school at Harvard's Kennedy School of Government, where she researched governance in Indian country at the Project on American Indian Economic Development. She ran for tribal chair shortly after returning from Boston. She filled out a partial term after her first election, and has been re-elected twice.
"She's very driven, very focused on her work," said Chuck Walt, Fond du Lac's executive director. "She likes to get things done." He added that Diver "can be a little impatient sometimes," and that "some people may feel like she's a little too driven," but he said it's earned her respect in the community.
Of all her accomplishments in Fond du Lac, said Diver, two she's most proud of are increasing the transparency in tribal government and encouraging greater citizen involvement. "That's a double-edged sword as an elected official," she said. "When you invite commentary, you don't necessarily get to pick what those are. But that's OK, because when people finally have a voice, they practice on you. That comes with the territory." She said she hasn't decided yet whether she will run for another term in 2016.
Her daughter, meanwhile, has gone on to advocate for health and human rights issues as the environmental health program coordinator at the International Indian Treaty Council. She attributes her career path to a lifetime of watching her mother.
"I feel like that is 100 percent of why I have such a passion for our native people, for human rights and making the world a better place," said Rochelle. "I felt that passion growing up."
Diver says she's proud that she helped impress upon the White House the seriousness of climate change. "I see the Obama administration making this a priority," she said. "I expect that the recommendations will continue to get priority from the different federal departments."
Still, she recognizes that the fight is far from over. "Of course, as someone who inhabits the Earth, I worry about the long term, and that the commitment won't survive this administration," she said. "Because the effects of climate change are going to survive this administration."