In characteristically atypical fashion, Karen Elson and Jack White have announced their divorce -- in the form of a party invitation.
Under the Gun Review has posted an invite sent by the iconic supermodel and her musician husband in which they kindly request the presence of invitees to celebrate "their 6th anniversary and their upcoming divorce."
"We remain dear and trusted friends and co-parents to our wonderful children Scarlett and Henry Lee. We feel so fortunate for the time we have shared and the time we will continue to spend both separately and together watching our children grow. In honor of that time shared, we are throwing a divorce party. An evening together in Nashville to re-affirm our friendship and celebrate the past and future with close friends and family."
Jack was previously married to Meg White; together, they formed the band The White Stripes. Elson once told the Telegraph that she and Meg were good friends -- Meg was even Elson's maid of honor at her nuptials. Of Meg, Elson said, "She's brilliant, I love her. Her husband plays in my band. I see Meg all the time. I probably see Meg more than I see Jack at the moment. It's family."
Now it seems that even a divorce can't stop this familial lovefest -- below, check out the invite to Karen and Jack's celebration.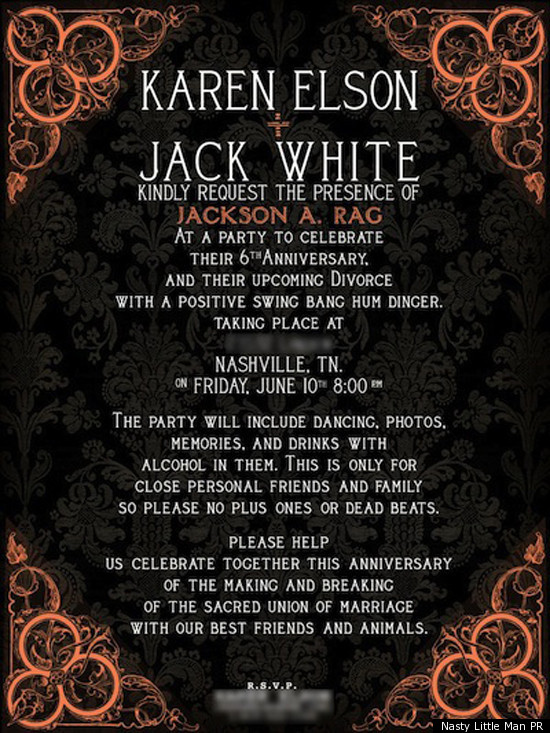 Watch this video for more dramatic celebrity splits:
Related