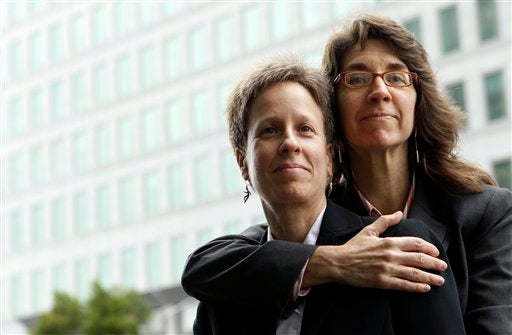 Karen Golinski, a San Francisco lawyer working for the U.S. Court of Appeals, attempted to add her same-sex partner to a work-provided family health insurance plan in 2008. A court administrator initially approved the addition, but the U.S. Office of Personnel Management subsequently told the insurance provider to deny the request because it violated the Defense of Marriage Act.
Golinski then sued to challenge the law.
With the executive branch no longer enforcing DOMA, the decision to defend the 1996 law defining marriage as exclusively between one and one woman was left up to the Republican-controlled House of Representatives.
In March, the Bipartisan Legal Advisory Group (which consists of the speaker, the majority and minority leaders as well as the majority and minority whips) voted along party lines to have House lawyers take up DOMA's legal defense.
"Since its proposal and passage, this legislation has raised constitutional questions and has been viewed as a violation of the equal protection clause," [House Minority Leader Nancy] Pelosi said. "The House should not be in the business of defending an unconstitutional statute that is neither rational nor serves any governmental interest. DOMA actually discriminates against American families."
Judge Jeffrey White, who is presiding over Golinski's suit, wanted to allow television cameras during the trail but, in order to do so, needed approval from both sides.
"It is outrageous that the leadership of the U.S. House of Representatives wants to shroud in secrecy their use of tax dollars to try to defend discrimination," said attorney Tara Borelli, who is representing Golinski with the LGBT legal advocacy group Lambda Legal. "Of course, opponents of equal rights for same-sex couples have a track record of hiding, as evidenced by the Proposition 8 Proponents' strenuous efforts to keep the public from seeing the Proposition 8 trial in Perry v. Brown (formerly Schwarzenegger)."
[Borelli] noted that no witnesses would take part in the hearing, in which the opposing lawyers will argue over the constitutionality of the 1996 law. The losing side is likely to appeal White's ruling to the Ninth U.S. Circuit Court of Appeals, which telecasts hearings in major cases without having to ask the parties for consent.
Throughout the twisty legal history of trials surrounding gay marriage, the thorny issue of video cameras in the courtroom has been ever-present. Traditionally, gay marriage's backers have welcomed televising court proceedings whereas opponents have fought it, fearing they would subsequently be subject to harassment.
This hearing would have been the first to be caught on camera and posted online as part of a pilot program to increase public access to the national's federal courts.
During the contentious Proposition 8 trail that overturned California's gay marriage ban, Judge Vaughn Walker attempted to broadcast the trial on YouTube, but his efforts were overturned by the U.S. Supreme Court, which ruled that "[the judge] attempted to change...rules at the eleventh hour to treat this case differently than other trials in the district.'
Related
Popular in the Community