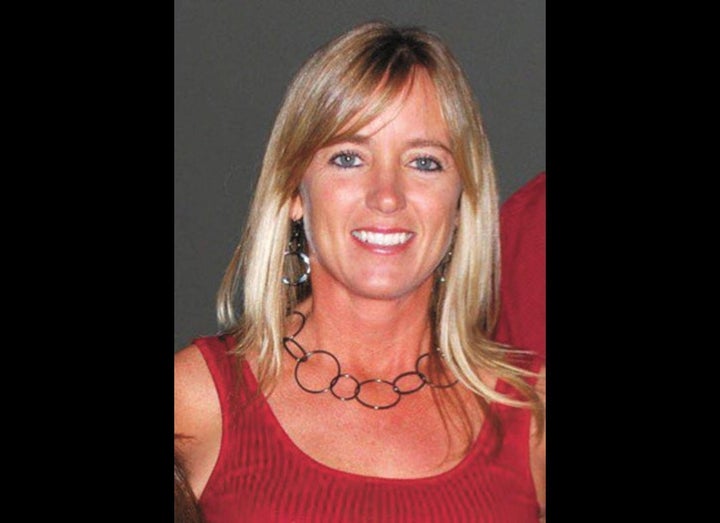 Police trying to solve the disappearance of Karen Johnson Swift have recovered her clothing, the woman's friend reports. Swift, a mother of four, has been missing since her car was found abandoned on a rural Tennessee road on Oct. 30.
"They found her Halloween costume in the car. Some other articles of clothing that belonged to her -- a pair of jeans and a gray zip-up -- were found in some brush not far from her car. They confirmed [the clothing items] belong to her. They took DNA from her mother and compared it to DNA on the clothes," Swift's friend Laura Jane told The Huffington Post.
The Dyer County Sheriff's Office has yet to confirm the find. Calls to the agency are directed to a voicemail for a Sheriff Jeff Boxx. The sheriff has yet to return multiple requests for comment from The Huffington Post.
Swift's vehicle, a white 2004 Nissan Murano, was found with a flat tire on the morning of Oct. 30. The car was found abandoned on the Millsfield Highway, roughly half a mile from her home in Dyersburg, a city about 77 miles northeast of Memphis.
"She went to bed with her daughter, and when the girl woke up around 6 a.m., her mother was gone," Engelhardt said.
Authorities have conducted multiple searches in and around the area where the vehicle was recovered. Those searches continued Wednesday.
"Today they are conducting aerial searches with helicopters," Jane said. "They have brought in some topographical experts to study the lay of the land because it is very rural. They are trying to get all the help they can from outside resources because they are not as equipped as a larger area would be."
On Oct. 11, 44-year-old Swift filed for divorce from her husband, David Swift, citing irreconcilable differences. Though they were divorcing, they still lived together.
"Their relationship was pretty volatile," Jane said. "She wanted to leave with the kids and start over. She wouldn't leave her kids behind. That was the only reason she was still in that marriage. She wanted them to have a stable environment until she got all her stuff together."
"It's so bizarre," Jane added. "She filed for divorce and then disappeared. I don't believe that coincidences like that happen, but they could. You never know. Something obviously happened to her."
David Swift has been interviewed by police, and has not been called a suspect or person of interest in his wife's disappearance. He has yet to speak with the media but, according to WMC-TV, he did recently tell a friend on Facebook, "We want her home and love her very much."
Another of Karen Swift's friends, Lori Burks, told The Huffington Post that David Swift has hired an attorney.
"Her husband has [allegedly] quit talking to the authorities. He has got an attorney. This is the most recent information we have received," Burks said.
On Saturday, sheriff's deputies arrested a neighbor of the Swifts', 39-year-old John E. Hogshooter, on an outstanding felony warrant for animal cruelty. Hogshooter is accused of poisoning two dogs, including one that belonged to the Swifts.

"[Hogshooter's] arrest was based solely on the outstanding aggravated animal cruelty warrant and that is a felony," Sheriff Box told the Dyersburg State Gazette. "We basically waited on the lab results to come back from the TBI on the poisoning and they confirmed it."
Because Hogshooter allegedly poisoned Swift's dog and lives in close proximity to her residence, investigators impounded his vehicle and searched his home after she went missing. Authorities did not find any items connecting him to Swift's disappearance and do not consider him a suspect.
Hogshooter was released from jail Monday on a $2,500 bond.
Meanwhile, Karen Swift's friends are anxious for answers and hopeful she will be found soon.
"I understand [the sheriff's office] is trying but it's frustrating," Jane said. "This is like 'The Twilight Zone' here. We just want her to be found. It's probably not going to be the outcome anyone wants, but just so long as she can be recovered in whatever shape or form so her kids can have answers."
The Swifts' oldest children, Dustin, 18 and Preston, 21, did not immediately reply to a request for comment from The Huffington Post.
Swift is described as a white female, 5'5" tall, 138 lbs., with blonde hair and green eyes. Anyone with information in the case is asked to contact the Dyer County Sheriff's Office at 731-285-2802.
KAREN JOHNSON SWIFT CASE PHOTOS: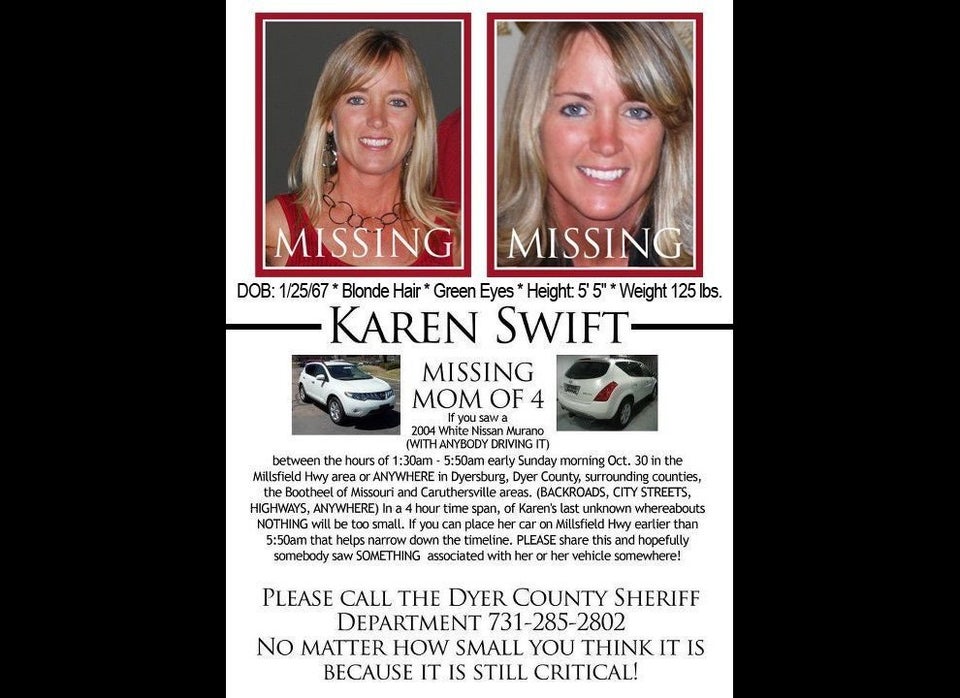 Karen Johnson Swift
Related
Popular in the Community