Police are looking for a northwest Tennessee woman who has been missing since Sunday, hours after picking up her daughter from a Halloween party.
Karen Johnson Swift, a 44-year-old mother of four, was last seen at her home in Dyersburg, a city located about 77 miles north-northeast of Memphis.
"She had picked her daughter up from a Halloween party around 1:30 that morning because [her daughter] was not feeling well," Swift's close friend, Carrie Engelhardt, told The Huffington Post. "She went to bed with her daughter, and when the girl woke up around 6 a.m., her mother was gone."
Swift's vehicle, a white 2004 Nissan Murano, was found abandoned on the Millsfield Highway, roughly a half mile away from her home. The vehicle had a flat tire.
A neighbor, Marty Lamb, spotted Swift's disabled vehicle around 5:30 a.m. when he was driving to work.
"I noticed it was her vehicle, so I pulled in behind it and shined my lights, and I could see that she wasn't in her vehicle," Lamb told WREG-TV.
The vehicle was taken to the Tennessee Bureau of Investigation crime lab for processing. Investigators have yet to comment on what, if anything, has been found in the vehicle.
One clue that investigators are working on is cellphone records, which show that someone used the internet on Swift's cell phone at around 5 a.m. Sunday. Authorities have yet to comment on any further details of the search, and calls to the missing device go to voicemail. Investigators are now working with the cellphone carrier to try to determine the last known location of the phone.
The Dyer County Sheriff's Office did not immediately return a call from The Huffington Post on Friday requesting comments on the case. According to a dispatcher, the sheriff's office is busy conducting a search for Swift in and around the area where her vehicle went missing in collaboration with the Tennessee Bureau of Investigation, Tennessee Highway Patrol and the FBI.
Police have said little about the searches except to report that investigators have found no signs that Swift was a victim of foul play.
Swift's friends, however, are not convinced.
Engelhardt said she doesn't believe her friend would have hitchhiked or accepted a ride from a stranger.
"Karen was an avid runner," she said. "She could have jogged home in two to three minutes. She would not have sat there or gone off with someone."
"None of us think she got up after she went to bed with [her daughter] and decided to go somewhere," Engelhardt added. "So, the question is, who would have taken her or done something to her in the house?"
On Oct. 11, Swift filed for divorce from her husband, David Swift, due to irreconcilable differences. Even though they were divorcing, they still lived together.
David Swift has been interviewed by police, and has not been called a suspect or person of interest in his wife's disappearance. He has yet to speak with the media, but, according to WMC-TV, he did tell a friend on Facebook, "We want her home and love her very much ... My main focus is to work with the authorities to get her home safely. Thanks for the many prayers and kind words, which is greatly appreciated."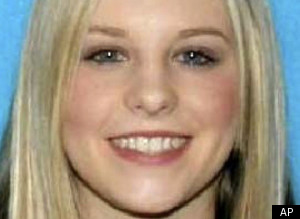 Holly Bobo, 20, disappeared from ahome in Darden,
about 80 miles southeast of Dyersburg, seven months ago.
Swift's disappearance comes seven months after Holly Bobo, a 20-year-old nursing student and cousin of country music star Whitney Duncan, vanished from a one-story ranch-style house in Darden, a small community 80 miles southeast of Dyersburg.
According to police, Bobo's brother said that he saw a man dressed in camouflage clothing drag his sister through the carport next to the home and into a wooded area behind it. A small puddle of blood was later discovered by the carport.
Local and state law enforcement authorities coordinated a massive search effort behind Bobo's home. Investigators found items that belonged to Holly, such as her lunch bag and cellphone, but nothing to suggest where she was taken.
But those close to Swift didn't suspect a link, and the circumstances between the two cases significantly differ.
"I do not think that they are linked at all," Engelhardt said.
Meanwhile, friends of Swift are planning to hold a prayer vigil for her tonight. They have also kept busy posting missing person flyers and updating the "Karen Swift Missing Mom of 4" Facebook page with information about the case.
"We all know Karen very well. She would never leave. She would never run away and leave her kids. It's not the type of person she is whatsoever. She does everything for those kids. We hope that she turns up, but we grow more concerned with the length of time that's gone by," Engelhardt said.
Swift is described as a white female, 5'5" tall, 138 lbs., with blonde hair and green eyes. Anyone with information in the case is asked to contact the Dyer County Sheriff's Office at 731-285-2802.
Karen Johnson Swift's Missing Person Poster:
Popular in the Community