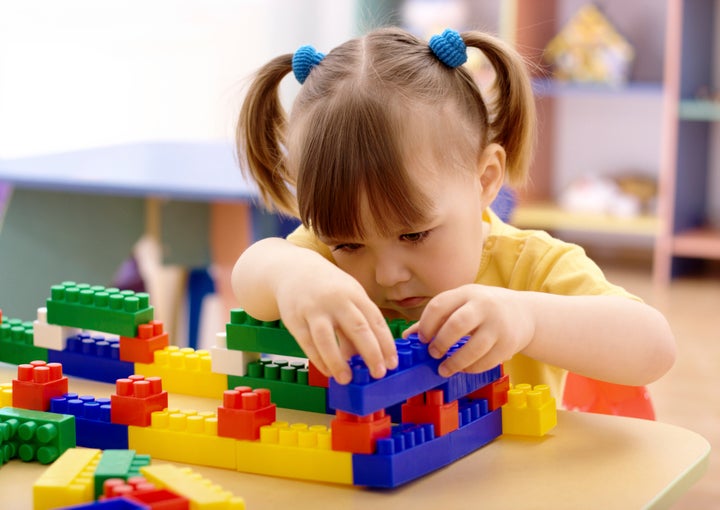 A Washington State school district is denying reports that a kindergarten teacher banned boys in her classroom from playing with Legos.
The Bainbridge Island Review reported on Karen Keller's alleged classroom rule in October. Keller, who has taught at Captain Johnston Blakely Elementary since 2008, said that she only let girls play with the popular building blocks in her classroom.
"I always tell the boys, 'You're going to have a turn' -- and I'm like, 'Yeah, when hell freezes over' in my head," she told Bainbridge Island Review. "I tell them, 'You'll have a turn' because I don't want them to feel bad."
She added that forbidding the boys from using Legos wasn't her initial plan, but after she was unable to entice the girls with pink and purple Legos, she felt that the "girls-only Lego club" was her only option.
After the article came out, Keller was inundated with hateful phone calls and Facebook messages about denying the boys Lego access. Bainbridge Island School District spokeswoman Galen Crawford responded to the backlash Thursday, claiming that news reports were inaccurate and that Keller had never prohibited boys from using Legos. Crawford's statement was published in Bainbridge Island Review:
Following the release of a recent news article, the Bainbridge Island School District (BISD) has received inquiries that reflect inaccurate perceptions about student access to Legos in Karen Keller's kindergarten classroom at Blakely Elementary School.

In keeping with a science, technology, engineering and math (STEM) education grant, Ms. Keller gave girls a designated time to play with the building toys during a 30-minute 'free-choice' time block in September 2015. This isolated, short-term practice ended in October. All students in all classrooms have and will continue to have access to all instructional and noninstructional materials.
The paper noted that they "stand by" their story, since it's what Keller told them.
Keller believes one of the reasons why there is a lack of female STEM (science, technology, engineering and math) role models is because women are socialized to accept gender stereotypes from an early age.
But some don't think denying boys Legos is the answer. KIRO Radio host Dori Monson was doubtful when he caught wind of Keller's Lego ban on boys, Fox News reports.
"Why do we have to tear down boys to elevate girls?" the father of three daughters asked on his show. "If girls want to play with dolls and boys want to play with Legos, why do we have adults in the public schools who feel like they have to make a social statement about gender equity?"
Keller's name is no longer present on Captain Johnston Blakely Elementarys' staff website due to an influx of inquiries.