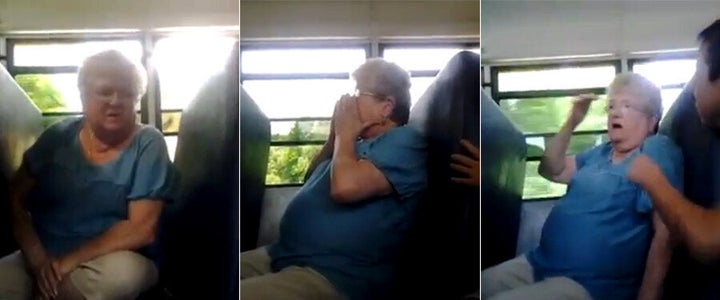 Something's been bugging me about Karen Klein, the school bus monitor from Greece, New York, who was taunted by children in a video on YouTube, and now seems to have been given half a million dollars by nice strangers who feel bad:
What happened to her never should have happened.
Someone should have been monitoring the kids on that bus.
And clearly it wasn't Karen Klein.
I hope she gets the $500,000. I hope she gets more. I hope she goes to the Walt Disney World Magic Kingdom Park, Orlando, and has her picture taken with Woody and Jessie the Yodeling Cowgirl.
But I can't shake the feeling that she should also take $15,506 and give it back to the people of Greece, New York, who paid her to monitor children on a school bus.
A job she -- while clearly a human being who didn't deserve to be treated like shit -- was also incapable of performing.
Again, not saying the children were right and she's wrong, or she was asking for it, or there's any excuse for making people cry just to see if you can. There's a special ring of hell for people who do that, and it's not Rochester, but you can see it from there.
They're bad and she's their victim.

But why was she there? What did she think her job was? What did the parents who put their children on the bus think?
Because, for $375 a week, to ride the bus twice, she doesn't appear to be preventing very much bullying.
Again: She's a nice lady, a grandmother apparently, and the things that were said to her were horrible, but that's okay, because she says her hearing aid doesn't work that well. Which circles us back to the question of what she saw as parameters of her assignment.
And what she, and the parents who hired her, consider "monitoring."
Here's how Mrs. Klein, a former school bus driver herself, described the ugly incident that never should have happened to the Rochester Democrat and Chronicle:
"I was trying to just ignore them, hoping they would go away and it doesn't work."
No, it doesn't work. It also doesn't work when children are bullying other children. That's why we put monitors on the bus.
Again. (And again, and again.) Karen Klein is a person, and no one should be cruel to her. A bad thing happened. She should have never been on that bus.
Related
Popular in the Community