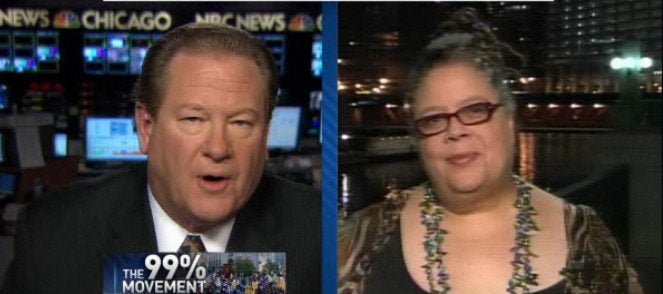 After participating in the heavily attended, largely peaceful Take Back Chicago rally Monday evening, Chicago Teachers Union President Karen Lewis appeared on MSNBC's Ed Schultz's "The Ed Show" and offered criticism of Chicago Mayor Rahm Emanuel.
"Where is your mayor, Rahm Emanuel, where is the former chief of staff of the Obama administration, where is Rahm Emanuel on this? Is he anti-teacher?" Schultz asked.
(Watch Lewis's interview with Schultz below.)
"Absolutely," Lewis responded. "He's been very clearly anti-teacher from the very beginning. He came in, he went to Springfield to try to take our collective bargaining rights away. He made it so that it would be 75 percent it would take our union to strike. He was just like adamant about us not being able to strike. And then yesterday, he goes on 'Meet the Press' and says we're going to have performance pay."
"It's kind of hard to have performance pay when you haven't bothered to negotiate with the people doing the work," Lewis continued.
The tension escalated to the point where Emanuel allegedly pointed his finger toward the teachers union president and yelled "F--- you, Lewis" during a conversation on the longer day debate.
In response to the union's criticisms of their pilot program and accusations of union busting, CPS spokeswoman Becky Carroll previously told the Huffington Post that they are "willing to support the teachers and schools who are willing to add more time to the day in any way necessary to make that happen."
"Why wait a year from now and shortchange kids for a year if their teachers at their schools want to do it today and want to give their students that opportunity to get a leg up to be successful?" Carroll said.
WATCH Lewis discuss Mayor Rahm Emanuel's relationship with his city's teachers union below:
Calling all HuffPost superfans!
Sign up for membership to become a founding member and help shape HuffPost's next chapter