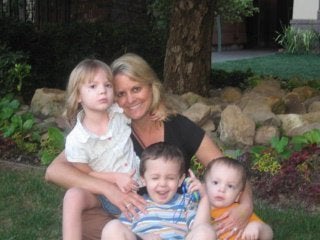 Karen Perry lost her three young children and ex-husband in an Arizona plane crash in November and will soon lose the home where she raised her family due to foreclosure. But supporters have stepped in to help make sure that the mourning mom doesn't have to let go of anything else.
Perry's kids -- Morgan, 9, Luke, 6, Logan, 8, -- died in a plane crash with their father and two other passengers in the Superstition Mountains in Arizona. As Perry reeled from the immeasurable loss, she was dealt another blow: facing foreclosure, she had to put her house up for short sale because the costs of her divorce proceedings made it impossible to pay her bills.
"I wanted to stay in the house because it's hard on kids with special needs," Perry said of the hope to hold onto the home after her divorce. In particular, she wanted to ease the transition for Morgan, who suffered from epilepsy, and Luke, who had autism. "Now, of course, I really wish I could have stayed in it because that's where all my memories are," she added.
The six passengers had been traveling in a twin-engine plane from Mesa to East Arizona when the aircraft slammed into a cliff in the mile-high Superstition Mountains. The investigation into the crash is still underway, but Perry said that the plane wasn't flying at the right altitude, which may have lead to the tragedy.
"A lot of us think it gets easier as time goes by. I've found it to be the opposite," said Perry, who works as a Delta flight attendant, of her grieving process. "I'm still in a state of shock."
As Perry began grappling with her loss, she was also saddled with incredible financial hardship. Perry had to pay for the funerals and the attorney fees for the divorce from her now-deceased ex-husband.
While Perry believes it's too late for her to save her home, a slew of supporters have come forward to help the Arizona native cover her other expenses. The Ladies Day Fund, a group of active and retired Delta flight attendants, is raising money for Perry and is matching donations by up to 25 percent.
Help has also come from surprising sources. Arizona firm Bartholomeaux Public Relations is organizing a few fundraisers and singer-songwriter Tina Vallejo is donating some of the proceeds from the iTunes sales of her tribute song "Fly My Angel."
But as Perry leans on her supporters and works to pick up the pieces of her life, she can't help but look back frequently.
"I still have the feeling that they're going to come through door," Perry said.
Jessica Prois contributed to the reporting of this story.
BEFORE YOU GO