When you've spent your entire life working hard on your game in the hopes of one day becoming the No. 1 overall pick in the NBA Draft, why would you surround yourself with inspirational quotes from anyone but yourself?
Former Kentucky player Karl-Anthony Towns, who is widely expected to be taken with the no. 1 pick on Thursday's draft, did just that. He took it upon himself when he was younger to fill the bedroom of his childhood home with some empowering words -- they just happened to be his own.
Greatness comes at a price. - Karl Towns
Play to Prove. Prove to Win. Win to Succed [sic]. - Karl Towns
The harder you work, The harder it is to give up. - Karl Towns

And which athletes did Towns turn to for other words of wisdom? Venus Williams. Kobe Bryant. Willie Mays.
"Some people say I have attitude -- maybe I do ... but I think you have too [sic]. You have to believe in yourself when no one else does -- that makes you a winner right there," he wrote on his wall, citing the tennis star.
The view into his childhood home in New Jersey comes as part of a larger look by VICE Sports inside Towns' final days of draft preparation.
"These quotes, Karl actually wrote," his mother says in the clip, adding that she didn't discover one that was hidden behind a curtain window for a couple of years.
The video delves into what's been driving Towns since leaving Kentucky, and unsurprisingly, the March Madness loss is at the top of that list.
"We failed. We didn't do what we were supposed to do," Towns said. "That loss is going to motivate me for the rest of my life. Knowing that I was that close to doing something that many people will never have the chance to do."
Support HuffPost
The Stakes Have Never Been Higher
Related
Before You Go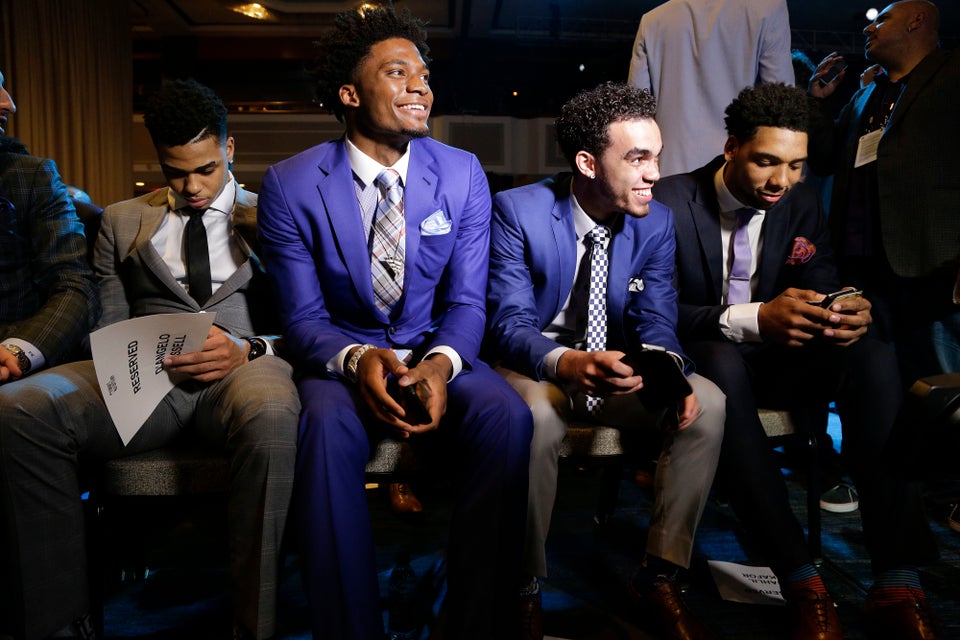 2015 NBA Draft Lottery
Popular in the Community