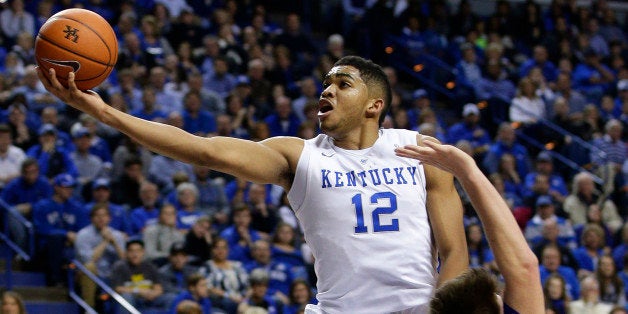 (You can read my 2015 NBA Mock Draft right here.)

Amid the pre-draft chaos, Towns caught up with The Huffington Post to discuss the draft, his favorite sports other than basketball and why playing so few minutes in college will help him in the future.
You teamed up with American Express to show your personality off the court.
It allowed players like Frank Kaminsky, D'Angelo Russell and I to really show our personalities more than our basketball abilities, and I think that sometimes during this draft process people get caught up so much in how our jump shots look, how our free throws look, that you forget we're really human beings and we're normal like everyone else.
What are some of the coolest parts about Karl-Anthony Towns off the floor?
I mean, I'm not just a basketball player; I have a lot of different hobbies. I love to golf. I love to play baseball. I love to just be myself. I think there's much that people already know about me, but it's different when you see the basketball player and then you see the man off the court. It's nice to know that people can see the personality that comes off the court.
How hard is it for a guy like you -- all 6-foot-11 -- to get those custom golf clubs?
It's pretty abnormal. But it's a great sport. I love to play. I absolutely have a blast playing golf, and every morning I'm on the golf course.
What would be the one thing from an offensive standpoint that you'd want to improve the most during your rookie season?
You know what, I just want to improve everything.
I'm glad you said that. You only played 21 minutes a game. You know, you play anywhere else and you're playing 35-plus. How much of a learning experience was that?
I think the biggest thing you learn when playing those kinds of minutes is consistency. You have to be very consistent playing that short on minutes. You have to make your best on the court known, because you don't have much time to do it. One of the biggest things that you learn, and it's one of the biggest things that will help us going to the next level -- all seven of us -- is that we learned how to start the game hot. We don't have time to start the game cold.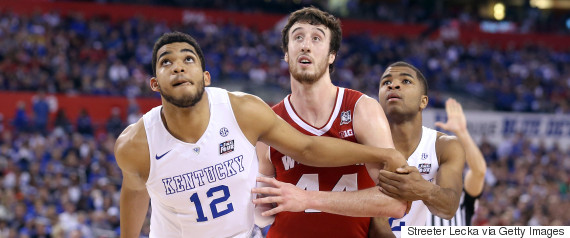 Going into it, as a mega-recruit, did you anticipate how you would feel? I imagine at the beginning, at least, it was quite the shell shock to not play such heavy minutes.
You know what, it wasn't a shock whatsoever. Obviously it's a little different than it was in high school, but it definitely wasn't a shock. Whatever we had to do to win, we were going to do. And we all came together as a team of brothers and we did our best.
When you look at some of the other bigs in this draft -- whether it's [Jahlil] Okafor, Kaminsky or your teammates, how good of a draft is this in terms of the frontcourt?

This draft is really, really great for any team that needs big guys.
What comes to mind when you think about Minnesota and the potential to run the floor with Andrew Wiggins, to run pick-and-roll with Ricky Rubio?
If I was blessed and honored and privileged enough to play for the Minnesota organization, being able to play with talent like that would be awesome. Talking about the Rookie of the Year, one of the most pass-first point guards in all of the NBA, possibly learning under the tutelage of Kevin Garnett -- it would be a very cool experience and a very humbling experience also.
The biggest thing he taught was how quick these moments go by. You can never get yesterday back, and you're going to have to go in and dominate today because you're not promised tomorrow. I knew that coming in, but when someone reinforces it even more and really makes it known just how important it really is to take no one lightly and dominate every day. That is really just how important it is to really fight and that comes with taking advantage of today and not worrying about tomorrow. Taking care of what we have to take care of [in] the present.
I saw you play for the Dominican at Madison Square Garden during the FIBA games. What impact did that imprint on you?
It gave me a new perspective on basketball. Being able to play with new rules that changes the game of basketball and being able to play professional. That was the biggest thing. You're playing professionally. I was blessed to play with the Dominican national team for two years, so it feels like going into the NBA, this is my third year of professional ball.
The league has actually had some interesting rule changes. I'm wondering your stance on how a lot of bigs will take a charge or go straight up instead of trying to get a block? Have you talked about it at all during pre-draft workouts?
You know what? No. I really haven't been talked to about that. I'll learn anything I have to learn about defense when I'm in the NBA, you really can't teach that. I'll have to get advice when I play for my team, my new organization. But right now I have not been talked to about that.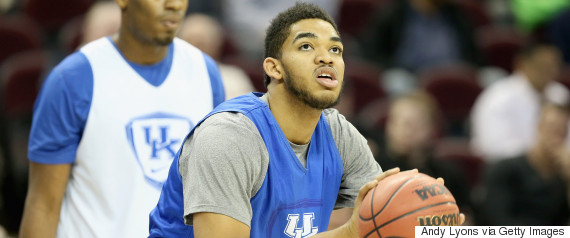 Which UK teammate who hasn't gotten a lot of publicity could you see having a really good career as far the NBA is concerned?
It would actually be two guys: the Harrison twins. I don't understand how you could undervalue a 6-foot-6 pure point guard, absolute winners, big time shot-takers, leaders and just great teammates. I just don't get why people are undervaluing some of the best talents in the entire draft. I think these guys will have some of the best careers of all of us.
Lastly, and most importantly, can you give us an idea of what your draft night suit will look like?
I know one thing: If you've seen Willie Trill Cauley-Stein, you know that it's gonna have some flavor of his in it.
This interview has been edited and condensed for clarity.
Popular in the Community