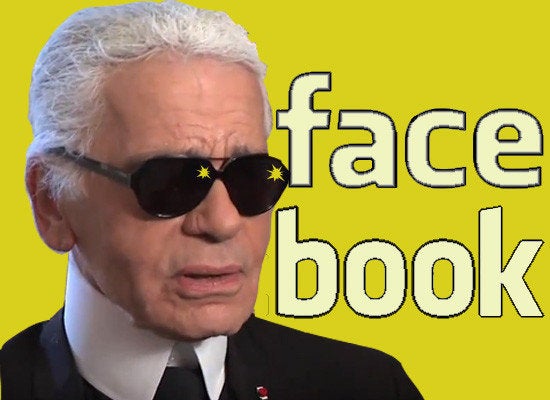 Karl Lagerfeld thinks Facebook is a "flawless object" covered in white gold. ...Wait, what?
In a recent interview with The Luxury Channel, the German fashion designer spoke knowingly about design aesthetics and passing fads in both fashion and technology. When asked to describe technology he finds "amazing," Lagerfeld said,
Facebook is a flawless object. It's for me like a Brancusi. As I told you, I got one as a gift in gold -- in white gold. And the BlackBerry too, and the iPod. I have all those from a gift, I wouldn't buy it. But somebody gave me all those things in white gold. They are beautiful objects on the table -- they are stunning. I don't use them because I don't have to use them.
Perhaps, as Styleite posits, he confused Facebook with the iPad. Or, as Switched writes, "he's confusing hardware and UIs, or maybe he sees the entire 500-million-strong network as just another gleaming object in his curio cabinet of the world."
While Lagerfeld praised certain popular gadgets for their "beautiful" design, he also said that devices like the BlackBerry are a mixed blessing. On the one hand, he says, "everything is possible" in a world of constant connectivity. On the other hand, people seem to be "half with you and half somewhere else."
Speaking about the Internet, Lagerfeld said, "[It] is a wave, it will fade away, maybe." He compared the Internet to the Walkman, which Sony discontinued last month, and added, "When things become too popular, they are always fading away for something else."
Take a look at the video (below) to see The Luxury Channel's full interview.
Calling all HuffPost superfans!
Sign up for membership to become a founding member and help shape HuffPost's next chapter