Even as he hid behind his dark sunglasses, the designer struck us as quite warm. He was happy to answer any and all questions and joked about foot fetishes, his love of Diet Coke and all things Kate Moss. In fact, we kinda wanted to hang out with him after the event.
While we had Karl, we had to get his take on current issues (well, wouldn't you?). Watch the above, or keep reading for his opinion on everything from gay marriage to guns to the Kardashians to how much sleep he gets (we're envious).
On gay marriage: "The gay marriage thing, they have that problem in France, too. To me, it's a fake problem. There will be gay couples; it will exist. It is not very nice that people who are married -- who divorce in three seconds -- don't want protection for the others. The legal system should protect everyone, not just the few people who think they are above everybody else because they are married."
On Kim Kardashian: "It's very pretentious to say 'I don't want to see this on that person, etc.' Everybody is allowed to buy it, to enjoy it. I'm not there as a fashion judge, I'm there as a designer."
On model muses Cara Delevingne and Kate Moss: "I hate when people say she is the new Kate Moss. Kate is unique. Nobody wants to be the second anything. Kate is beyond anything."
On living with less stress: "I don't have any stress. I'm very lucky. I live a very healthy life. I sleep seven hours. I eat only what's healthy for me: no sugar, no butter, no salt, no cheese, hardly any meat. That makes a big difference. I don't drink alcohol, I don't smoke, I never take drugs. Maybe I'm not very funny, but that's that..."
On what he wears to relax: "I'm always relaxing. I wear long white shirts, down to the earth. Long sleeves because I am sketching and I work with colors and pastels, so I'd be dirty. I have a kind of long, white working smock."
On what it takes to be on best-dressed lists: "To wear what's OK with you, your lifestyle, your looks."
On working with plastic: "In the bourgeois mind plastic has a bad reputation so it's fun to make something nice out of it. I have to say, I like the smell (of the shoes). I don't eat bubble gum, but I like the smell." We asked if he'd prefer that they smell like Diet Coke, to which he replied: "There's no smell, but a great taste. But I'm not a fetishist, I don't taste the shoes."
Check out the video to see Karl Lagerfeld discuss fetish, his love for Diet Coke and more.
Want more Karl? Check out some of his kraziest quotes here: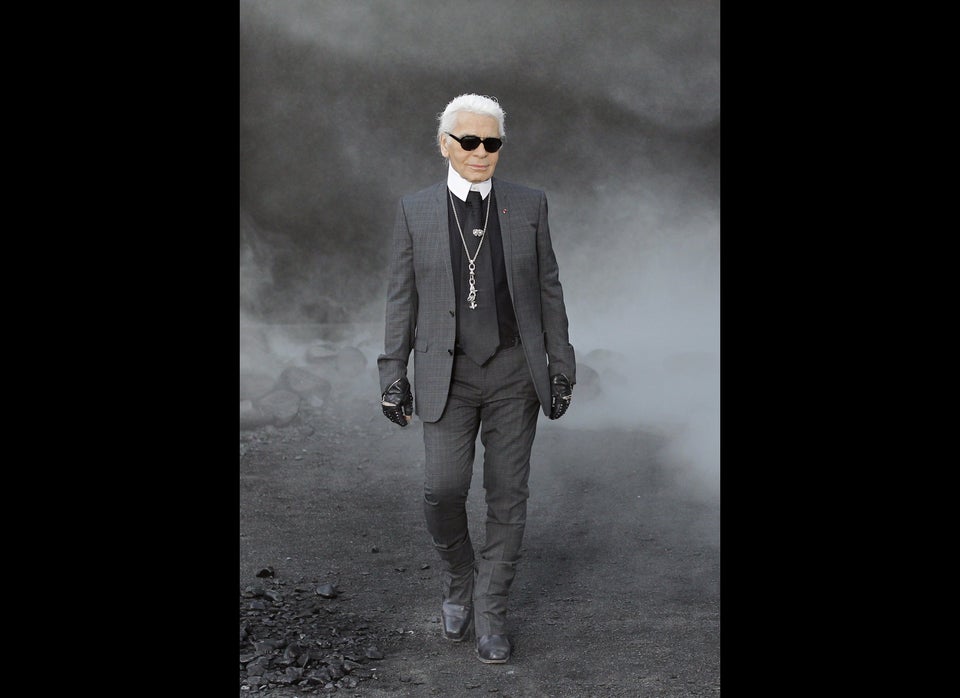 Karl's Crazy Comments
Related