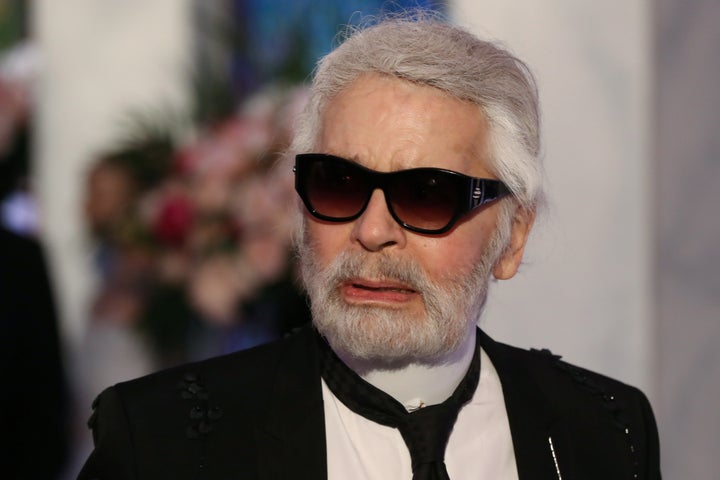 Fashion designer Karl Lagerfeld says he's "fed up" with the Me Too movement and slammed models who complain about being groped in a new interview with the magazine Numero.
"What shocks me most in all of this are the starlets who have taken 20 years to remember what happened," Lagerfeld told the fashion publication. "Not to mention the fact there are no prosecution witnesses. That said I cannot stand Mr. Weinstein," the disgraced Hollywood mogul whose predatory behavior propelled the Me Too movement against workplace sexual harassment.
Lagerfeld, who works with Fendi, Chanel and his own namesake brand, also shamed models who speak out about inappropriate advances at work.
"I read somewhere that now you must ask a model if she is comfortable with posing," said Lagerfeld, 84. "It's simply too much, from now on, as a designer, you can't do anything." Then, turning to "poor Karl Templer," a high-profile stylist named in a recent Boston Globe expose of sexual harassment in the fashion industry, Lagerfeld added: " I don't believe a single word of it."
"A girl complained he tried to pull her pants down and he is instantly excommunicated from a profession that up until then had venerated him," Lagerfeld said of Templer. "It's unbelievable. If you don't want your pants pulled about, don't become a model! Join a nunnery, there'll always be a place for you in the convent. They're recruiting even!"
Lagerfeld also spoke about male models on the fashion runways, calling them "skinny things with wonky teeth we generally see on runways."
"They certainly don't run the risk of getting harassed," he added.
Lagerfeld's comments generated a fiercely negative reaction from people on social media. Supermodel Chrissy Teigen tweeted, "Surely there is an in-between here, Karl."
Comedian Whitney Cummings added: "Karl Lagerfeld is fed up with the #MeToo. Well, I'm fed up with rich old entitled white guys with ponytails who make their money off women insecurities."
Actress Rose McGowan, who was one of the first to publicly speak out about sexual misconduct in Hollywood and support the Me Too movement, blasted Lagerfeld in an Instagram post over the weekend, posing in a picture with a nun.
"Karl Lagerfeld Slams #MeToo Movement: 'If You Don't Want Your Pants Pulled About, Join a Nunnery'. Karl, I read your disgusting quote last night. It made me feel dirty," McGowan wrote. "This morning I met Sister Irene and she made me feel light. I'm sure Sister Irene will forgive you for being a dinosaur misogynist but I think you're a mean, small, black soul and I don't."
McGowan called on her social media followers to boycott Chanel: "You've made so much money off of women's insecurities, it's time for you to ride off into the misogynistic sunset. #BoycottChanel"
Lagerfeld hasn't responded to criticisms of his comments or to the call for a Chanel boycott.