WASHINGTON -- No one lost as much on election night as Karl Rove.
Although he wasn't running for office, his Crossroads organizations spent more than $300 million on Republican candidates in the 2012 election, with some of the biggest spenders in the conservative movement putting their hopes -- and dollars -- in the care of Rove. Combined, his groups were the largest single outside force of the 2012 election.
The results were bleak. According to the Sunlight Foundation, American Crossroads, Rove's super PAC, saw just a 1 percent return on its investments. Crossroads GPS, the political nonprofit arm, saw a 14 percent return.
Rove remained in denial about GOP misfortunes on election night. Even after the networks had called Ohio for President Barack Obama, Rove continued to insist on Fox News that Republicans could win the state.
Rove was back on Fox News Wednesday morning after his election night meltdown. He didn't address his reaction to the Ohio call or Crossroads' failures but instead argued that Republicans need to do a better job in reaching out to the Latino community.
"Obama kept the coalition that he had in 2008, only it was a little bit smaller," he said. "This will be the first president reelected sent to second term with a smaller percentage of the vote than he got the first term. In fact, there are only two states -- two states in the union -- where he got a higher percentage of the vote this time around than he got the first time. One is Mississippi, by one quarter of 1 percent, and Hawaii by less than one fifth of 1 percent. Otherwise, he basically held together that coalition, which means if we're going to win in the future, Republicans need to do better among Latinos and they need to do better among women -- particularly single women."
Underlining Rove's comments is the belief that while Obama won, he did not win by as large a margin as he would have without all the money and support from conservative outside groups.
On MSNBC, American Crossroads Communications Director Jonathan Collegio made a similar argument, stating that Republicans were really the underdogs in the 2012 election. All that conservative money, in other words, was necessary just to make the election close.
"President Obama, over the course of the campaign, outspent Mitt Romney on television by $154 million from April through November," said Collegio. "Senate Democrats -- if you take away the two self-funders in Connecticut and Pennsylvania -- outraised their Republican counterparts by $60 million. Not to mention the DSCC outraised the NRSC by another $20 million. So what Democrats did in this election extremely effectively was leverage their incumbencies to have huge financial advantages over their Republican opponents. We believe that American Crossroads by evening out the playing field kept this what was essentially a two-point race at the end."
When host Chuck Todd asked whether the election would have been a "blow-out" for Democrats without Crossroads, Collegio replied, "It absolutely could have been."
He also argued that in the end, Obama and Democrats won through their ground game, which is something that super PACs and all their attack ads just can't control.
"Strategically, outside groups are going to be a little bit hamstrung with any get-out the vote-efforts. I mean, we don't have a brand that translates in Columbus, Ohio," said Collegio, adding, "If you look at the exit polls, the way that Obama won was on the ground in Cleveland with a lot of the minority voters. .... I just don't know that's a job for super PACs. We kind of have that done by the local parties."
But many Republicans aren't buying it.
"The billionaire donors I hear are livid," one GOP operative told The Huffington Post. "There is some holy hell to pay. Karl Rove has a lot of explaining to do … I don't know how you tell your donors that we spent $390 million and got nothing."
Even the blustery billionaire Donald Trump went after Rove on Twitter on Wednesday, writing, "Congrats to @KarlRove on blowing $400 million this cycle."
On Wednesday morning, "Fox and Friends" host Steve Doocy asked Rove whether he received any sleep on Tuesday night, after all the election excitement.
"Not at all, because I was prepping for this morning. I tried to find a table that I could slip under for a few moments," he joked. "But no, between you and the 'Wall Street Journal' column I've got to turn in today, no time at all."
In that Wall Street Journal op-ed, which ran in Thursday's paper, Rove again declined to address his group's failures. Instead, he said Obama was "lucky" Hurricane Sandy walloped the East Coast when it did because it "interrupted Mr. Romney's momentum and allowed Mr. Obama to look presidential and bipartisan."
Before You Go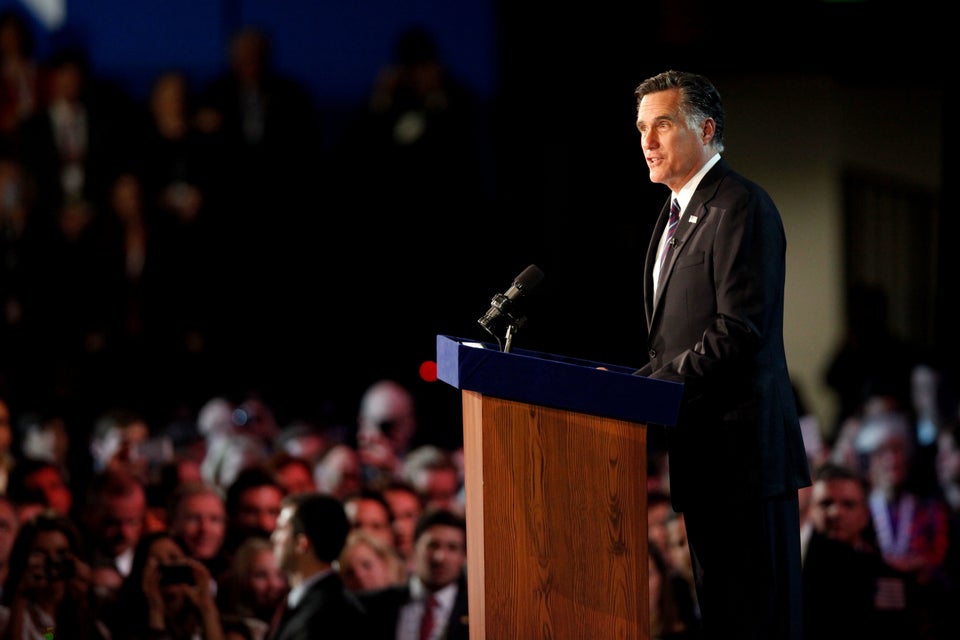 100 Years Of Election Night Losers
Popular in the Community