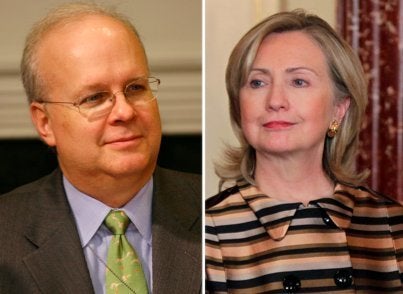 GOP strategist Karl Rove predicted on Wednesday that Hillary Clinton will be back on the presidential ticket in 2016.
"I suspect she will be a candidate. I suspect she is going to think about being a candidate in 2016, and we'll know by about 2014," Rove said on Fox News. "If she leaves the administration in 2014 or 2015, in order to give herself a chance to write a book about her experiences and reconnect with the grassroots, then she might entertain it."
Clinton has repeatedly denied any intention to seek the nation's highest office again. Earlier this month, she insisted that Secretary of State would be her "last public position," and said she anticipates a return to advocacy work after leaving the administration.
But those claims weren't good enough for Rove, who, making some quick calculations, noted that Clinton would be just 69 come election time in 2016 -- younger than John McCain was in 2008.
"She'll be younger in 2016 than John McCain was when he ran, and she will -- I suspect -- be a big presence on the Democratic scene."
McCain was 72 when he lost the presidential election in 2008.
Popular in the Community