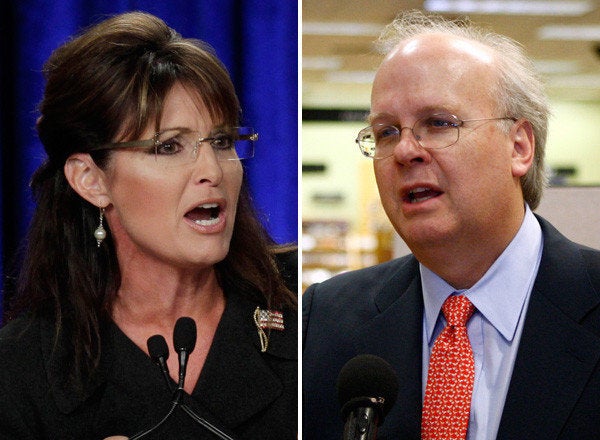 Call him old fashioned, but GOP strategist and poster child for the Republican establishment Karl Rove seems to thinks that Sarah Palin might lack the necessary "gravitas" to be the party's presidential candidate for 2012.
The former vice presidential candidate's new reality TV show, "Sarah Palin's Alaska," isn't helping, Rove told The Daily Telegraph in an interview.
"With all due candour, appearing on your own reality show on the Discovery Channel, I am not certain how that fits in the American calculus of 'that helps me see you in the Oval Office,'" Rove said.
"Being the vice-presidential nominee on the ticket is different from saying 'I want to be the person at the top of the ticket,'" Rove continued. "There are high standards that the American people have for it [the presidency] and they require a certain level of gravitas, and they want to look at the candidate and say 'that candidate is doing things that gives me confidence that they are up to the most demanding job in the world.'"
This is the second time in a week that Rove has appeared reluctant to provide any degree of enthusiastic support to Palin.
On CBS's "Face the Nation" this weekend, Rove said that Palin would be a "formidable candidate" if she ran in 2012, a decision he wasn't ready to weigh in on. He also appeared to air a certain degree of concern, noting that candidates would be vetted to determine the "strength they need to work on magnifying and weaknesses that they need to endeavor to overcome, or challenges that they need to overcome."
Questions about Palin's presidential qualifications have been par for the course for Republican candidates and politicians alike of late, and Rove is far from the first to give a less-than-passionate response.
Alaska's Joe Miller and Delaware's Christine O'Donnell, two Senate candidates who shocked the establishment with primary victories thanks in part to heavy support from Palin, were both unwilling to definitively answer questions about her presidential fitness.
Carl Paladino, the Tea Party-backed candidate running for New York Governor, gave a more concrete response regarding the Palin 2012 buzz:
"We need a real leader," Paladino said of the former Alaska Governor, whom he called a "TV personality," in an interview last month. "Not someone who just wants to go and throw a bunch of words around and proverbs and -- I want somebody that is going to be totally responsible. Someone that is a student of that government."
Popular in the Community