 WASHINGTON -- Karl Rove was the featured speaker at a previously unreported luncheon held just outside the Mitt Romney campaign's recent retreat for high-dollar donors, according to three Republican fundraisers who attended the event.
Rove's luncheon speech did not appear on the retreat's official agenda because Romney's campaign didn't host it. Instead, the event was hosted by Solamere Capital, a private equity firm founded by Tagg Romney, the candidate's eldest son, and Spencer Zwick, the Romney campaign's chief fundraiser who is often described as Romney's "sixth son."
Rove's speech was delivered on June 22, the Friday of the retreat weekend, to about 200 wealthy guests, including quite a few money harvesters for the Romney campaign, according to GOP sources who attended but requested anonymity in order to speak freely.
In a half-hour talk followed by questions from the audience, Rove covered congressional races and the presidential contest, with some brief remarks about what the super PAC American Crossroads and an affiliated group are doing with tens of millions he helped raise to boost GOP fortunes in November, according to two GOP fundraisers who heard Rove speak.
Tagg Romney and Zwick founded Solamere in 2008, and it has enjoyed a flurry of financial successes in part because of investments by some longtime Romney backers like ex-eBay chieftain Meg Whitman, as well as Mitt and Ann Romney themselves, who put $10 million into the fledgling venture. Zwick referred questions about the event to a Solamere spokesperson.
Rove also made news on the Saturday morning of the gathering at a posh Utah resort, the Chateaux at Silver Lake, when he sat on a panel with Mary Matalin and Bill Kristol to discuss the media. However, his other appearance in town -- at the Solamere luncheon -- so far has made no news at all.
Jonathan Collegio, a spokesman for American Crossroads, acknowledged to The Huffington Post that "Rove gave a speech at a separate event that was unconnected to the campaign and was similar to speeches he gives across the country ... Rove made a point of not attending any of the campaign presentations."
Collegio declined to explain the timing of Rove's speech to the Solamere gathering or whether Rove was paid for it. Collegio also declined to respond to questions about whether Rove was hitting up donors at the retreat for Crossroads.
A spokesman for Solamere confirmed that Rove was the featured speaker at its separate investor conference luncheon, which was held just prior to the retreat at an adjacent hotel.
"It was not a coincidence that the Solamere conference took place in the same city just before the retreat began," said one fundraiser who went to the retreat and requested anonymity to preserve his relationship with the Romney campaign.
Rove's links to independent political groups make it illegal for him to coordinate certain activities with campaigns.
The luncheon speech on political strategy differed markedly from the publicized panel on the media the second day. And two attendees at the Romney retreat told The Huffington Post that Rove promoted his super PAC and an affiliated nonprofit, Crossroads GPS, to campaign donors during private meetings during the retreat. About 800 of the campaign's biggest fundraisers and donors were invited to the retreat in total, while a smaller, select group of donors were pitched privately by Rove, the two attendees said.
To snag retreat invitations, donors had to give a total of at least $50,000 to the campaign, the Republican National Committee and some state party committees; fundraisers had to rope in at least $100,000.
"Karl was very self-promoting the whole time he was there," said one of the three GOP fundraisers interviewed for this story. "He was pushing for Crossroads the whole time."
Rove's luncheon speech and his presence at the retreat are noteworthy because the two Crossroads groups plan to spend about $300 million this year on television ads and "get out the vote" efforts to help elect Romney and put the GOP in control of Congress.
The Rove groups were created in 2010 in the wake of high court rulings that permit corporations, individuals and unions to write unlimited checks to groups that expressly advocate for the election of candidates. By contrast, candidate campaign committees can only accept individual contributions up to $2,500 per election.
But Rove's groups and similar super PACs are legally barred from coordinating certain activities, such as advertising strategies, with campaign committees. There is nothing illegal about super PACs, or Rove personally, soliciting funds from campaign donors, as long as campaign officials are not the ones asking for unlimited donations to such PACs.

Two campaign finance lawyers and reform advocates told The Huffington Post that Rove's activities at the retreat test the legal definition of what, exactly, "coordination" is.

"The commonsense and the dictionary definition of coordination is very different from the narrow Federal Election Commission regulations defining impermissible coordination," said former Republican FEC chairman Trevor Potter in an interview. "Lots of things are coordination in fact, but are not in law."
"The fact that Rove was at the gathering presents an obvious opportunity for coordination," added Potter, who is president of the Campaign Legal Center and a strong advocate for tougher campaign finance rules. "Just being there in the middle of the campaign, surrounded by Romney strategists and campaign aides for several days, has the potential for tainting the independence of American Crossroads' advertising, depending on what conversations, if any, Rove had with campaign officials."
Other campaign finance reform advocates went further, suggesting that Rove's activities at the retreat were improper.
"This kind of activity [by Rove] is the last thing the Supreme Court had in mind when it ruled that spending by an outside group had to be 'totally independent' and 'wholly independent' from a candidate the group is supporting with expenditures," Fred Wertheimer, the president of Democracy 21, said in an interview. "The FEC lives in a pure fantasy world in the way it attempts to define coordinated activities as not being coordinated activities."
A Romney campaign spokesman referred The Huffington Post to a previous statement that addressed Rove's participation on the media panel at the retreat, which has been widely reported. The statement from Romney spokeswoman Andrea Saul said that the campaign "is fully aware of what the law requires, and we follow both its letter and its spirit."
In remarks to MSNBC during the primaries, Romney said that he is not "allowed to communicate with super PACs in any way, shape or form."
Those comments are not quite correct. Romney attended -- and spoke at -- more than one fundraiser in 2011 for a super PAC called Restore Our Future, which was set up by three close allies who worked on his 2008 campaign and has raised over $50 million to help back his new run for the White House. Election law permits candidates to go to fundraisers for outside groups that are supporting them, but bars the candidates from personally soliciting unlimited contributions on groups' behalf.
The Romney campaign released few details about the retreat at the Chateaux at Silver Lake. Reporters who flew out to Utah mostly scrambled for details and anecdotes as scores of wealthy donors and politicos came and went, according to press accounts. Among the big-name attendees were two former secretaries of state, James Baker III and Condoleezza Rice, and former Florida Gov. Jeb Bush.
As for Rove's presence at the retreat, press accounts so far have focused on the media panel in which he participated, along with Matalin and Kristol.
American Crossroads has long downplayed the extent of Rove's involvement with the group, while acknowledging he raises money. But this year Rove attended at least two of the group's monthly strategy meetings to discuss congressional and presidential battleground states and political advertising. The meetings, according to GOP operatives who were in attendance, typically draw about a dozen high-powered GOP operatives from other conservative groups like Americans for Prosperity, which is backed by the billionaire Koch brothers, and Americans for Tax Reform, which is run by anti-tax crusader Grover Norquist.
Rove has been instrumental in helping the two Crossroads groups land some of their largest multimillion-dollar donations. Las Vegas casino mogul Sheldon Adelson, who has been close to Rove since he worked in the Bush White House, has given at least $10 million this election cycle to the nonprofit Crossroads GPS and has recently pledged a similar sum, according to two GOP fundraisers familiar with the billionaire's political donations. Other multimillionaires and billionaires who hail from Texas and have long ties to Rove, like homebuilder Bob Perry and investor Harold Simmons, have ponied up millions more to American Crossroads.
Unlike American Crossroads, which has to publicly disclose its donors, Crossroads GPS isn't required to reveal its contributors' names.
This year, that money helped pay for tens of millions of Crossroads' attack ad spots focused heavily on the Obama administration's health care reforms, economic policies and other issues in an effort to help Romney win the White House and put the GOP in control of Congress.
It was fitting that Rove -- whose fundraising success for the two groups is heavily based on tapping networks of wealthy donors with whom he is familiar -- was given the featured speaking role at the Solamere investor conference. The firm's own website boasts that its partners succeed in investing by "leveraging their unparalleled networks."
Rove wasn't the only politico at the retreat with strong ties to super PACs or nonprofit groups that have raised tens of millions of dollars to help Romney and Republican candidates win this fall. According to news reports, and confirmed by the GOP fundraisers, Charlie Spies, one of the three founders of the pro-Romney super PAC Restore Our Future, was also at the retreat, as were former Sen. Norm Coleman and venture capitalist Fred Malek, who are, respectively, the chairman and founder of the American Action Network, a nonprofit advocacy group focused on helping the GOP keep a majority in the House.
Malek, a veteran GOP fundraiser, said that he's raising money not only for the AAN but also for the Romney campaign and for the Republican Governors Association. "I've never seen donors and potential donors more unified and energized as they are this year," Malek told HuffPost.
That's what both Rove and the Romney campaign are banking on.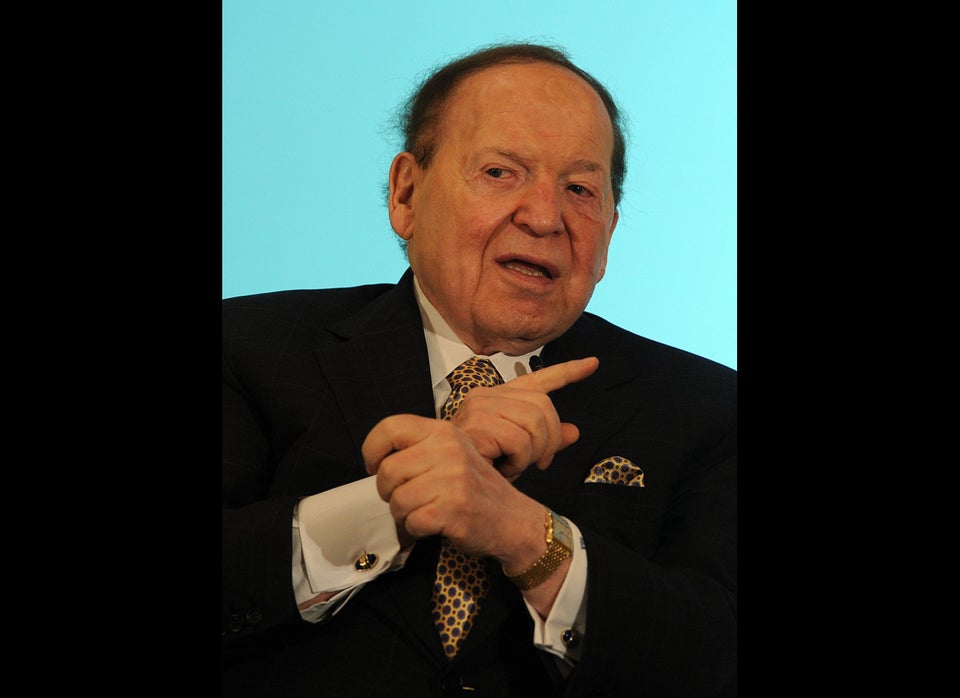 Donors Giving $500,000-Plus To Super PACs
Support HuffPost
The Stakes Have Never Been Higher
Popular in the Community