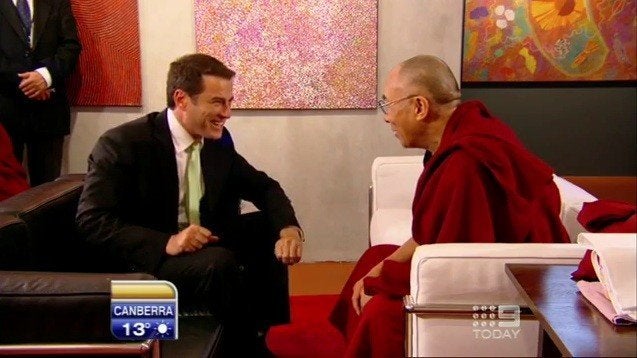 It appears that the Dalai Lama can take a joke, but not necessarily get one.
In this instant viral video, Australian "Today" show host Karl Stefanovic takes his best shot at telling his Holiness the classic Dalai Lama zinger -- "So the Dalai Lama walks into a pizza shop, and says, 'can you make me one with everything?'" -- only to be met with an empty gaze from the Buddhist leader.
The good news is that the intense awkwardness and blank stares from the Dalai Lama eventually gave way to laughter, but only after Stefanovic sheepishly admitted, "I knew that wouldn't work."
Stefanovic took the comedy disaster in stride, so he's got that going for him, which is nice.
WATCH:
From Stefanovic's
:
Related
Popular in the Community