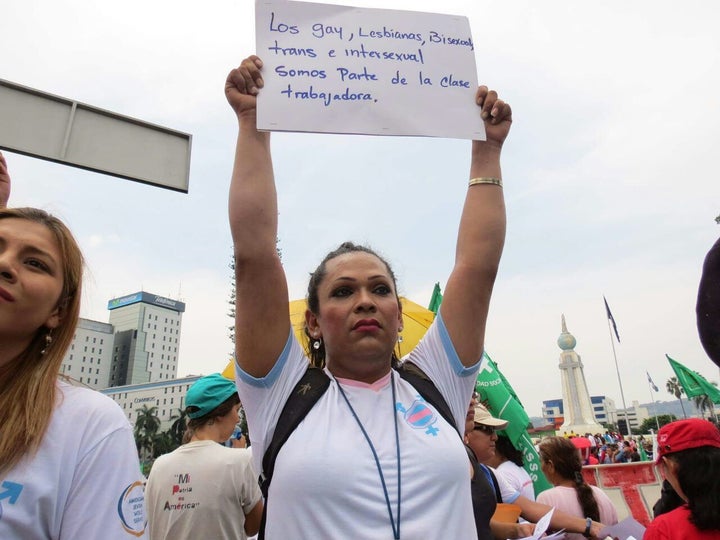 Six times in two years. Human rights activist Karla Avelar has been forced to move home six times in the last two years after being physically threatened by individuals she believes are gang members and for her work as a human rights defender in El Salvador.
She's a leading advocate for the human rights of LGBT people, founder and head of COMCAVIS TRANS, an organization known for its work for transgender people for nearly a decade. It's dangerous, unpopular work, and Avelar is regularly targeted and threatened.
A couple of weeks ago she was forced to move home when people tried to extort from her possible prize money for the Martin Ennals Human Rights Defender Award, for which she is a finalist. The award's winner will be decided and announced in October, but news of her nomination has prompted these latest threats.
It hasn't been an easy life. She was shot in two separate incidents, spent five traumatic years in jail and has been a constant target of abuse for being a transgender woman. Avelar told my colleague Mariel Perez-Santiago at her office in San Salvador last year how she had been raped by more than a hundred men on her first day in prison, and that the attacks continued with the complicity of prison staff.
She became a formidable advocate for the rights of trans people in and out of prison, helping to win important reforms in the prison where she used to be an inmate. Thanks to her campaigning, transgender women are now separated from men in different wards, and human rights organizations are allowed access to the prisoners to educate them about their rights. She also represented El Salvador's LGBT civil society at the country's 2014 Universal Periodic Review at the United Nations in Geneva.
Her advocacy has led to international recognition including becoming a finalist for this year's Martin Ennals Award. "Transgender persons, and the wider LGBT community, face widespread hostility and social rejection in El Salvador," said the Martin Ennals organization in a statement. "Crimes against them are almost never brought to justice, which results in a climate of impunity. Sadly, this treatment of transgender people can be seen well beyond El Salvador. We aim to highlight Ms. Avelar's bravery in continuing her work. We are encouraged that the authorities contacted her after the media coverage of the latest threats. This needs to be followed up with judicial proceedings against those responsible and, most importantly, effective protection for Karla Avelar."
Her profile has meant that the threats against her are receiving attention, and the Attorney General's office has been in touch with her to discuss issues of her safety. But for Avelar and others in El Salvador's LGBT community the risks are daily and grave. She estimates around 600 cases of unsolved murders of LGBT people in the country over the last 25 years.
"Sadly, these most recent threats against me are not surprising and are part of a broader and systematic pattern of persecution of members of the LGBT community in El Salvador," said Avelar. "I will not be silenced by these threats, but the Salvadoran government must guarantee my safety and that of all human rights defenders and activists, who work tirelessly to monitor and urge respect for the human rights of the most vulnerable."
Forced to leave her home again and again, she's asking for protection as well as international visibility. Making her more famous won't guarantee her safety but we can try to help by sharing her story with whoever we know, by showing that we're watching, and by saying that she should be protected and never be forced to move again.
Support HuffPost
The Stakes Have Never Been Higher
Related
Popular in the Community