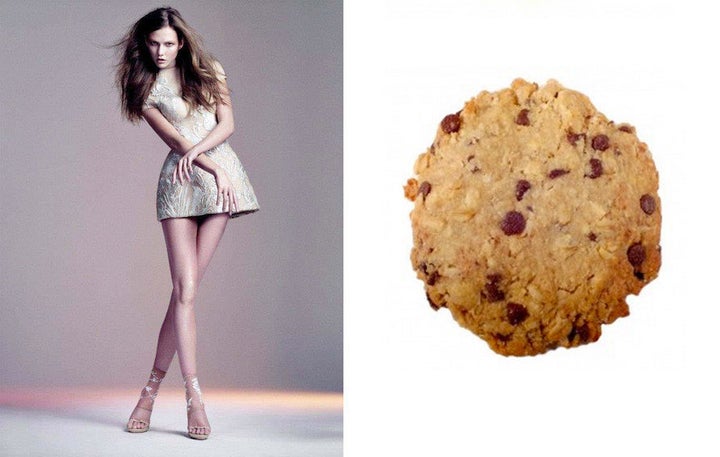 When you think of supermodel Karlie Kloss, baked goods might not be the first things that come to mind.
Kloss is perhaps best known for how thin and at times distorted her body has appeared in much-criticized fashion magazine spreads. The images photographer Steven Meisel shot of her for Vogue Italia's December 2011 issue became fodder for pro-anorexia -- or "thinspiration"-- websites. This September, Numéro magazine reverse airbrushed Kloss' cover photo, shot by Greg Kadel. The magazine did the retouching without Kadel's permission and sparked debates in the blogosphere about whether the image alteration was acceptable or not.
In light of those controversies, headlines about Kloss not related to her body are refreshing. However, we're not wild about her new project: a baked goods collaboration with Momofuku Milk Bar. We are massive fans of Momofuku's dessert outpost -- see here and here -- and part of each Karlie's Kookies® sale goes to FEED, a philanthropic organization that feeds and educates hungry children. Excellent. But there's where the pros of this venture seem to end. The "Perfect 10 Kookie®" is now on-sale -- here's why we won't be buying it.
1. The cookies are dairy-free, gluten-free, and sweetened with agave. So in what way is this going to be a good experience?
2. Similarly, they are "fashionably wholesome." What's wrong with plain old wholesome? Also, in one kookie® description, the word "fashionable" seems to have been almost explicitly redefined as meaning "conducive to losing five pounds." If we only purchased "fashionable" food products, our fridges would be full of Skinny Cow ice cream and Happy B*tch wines. Sounds delicious.
3. They're pricey! $22 for six cookies means you're shelling out $3.66 for a glorified lump of almond flour and gluten-free oats. The Momofuku website does not specify how much of that money is going to FEED, but we really hope it's a lot.
4. "Perfect 10." Agreed, every cookie one eats in life should be a 10. But naming a cookie the "perfect 10" has obvious connotations with beauty and body size. Is it a coincidence that the "perfect kookie" has lower-calorie ingredients than the other cookies on the menu? Can't Karlie's Kookie® just be about food, not image?
It's all enough to make you lose your appetite, but maybe that's the point.
What do you think of Kloss' cookies? Tweet us @HuffPostWomen using #cookies to let us know!
Related
Popular in the Community