Karma Sochoe, an orphan from Tibet who grew up in Dharamsala, was a troublemaker at school but has become an internationally-renowned painter of thangkas or Tibetan scroll paintings. He uses the money he makes as an artist to fund his activism. Usually I'm the one asking questions but when I interviewed him, he posed a number of unsettling questions such as, "You are free to go anywhere, you are allowed to do anything you want to do, but why not us? Are we not the same human beings?" On a cool, clear evening in Dharamsala, I talked with Karma at his studio about art, independence, identity and, of course, the Dalai Lama.
Can you tell me about your youth and how you became a painter?
I was born in Tibet and ended up as an orphan at the Tibetan Children's Village (TCV) here in Dharamsala. I thought: I'm an orphan, no one has the right to tell me what to do. So I was naughty, making problems, and didn't want to stay in school. I wanted to go into the military. Part of me was saying: you have to fight the Chinese. Unless you fight, you won't find yourself. But the problem was that I liked painting. And then I thought that while I was fighting, I could still paint. So I went in the military but came back after one month because I realized it's not just fighting against the Chinese. I knew it wasn't the place for me.
I'd seen a little bit of the world outside Dharamsala and came back to TCV ready to be a good student. But they didn't realize that I'd changed. Every time there was trouble, I was blamed. Then I got an opportunity. In assembly one day, the headmaster announced the chance to study thangka painting and I was the first student to reach his office. I went with my sketchbooks but since I hadn't been a good student, the headmaster said if I can't study, how can I possibly sit and paint? I told him that this is what I want to do, I can't stay in school. And he gave me the chance.
For the last 15 years, I've also been working in activism, on the ground. We've been organizing things like a peace march from here to Delhi and a march to Tibet. I work for six months out of the year and that money I spend on my activism.
Are you in favor of autonomy or independence for Tibet?
First, the Tibet issue is not just a Tibet issue. It's a humanity problem. The international community has the full right and responsibility to work together to solve this problem, not just leave us alone. You are free to go anywhere, you are allowed to do anything you want to do, but why not us? Are we not the same human beings?
I don't need to learn big theories about independent or not independent. I just need to listen to my heart. And I want to live as a Tibetan. It's not that I want to chase away all the Chinese from Tibet. But we have a saying in Tibetan: "If you drink the water of the land, you have to follow the law of that land." If Tibet becomes independent, the Chinese are welcome to stay but as humans beings, not rulers. And they have to be Tibetan, they cannot be Chinese. The same way if I went to America, Americans wouldn't expect me to live as a Tibetan.
His Holiness the Dalai Lama takes the Middle Way approach of compromise with the Chinese. In this way of thinking, the Tibetans will have autonomy and the Chinese will be in charge of international matters. And the Dalai Lama is forgiving them even though they're trying to erase us from this planet. This is the act of a bodhisattva. But I'm not a Buddha, not even a bodhisattva. I'm just a simple human being who wants to live freely.
Everything takes time, and everything changes. Independence is possible. But even if we don't get independence in my lifetime, I still remain independent. This cannot change. This belief keeps me free.
There are more and more cases of Tibetans self-immolating to protest Chinese rule. What do you think about this?
Nobody has the right to judge self-immolation. Nobody. Even the Tibetan Central Administration. Even His Holiness. Because the people who self-immolate, they know that life is precious. That's why they are not killing anybody, only themselves. They are dying because they want their friend to be happy. Because they want to help their family. They have that kind of compassion and hope. Their act is very admirable but we cannot afford the loss of their life. We have to try to change the situation.
What do you consider your life's work?
To find myself. Still, I am lost. I was born in a troubled place where Tibetans were fighting against the Chinese occupiers. Then I was brought to TCV here in Dharamsala and I was waiting for my mother. Calling for her all the time. But she never came back. And I still can't accept that I have no mother.
In one way I'm grateful for what I've been through. Most Tibetans have had different lives from people like you. You've never felt lost, like you've lost your identity. But we've been through all of these experiences, which gives us a unique perspective. And I'm grateful for that. But on the other hand, I pray that no other people have to have the same feelings or experiences.
I always admire His Holiness, and my art teacher, and my two daughters and wife. Especially my wife. She's really dedicated and honest, and that's the most beautiful of all.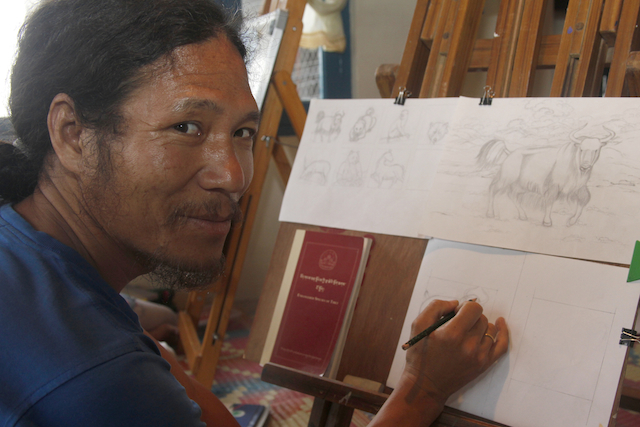 Photo credit: Abhishek Madhukar
Related
Popular in the Community